We are thrilled to announce the certification of our G3X Touch flight display for hundreds of certificated aircraft. The G3X Touch offers a variety of scalable panel configurations and a superior feature set that includes wireless connectivity and synthetic vision as standard, as well as options such as display redundancy, advanced autopilot compatibility, engine monitoring and more. The Federal Aviation Administration (FAA) has granted Supplemental Type Certificate (STC) approval for the installation of G3X Touch in nearly 500 certified single-engine piston aircraft, which is supported by Garmin's expansive dealer network and its award-winning aviation support team.
"Garmin remains committed to offering value-minded solutions that seek
to enhance safety in the single-engine piston aircraft market and the
introduction of the G3X Touch flight display for certificated aircraft is yet
another example of that commitment," said Carl Wolf, vice president of aviation
sales and marketing. "As the trusted leader in avionics, we're excited to bring
this game-changing offering to certified piston aircraft owners with ambitions
for flight display upgrades that fits their panel – and budget."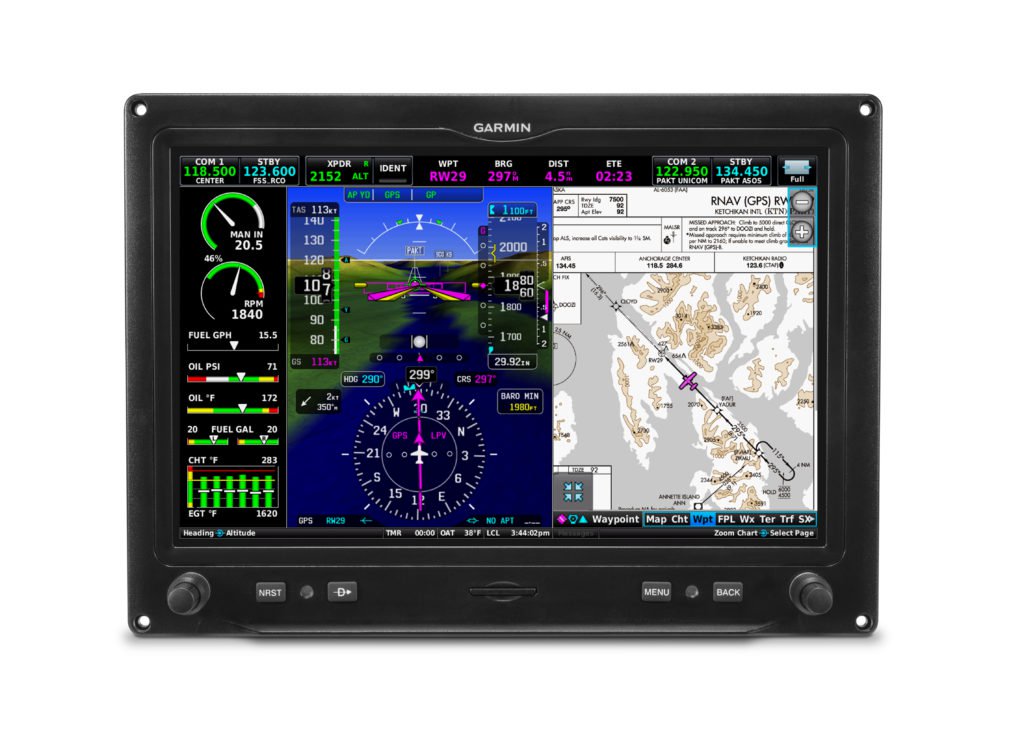 The G3X Touch system for certified aircraft is representative of Garmin's experience in integrated flight deck technology, which boasts a clean and sleek appearance and a resilient, high-resolution display. The touchscreen offers an intuitive user interface and through any combination of the touchscreen or dual-concentric knobs, pilots can efficiently perform common in-flight functions like direct-to navigation, setting altitude pre-select or radio tuning. Pilots will also appreciate the seamless in-flight experience behind G3X Touch as the user interface is harmonious with multiple Garmin products, such as the new GPS 175/GNX 375 and GTN 650/750 navigators.
Multiple panel configurations and display options allow pilots and
aircraft owners to better leverage their current and future avionics
investment. One configuration option includes a large 10.6-inch G3X Touch display
paired with a 7-inch display. This configuration offers the convenience and
utility of a large primary flight display (PFD) with a dedicated multi-function
display (MFD). Another option allows dual 7‑inch displays to serve as a
dedicated PFD/MFD. For space-limited panels, pilots can also install a single
10.6-inch or 7-inch display. In configurations where multiple displays are
installed, the G3X Touch system offers redundancy and reversionary mode as a
single display is capable of showing all primary flight information, including engine
information when installed. For aircraft owners that have already installed a
G5 electronic flight instrument in their aircraft, they can easily add a G3X
Touch display to take advantage of the redundancy benefits associated with this
configuration. The building-block design of these four approved cockpit
configurations give aircraft owners scalable upgrade options that suit a
variety of panels.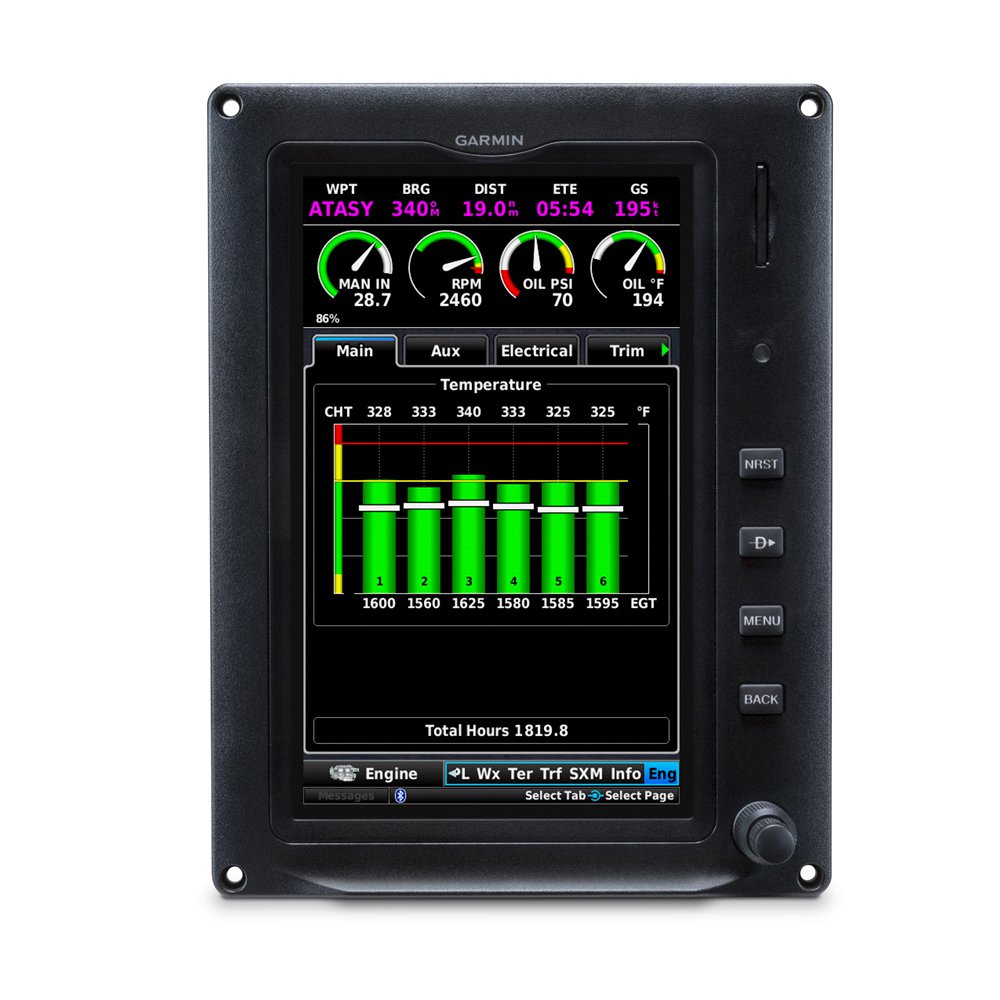 The G3X Touch suite
offers an impressive array of standard features that give pilots greater
situational awareness throughout every phase of flight. Synthetic vision (SVX

)
comes standard on all G3X Touch displays and provides a rich, three-dimensional
depiction of terrain, obstacles, water features, the runway environment and
more. Capable of serving as a standalone VFR navigator, the G3X Touch provides benefits
that help further situational awareness in visual conditions with features like
vertical navigation (VNAV), which allows pilots to generate a vertical descent
profile by setting an altitude constraint in the flight plan. Modern tools such
as wireless connectivity is also available as standard. Wireless flight plan
transfer, the sharing of traffic1, weather1, back-up
attitude information and more with a compatible tablet or smartphone are all
available via Garmin Connext®.
The G3X Touch flight display for certificated aircraft can interface
with a variety of optional Garmin equipment including:
For complete IFR-approach compatibility,
customers can pair the G3X Touch with a variety of Garmin GPS navigators and Nav/Comms, including the new GPS 175/GNX
375, GTN 650/750, GNS 430W/530W, GNS 480, SL 30/40, and GNC®
255.
For aircraft that can benefit from a modern
autopilot, the GFC 500 autopilot provides
workload-reducing features such as auto-trim, flight director, airspeed climbs
and descents, dedicated level (LVL) mode and more. Garmin Electronic Stability
and Protection (ESP), underspeed and overspeed protection are also available as
standard and work
in the background to help pilots avoid inadvertent flight attitudes or bank
angles while the pilot is hand-flying the aircraft. The addition of yaw damping
(YD) minimizes yawing oscillations and helps maintain coordinated flight by
keeping the slip/skid indicator centered. Additionally, G3X Touch can now serve
as an attitude source for the GFC 500 autopilot, which does not require the G5
electronic flight instrument when installed with G3X Touch. The GFC 500 is available as an option
for select models of the Beechcraft Bonanza, Cessna 172/182/210, Grumman
AA-5, Mooney M20 and the Piper PA-28 with additional certifications in progress. For a comprehensive list of
supported aircraft, visit www.garmin.com/GFC500.
Pilots can fly fully-coupled instrument and visual approaches when the G3X Touch
is paired with the GFC 500 autopilot and a GPS 175/GNX 375 or GTN 650/750. Pilots
can also fly fully-coupled go-arounds during missed approach sequencing after
an instrument approach.
The G5
electronic flight instrument can be utilized as an all-in-one back-up instrument2
to the G3X Touch flight display, offering superior redundancy and the
sharing of attitude information, air data, baro sync, and miscompare alerts. In
the event of a miscompare between the G3X Touch and G5 attitude or air data
sources, the GFC 500 autopilot will choose the best available source and
continue to function normally.
Pilots can receive and display the benefits ADS-B In via the new GNX 375, GTX 345 or the GDL 50R/52R. ADS-B-enabled features such as patented TargetTrend and TerminalTraffic are also available with these products.
With the GDL 51R/52R, pilots can receive and
display SiriusXM aviation weather
and listen to audio entertainment with a compatible subscription.
VFR sectionals and IFR
enroute charts display pertinent information pertaining to VFR/IFR flights,
and geo-referenced instrument approaches
improve situational awareness by overlaying own-ship position information on
the instrument approach chart.
The GMA 345/342 audio panel adds advanced functions, including auto squelch, 3D Audio and Bluetooth® connectivity.
Up to two Comm radios can be supported and
controlled by G3X Touch, including the GNC 255
Nav/Comm and the GTR 225 Comm,
as well as the GTN 650/750.
G3X Touch can display primary engine information with the addition of
the GEA 24, including engine gauges, color bands, alerts, fuel and other vital
information. Piston engines of up to 6 cylinders are supported.
The GTS
800 active traffic system can interface with G3X Touch, offering added
protection and visibility while operating in high-density airspace and traffic
environments.
The G3X Touch flight display is approved for installation in nearly 500 single-engine piston aircraft and can be purchased through the Garmin Authorized Dealer network starting at a list price of $7,995 for a single 7-inch display and $9,995 for a 10.6-inch display. Pricing includes the G3X Touch display, install kit, ADAHRS, magnetometer and temperature probe (installation not included). There is no additional cost for the STC. Deliveries for new orders are expected to begin in early April. Customers can see the G3X Touch flight display installed in a Grumman AA-5 Tiger at the Sun 'n Fun International Fly-In & Expo, Apr. 2-7, 2019 in Lakeland, Fla. The G3X Touch is also supported by Garmin's award-winning aviation support team, which provides 24/7 worldwide technical and warranty support. For additional information, visit www.garmin.com/G3Xcertified.
The post Garmin G3X Touch Certified for Single-Engine Piston Aircraft appeared first on Garmin Blog.
https://www.garmin.com/en-US/blog/aviation/garmin-g3x-touch-certified-for-single-engine-piston-aircraft/
We have received approval of a CASR 175.C Data Service Provider (DSP) certificate from the Civil Aviation Safety Authority (CASA), enabling expanded aviation database coverage in Australia. In addition to the integration of Airservices Australia data into the suite of Garmin databases, Garmin Pilot within Australia has also expanded to offer additional data and supports connectivity between Apple mobile devices and compatible avionics in the cockpit, including wireless flight plan transfer. Pilots can now take advantage of these new databases in Australia within Garmin Pilot, as well as in a new, cost-effective PilotPak database bundle on the flyGarmin website.
"We're excited to offer our Australian customers new aviation database options and packages, as well as an expanded Garmin Pilot app that provides convenient, wireless connectivity with the avionics in their cockpit," said Carl Wolf, vice president of aviation sales and marketing. "In addition to providing our customers with more database options, we're proud of this tremendous accomplishment and extend our appreciation to CASA so we can provide Australian pilots with economical aviation database coverage in a comprehensive package."
Australian PilotPak aviation databases
We are offering expanded database options that are new to Australia so customers have access to even more information in-flight. In addition to navigation data, airport directory and terrain database information available today, the new Australian PilotPak adds Garmin FliteCharts, which consists of departure and approach procedures (DAP). Approach procedures are geo-referenced, displaying the aircraft location as it relates to the instrument approach. Additionally, SafeTaxi aerodrome diagrams, as well as IFR/VFR Charts are available. This includes enroute charts, Visual Navigation Charts (VNC), Visual Terminal Charts (VTC), World Aeronautical Charts (WAC) and IFR Terminal Area Charts (TAC). The Australian PilotPak provides database updates for all compatible avionics in a single aircraft and is available immediately on flyGarmin.com for $997 USD.
Select databases in the Australian PilotPak are compatible with the following avionics:
GTN 650/750 touchscreen navigators
G500 TXi/G600 TXi/G700 TXi/G500H TXi flight displays
G500/G600/G500H flight displays
G1000, G1000 NXi, G2000, G3000, G5000, G1000H and G5000H Integrated Flight Decks
G3X, G3X Touch and G900X glass flight displays
Garmin portables that are compatible with select Australian databases include:
aera 660
aera 795/796 series
aera 500 series
GPSMAP 695/696
GPSMAP 495/496
Garmin Pilot Australia for Apple mobile devices
Available in two tiers, customers in Australia can now select which Garmin Pilot subscription best suits their flying. The Garmin Pilot Standard subscription includes navigation data and now, adds Visual Navigation Charts (VNC), Visual Terminal Charts (VTC), World Aeronautical Charts (WAC), IFR low and high enroute charts, IFR Terminal Area Charts (TAC) and the Australian Aerodrome AIP. The Garmin Pilot Premium subscription adds geo-referenced Garmin FliteCharts and SafeTaxi aerodrome diagrams. NEXRAD radar imagery, METARs and TAFs can also be viewed within the moving map in Garmin Pilot within both subscriptions.
Using Garmin Pilot, customers can also take advantage of the benefits and efficiencies of a wireless cockpit. Connext integration allows Garmin Pilot customers to develop their flight plan within the app and seamlessly transfer it to their avionics prior to their flight. Flight plans also remain in sync throughout the flight and flight plan amendments can easily be made within Garmin Pilot and sent to a compatible navigator, including the GTN 650/750, GNS 430W/530W, G1000 NXi and G3X Touch. The sharing of GPS position information, as well as back-up attitude information can be displayed within the synthetic vision page within the app. Using Flight Stream 510, customers can also take advantage of Database Concierge, the wireless transfer of aviation databases from the Garmin Pilot app to Garmin avionics, including the GTN 650/750, G1000 NXi and G500 TXi/G600 TXi.
The Australian PilotPak can be purchased and downloaded from the flyGarmin website for $997 USD. Garmin Pilot Australia is available from the Apple App Store as a free download for the first 30 days. After the 30-day trial period, customers may purchase the Garmin Pilot Standard subscription for $99.99 USD annually, which includes navigation data, Australian Aerodrome AIP, VNC, VTC, WAC, IFR low/high enroute charts, as well as IFR TAC charts. For $49.99 USD customers can add the Garmin Pilot Premium upgrade, which includes FliteCharts and SafeTaxi, along with synthetic vision, terrain and obstacle alerting. For additional information, visit www.flyGarmin.com or visit www.casa.gov.au.
The post Aviation Database Coverage and Capabilities Expanded in Australia appeared first on Garmin Blog.
https://www.garmin.com/en-US/blog/aviation/aviation-database-coverage-and-capabilities-expanded-in-australia/
Our latest version of Garmin Pilot — version 9.6 —  includes an expanded feature set designed to increase  integration with FltPlan.com, and provide pilots with additional information about their destination airport prior to flight, en route, or upon arrival. New to version 9.6, pilots can seamlessly synchronize flight plans between Garmin Pilot and FltPlan.com. The upgrade also includes AOPA FBO fees, flight data log exceedances, along with enhancements to split screen capability, runway centerlines and user waypoint management.
FltPlan.com Integration
Garmin Pilot 9.6 allows U.S. pilots to create, file, amend and cancel flight plans with Garmin Pilot or FltPlan.com.  In addition, FltPlan.com aircraft and pilot profiles are imported into Garmin Pilot for use in Trip Planning.
To get started:
Enter your FltPlan.com credentials from the com home screen main menu icon, or by selecting FltPlan.com in Settings
FltPlan.com pilot and aircraft profiles available for import into Garmin Pilot will be displayed

Pilot Information

If the pilot name does not exist in Garmin Pilot, the complete pilot profile will be imported
If the pilot name exists in Garmin Pilot, the FltPlan data will be used to populate the pilot profile in Garmin Pilot

Aircraft Information

If the aircraft tail number does not exist in Garmin Pilot, the complete aircraft profile will be imported
If the tail number exists in Garmin Pilot, the FltPlan data will be used to populate any missing information in the aircraft profile
Performance data will be compared and the most complete data set will be used

If pilot or aircraft profiles are added or modified on FltPlan.com, be sure to import the new data into Garmin Pilot.

Choose Home – Settings – FltPlan to import data
All flight plans created or changed on FltPlan.com will be automatically synchronized with Trip Planning in Garmin Pilot.
After modifying a trip in Garmin Pilot, select Save or File to send the changes to FltPlan.com
com flight plans may be activated in Garmin Pilot and wirelessly transferred to compatible Garmin avionics or a Garmin integrated flight deck. 
FBO Fees
A coalition of industry leaders, including AOPA, EAA, GAMA, NATA, NBAA and HAI, have called for Fee Transparency, asking FBOs to publish their pricing online.  Garmin Pilot now displays FBO fees, sourced by AOPA, including landing, ramp, deicing, GPU, overnight and more!
To view FBO fees:
Select FBOs from the Airport Info icon
Choose your desired FBO
Scroll to the fee section to view data
Flight Data Log Exceedance Alerts
Pilots may configure flight data log exceedances for every phase of flight within Garmin Pilot. The engine data graph, available from the logbook entry, will highlight an exceedance for a completed flight.
To establish a flight data log exceedance:
Select Alerts from Settings
Tap Flight Data Log Exceedance Alerts
Choose Add Exceedance Alert
Select the parameter and set exceedance limitations
Save to activate the alert
To view your engine data log
Select Logbook
Choose View Engine Data
EIS page will display engine data log
As a reminder, Garmin Pilot displays real-time engine information in-flight when paired with an EIS-capable TXi flight display or the G1000 NXi integrated flight deck and the Flight Stream 510.  Upon landing, the flight data log is wirelessly uploaded to the flyGarmin website and is incorporated into the logbook entry for post flight analysis. Flight data logs may also be manually uploaded to flyGarmin from an SD card.
Customized Split Screen Items
The split screen capability within the Garmin Pilot map page is a highly used feature that is unique to our application.  Now, users may customize the features in the Split Screen Selector  to modify the order in which items appear, or hide items that are not used.
From the Map page, tap the chevron to enter split screen mode
Tap the Split Screen Selector to display the visible items
Select Edit to modify the feature list
Tap and hold the Reorder icon to move the item to the desired location
To remove an item from the visible list, tap the red Minus Icon and select Hide
Tap the green Plus Icon to move an item from the Hidden Items to the Visible Items list
Select Done to save changes
To arrange items to their original default position, select Restore.
Runway Centerline
We have added two additional runways centerlines options to improve situational awareness.
Choose Ownship / Route from the map layer icon on the Map page
Select the desired Extended Centerlines Visibility
Choose the runway centerline option
The runway centerlines will be displayed for all the airports in active flight plan.
Bulk Deletion of User Waypoints
Garmin Pilot has improved the management of user waypoint adding the capability to delete multiple waypoints at one time.
From Settings, choose User Content
Choose Select to enter edit mode
Tap the waypoints you wish to remove and choose Delete or Select All to remove all user waypoints
Select Delete to confirm
For additional information on Garmin Pilot and our entire suite of aviation products, visit garmin.com/aviation.
The post Garmin Pilot Adds FltPlan.com Integration, AOPA FBO Fees and More appeared first on Garmin Blog.
https://www.garmin.com/en-US/blog/aviation/garmin-pilot-adds-fltplan-com-integration-aopa-fbo-fees-and-more/
Each year at the beginning of March, the aviation community celebrates the anniversary of the world's first female pilot license, earned by Raymonde de Laroche on March 8, 1910. Women of Aviation Week was established on the centennial anniversary of this achievement in 2010 to not only honor this achievement but also to promote aviation careers and involvement to future generations of women. This year at Garmin, we hosted festivities for the second straight year aimed at inspiring and encouraging local youth to pursue aviation and other STEM-related fields — incorporating science, technology, engineering or math.
Monday, March 4: Kickoff Celebration 
We kicked off the week by hosting families at our headquarters located in Olathe, Kansas, with flight simulator lab tours, an aviation-themed photo booth, build-a-plane projects and more. The evening was capped off with an inspiring presentation by around-the-world pilot and former Kansas City resident Amelia Rose Earhart.
Tuesday, March 5: High School Hangar Days
On the second day, our flight operations team took a break from their busy schedule of certifying avionics to provide free flights in Garmin aircraft to local high school students. They also got a behind-the-scenes look at how a department operates from hangar tours to simulator flights.
Wednesday, March 6: STEM Outreach
Members of our human resources and aviation engineering teams visited Kansas City metro schools to educate about opportunities in aviation and STEM fields. They also worked with students on a build-a-plane project to ignite the aviation spark.
Thursday, March 7: High School Hangar Days
High school students once again joined us on for another day of flights and hangar tours with our flight operations team. All-in-all, we ended up providing nearly 50 students flights in aircraft ranging from our Diamond DA-40 to a Beechcraft Baron.
Friday, March 8: Mercury 13 Presentation
Kansas City native and Mercury 13 program participant Sarah Gorelick Ratley joined us at Garmin headquarters to talk about her history in aviation and experiences as a pioneer for the space program. Additionally, local certified flight instructor Jeanné Willerth spoke about learning to fly, and her adventure of flying into EAA AirVenture Oshkosh.
Garmin is thrilled to have an opportunity to share our passion and enthusiasm for all aviation and STEM opportunities. Be sure to follow us for our latest news and events on Facebook, Twitter and Instagram!
The post Women of Aviation Week 2019 appeared first on Garmin Blog.
https://www.garmin.com/en-US/blog/aviation/women-of-aviation-week-2019/
On February 28, 2019, at the annual Embraer Suppliers Conference at Embraer's facility in Sao Jose dos Campos, Brazil, we were honored with the best supplier of the year award for the 10th time. Our team was named the best supplier for Electrical Systems of the Year related to the support of the G1000 Prodigy and G3000 Prodigy Touch integrated flight decks in the Phenom 100 and Phenom 300 respectively.
"We are humbled and honored yet again to be recognized by Embraer, among hundreds of their suppliers, for our tremendous commitment to serving them on their award-winning Phenom aircraft," said Carl Wolf, vice president of aviation sales and marketing. "The Electrical Systems Best Supplier award marks our 10th award from Embraer, over the last nine-year period – one that is a testament to the hard work and dedication provided by Garmin's entire team to deliver industry-leading flight deck solutions that are backed by the best support in the industry."
The 2018 award for Electrical Systems highlights design innovation, user-interface and overall system architecture, as well as outstanding efforts among production line support, quality and on-time reliability of the supply chain. This award further recognizes our achievement in designing and manufacturing state-of-the-art flight deck systems, while being sensitive to market needs and preferences.
This award joins a total of nine previous Embraer best supplier awards we have earned in the following categories:
2017: Technical Support to Operator
2017: Electro – Electronic Systems
2016: Electro – Mechanical Systems
2015: Electro – Mechanical Systems
2015: Material Support to Operator
2014: Material Support to Operator
2011: Electro – Electronic Systems
2011: Technical Support to Operator
2010: Electro – Electronic Systems
Best supplier recipients undergo stringent evaluation and are recognized as having shown outstanding performance, continuous improvement and increased customer satisfaction among all other suppliers in their respective categories. Nine award categories were presented among Embraer's entire aircraft portfolio, including Executive Aviation, Defense, and Commercial Aircraft. Suppliers are considered based on several attributes, including innovation, delivery, quality, reliability, flexibility and customer support.
This award is among many aviation industry accolades we have recently received. Late last year we were awarded top honors in avionics product support for the 15th straight year by Aviation International News, and earned the top spot in the annual avionics product support survey conducted by Professional Pilot magazine this year, also for the 15th consecutive year. In October, we were presented the Avionics Innovation Award and ADS-B Bravo Award by Business & Commercial Aviation. We have also been selected to receive a Laureate Award later this month for Electronics/Avionics within the Business Aviation category by Aviation Week Network.
For the latest Garmin aviation news and announcements, visit our website or follow us on Facebook, Twitter and Instagram.
The post Garmin Earns Best Supplier Award From Embraer for Tenth Time appeared first on Garmin Blog.
https://www.garmin.com/en-US/blog/aviation/garmin-earns-best-supplier-award-from-embraer-for-tenth-time/
Our aviation team is opening the spring season at the Helicopter Association International Heli-Expo and NBAA Houston Regional Forum, showcasing our latest technology, products, services and features.
Helicopter Association International Heli-Expo – March 4-7, 2019 
Presented this year at the Georgia World Congress Center in Atlanta, this annual event for the international helicopter community combines meetings, forums, workshops, and the latest aircraft and technology the industry has to offer.
This year we'll be highlighting our latest helo technology designed to help pilots improve mission effectiveness and safety. Everything from our G500H TXi touchscreen flight displays, GFC 600H flight control system for helicopters, to fully integrated flight decks — like G1000H NXi and G5000H — plus much more. And, the Jan. 1, 2020 ADS-B equippage deadline is only getting closer, so we'll be highlighting our complete line of ADS-B solutions for helicopters at the event, too. Find us in the B Hall at exhibit B616!
NBAA Houston Regional Forum – March 14, 2019
This one-day event located in Houston is a regional version of the annual business aviation convention intended to bring current and prospective business aircraft owners, operators, manufacturers, and customers together.
Our team of business aviation experts will be on-hand in Houston to discuss the popular solutions ranging from G1000 NXi upgrades, to the G5000 integrated flight deck upgrade on the Beechjet and Citation Excel/XLS aircraft. Attendees can learn about our advanced traffic, and weather solutions — such as the GWX 80 doppler weather radar with threat analysis — plus our G700 TXi touchscreen flight displays for business aircraft, and latest ADS-B solutions engineered to keep business aircraft flying well into the decades to come.
We'll also be highlighting our latest integration with FltPlan.com, and FltLogic — a comprehensive scheduling program that integrates with FltPlan.com. With FltPlan.com, pilots and passengers can take advantage of a feature set designed to save time and add convenience to travel, including eAPIS services for international flights, Pre-Departure Clearances and more. Learn more at booth #514 and #516 at the event!
Be sure to visit with our team of avionics experts at any one of these upcoming events, and follow us on Facebook, Twitter and Instagram for the latest news and announcements!
The post Spring 2019 Events — Helicopters, Business Jets and Flight Technologies appeared first on Garmin Blog.
https://www.garmin.com/en-US/blog/aviation/spring-2019-events-helicopters-business-jets-and-flight-technologies/
The National Transportation Safety Board's (NTSB) Most Wanted List of Transportation Safety Improvements outlines the critical changes that are needed to reduce transportation accidents, injuries, and fatalities. Flight Data Monitoring (FDM) is one of the recommendations for how to improve the safety of Part 135 aircraft flight operations:
Part 135 operators must implement safety management systems that include a flight data monitoring program, and they should mandate controlled flight-into-terrain-avoidance training that addresses current terrain-avoidance warning system technologies.
What is the problem and what can be done?
According to the NTSB website…
The Problem: Most of the organizations that conduct Part 135 operations do not have—and are not required to have—a safety management system (SMS), flight data monitoring (FDM), or controlled flight into terrain (CFIT)-avoidance training program. These programs enable operators to take a strategic approach to safety management, requiring that safety-focused policies, practices, and procedures be implemented to keep aircrews and passengers safe. SMS and FDM programs also yield data that can be used to improve safety practices to better prevent accidents.
What can be done: We know that SMS, FDM, and CFIT programs can improve safety and prevent crashes. We currently have 21 open safety recommendations addressing the safety gap in Part 135 operations. Operators must be proactive about safety; they should not wait for regulations or an accident to move them to action. Some operators have already incorporated SMS, FDM, and CFIT programs and are seeing tremendous safety returns.
---
FDM Solutions from Appareo
Appareo provides a turnkey flight data monitoring system, including the Vision 1000, a low-cost flight data recording solution that can be utilized on any aircraft.
https://www.appareo.com/2019/02/20/ntsb-2019-2020-most-wanted-list-calls-for-flight-data-monitoring/
Today we are commemorating the 25th anniversary of the GPS 155 TSO – the aviation industry's first FAA TSO-C129 approach approved IFR GPS receiver. The GPS 155 TSO set the standard for product development within avionics, laid the groundwork for future innovations in GPS navigation, and raised the bar for technological GPS advancements in the aviation industry.
"Our steadfast commitment to design, develop and deliver state-of-the-art avionics continues yet today as we commemorate the 25th anniversary of the GPS 155 TSO and celebrate a breakthrough in aviation navigation – one that pioneered the development and laid the groundwork for initiatives such as NextGen," said Carl Wolf, vice president of aviation sales and marketing. "As we recognize this significant milestone in aviation, we thank our loyal customer base and dedicated associates who make these achievements possible, and look forward to celebrating many more for years to come."
On February 16, 1994, we achieved a significant milestone by introducing the GPS 155 TSO to the aviation industry—the world's first GPS navigation product to be fully certified to FAA TSO-C129, Class A1 standards for non-precision approach use. For the first time, pilots could fly in instrument meteorological conditions (IMC) throughout the departure, enroute, and approach phases of flight using GPS as their primary navigation source. The introduction of the GPS 155 TSO would eventually pave the way for the development of new, safety-enhancing technologies that would leverage the high-integrity position data it offered, such as moving map displays, terrain avoidance systems, and synthetic vision.
With the GPS 155 TSO, aircraft operators quickly recognized the operational safety benefits of modern era satellite-based navigation that traditional navigation could not provide. Simultaneously, antiquated and less accurate ground-based navigational aids (NAVAIDs) were slowly phased-out. The benefits of GPS navigation were realized throughout the industry as GPS not only offered a higher level of precise navigation throughout the national airspace system (NAS), but also provided instrument approach capability, which was especially important for remote airports that did not have the appropriate funding or accessibility to NAVAIDs.
Years later, the GPS 155 TSO would eventually pave the way for the development of technologies that support the broader implementation of airspace modernization initiatives, such as the Next Generation Air Transportation System, better known as NextGen. Predicated on GPS, NextGen significantly improves aircraft predictability, operational performance and capacity throughout the NAS and offers efficiencies that only GPS navigation can provide. These efficiencies result in reduced flying time, lower approach minimums, minimized fuel burn and more. A pillar of NextGen, Automatic Dependent Surveillance-Broadcast (ADS-B), also relies on the precise position information only available from Wide Area Augmentation System (WAAS) GPS. The GPS 155 TSO unquestionably laid the foundation for future advancements in avionics that would ultimately support global airspace modernization initiatives.
In 1998, we would again celebrate another innovative first in the aviation industry with the introduction of the GNS 430. The all-in-one GPS, COM, VOR, LOC, and glideslope navigator, complete with a color moving map, proved to be a significant technological leap in innovation and navigation. Similarly, when the GNS 430 and GNS 530 received WAAS certification in 2006, the most popular certified IFR GPS system to-date gave pilots even greater instrument approach capabilities. In 2011, the GTN 650 and GTN 750 were introduced to the marketplace as the first touchscreen avionics certified for general aviation aircraft and have proven just as popular as its predecessor.
Get the latest Garmin Aviation news and announcements on social media by following us at @GarminAviation on Facebook, Twitter and Instagram.
The post 25th Anniversary of GPS 155 Milestone appeared first on Garmin Blog.
https://www.garmin.com/en-US/blog/aviation/25th-anniversary-of-gps-155-milestone/
What's the most valuable asset to a pilot? Many would probably tell you time, especially when there's a business interest involved. For most pilots, getting from point A to point B as safely, quickly and efficiently as possible is the main objective. Fortunately, we have a tool that can help. Our built-in Pre-Departure Clearance (PDC) services on FltPlan.com were created to help flight crews and passengers save valuable time, allowing them to get airborne, and ultimately to their destination, faster and more conveniently.
What's the Advantage of PDC?
Our PDC services can add convenience and help reduce time on the ground prior to departure. Instead of the conventional method of calling ATC for departure release, our FAA-approved PDCs are natively integrated into FltPlan.com and eliminate the need to call clearance delivery from the cockpit. These PDC services are currently available at more than 70 airports throughout the United States.
How It Works
It's easy – simply submit a flight plan for approval within FltPlan.com, and an approved PDC will appear for an active flight approximately 20-30 minutes before your filed departure time. PDC notifications can be received via email, text or as a pop-up that opens in a separate window when the PDC message is displayed on a pilot's active flight plan list within FltPlan.com.
PDCs include:
Your filed route
Amendments to your route
Your cleared altitude
Your transponder code
Your departure frequency
Any special instructions
No Datalink? No Problem.
PDCs are a great solution for aircraft that aren't equipped with controller-pilot datalink communications (CPDLC). Pilots have access to PDCs on a mobile device running FltPlan.com, or by receiving PDC information via text and email notifications.
PDC services are available with FltPlan.com and a $199 per year subscription, per aircraft. For more information and to sign up for service, visit https://www.fltplan.com/pdcinfo.htm.
The post Save Valuable Time with FltPlan.com Pre-Departure Clearances appeared first on Garmin Blog.
https://www.garmin.com/en-US/blog/aviation/save-valuable-time-with-fltplan-com-pre-departure-clearances/
The G1000 NXi integrated flight deck upgrade for the Cessna Citation Mustang is now certified and available. G1000 NXi offers a number of new and enhanced features, including wireless cockpit connectivity, split-screen capability, SurfaceWatch, visual approaches, map overlay within the horizontal situation indicator (HSI) and more. The Supplemental Type Certificate (STC) for the G1000 NXi integrated flight deck upgrade in the Citation Mustang is available immediately through Textron Aviation Service Centers.
"In 2003, the Citation Mustang was the first aircraft to announce the G1000 integrated flight deck and today, we're excited to offer the next-generation G1000 NXi upgrade to the Mustang – an aircraft that defined the very light jet category," said Carl Wolf, vice president of aviation sales and marketing. "Today's milestone positions the Mustang for continued success as we continue to provide new, unprecedented levels of performance, capability and reliability to some of the most loyal Garmin customers and their aircraft."
A robust feature set accompanies the G1000 NXi integrated flight deck upgrade for the Citation Mustang. Aiding in situational awareness, SurfaceWatch runway monitoring technology provides visual and aural cues to help prevent pilots from taking off or landing on a taxiway, on a runway that is too short or on the wrong runway based on flight plan data entered during preflight. Visual and audible runway distance remaining annunciations are also available via SurfaceWatch.
Visual approach capability integrated within the G1000 NXi system also offers pilots enhanced guidance in visual flight conditions based on a three-degree glideslope from the threshold of the runway. Pilots can select the runway for which they have been cleared to land, set customized minimums, select vectors or straight-in for the final approach intercept and fly a visual approach coupled with the autopilot.
HSI mapping is available on the primary flight display (PFD), which also supports the overlay of SiriusXM aviation weather, Flight Information Service-Broadcast (FIS-B) weather, weather radar, SafeTaxi airport diagrams, traffic, terrain and more1. For example, pilots can display SafeTaxi on the HSI map while utilizing the multi-function display (MFD) for charts or other tasks. Available as an option, the G1000 NXi system also supports the display of various Automatic Dependent Surveillance-Broadcast (ADS B) In benefits on the flight displays. Customers also have the option to upgrade to a Bluetooth® audio panel. Additional G1000 NXi features include the option to view IFR and VFR charts, split-screen functionality and more.
Connext cockpit connectivity with added Database Concierge and wireless flight plan transferring is also available with the G1000 NXi. Using a compatible tablet or smart phone, pilots can easily upload and sync flight plans and database information using the Garmin Pilot app. Additional features include the streaming of traffic, weather, GPS information, back-up attitude information and more1, from the G1000 NXi to the Garmin Pilot, FltPlan Go or ForeFlight Mobile applications.
Modern, state-of-the-art processors support smoother panning throughout the displays and faster map rendering within the G1000 NXi. The flight displays initialize in seconds so pilots have immediate access to frequencies and flight plan data. The G1000 NXi integrated flight deck also offers new LED back-lighting, offering increased display brightness and clarity, reduced power consumption and improved dimming performance.
The G1000 NXi integrated flight deck upgrade for the Citation Mustang is available immediately through Textron Aviation Service Centers. Citation Mustang owners and operators can easily upgrade to the G1000 NXi with minimal aircraft down time and disruption of the panel as the displays preserve the same footprint and connectors, so panel and wiring modifications are minimized. The upgraded components of the G1000 NXi also come with a two-year limited warranty, which is supported by our award-winning avionics product support team. For additional information regarding the G1000 NXi upgrade for the Citation Mustang, contact Scott Frye at scott.frye@garmin.com or (913) 440-2412, or contact Tom Heck at theck@txtav.com or (316) 761-0161. For additional details, visit: www.garmin.com/businessaviation.
The post G1000 NXi Upgrade for the Citation Mustang Now Certified appeared first on Garmin Blog.
https://www.garmin.com/en-US/blog/aviation/g1000-nxi-upgrade-for-the-citation-mustang-now-certified/