We are pleased to announce new features and upgrades available for the G1000 NXi integrated flight deck in the King Air 200/250/300/350 series aircraft.
A new, Bluetooth-enabled
audio panel for the G1000 NXi integrated flight deck in the King Air offers an
expanded feature set alongside innovative sound quality. Home theater-like
music effects add to the rich audio characteristics provided by the audio panel,
allowing pilots to select bass boost levels, as well as equalizer effects,
including rock, classical and pop. Advanced auto squelch automatically adapts
to the noise level within the cockpit and allows for natural conversation
through headsets. It includes a six-place stereo intercom and support for up to
three stereo music inputs. Split-COMM mode allows the pilot and co-pilot to
broadcast independently on two separate frequencies and contains dedicated
pilot and co-pilot music and intercom volume control knobs. Additionally, a
built-in digital clearance recorder can record up to 60 seconds of selected
COMM radio transmissions so pilots can easily play back difficult clearances.
The first to introduce 3D Audio, we have incorporated 3D audio processing into the audio panel. With stereo headsets, incoming audio is spatially separated to reflect how people naturally process sound and conversation by differentiating audio sources by their unique locations or seat position. For example, sound from COMM 1 will come from the left, whereas sound from COMM 2 will sound as though it's coming from the right. Using stereo headsets, listen to a demonstration of 3D Audio here: http://www.garmin.com/us/explore/intheair/how-does-3d-audio-work/
As a standard feature of the audio
panel, pilots can connect a smartphone or tablet via Bluetooth to easily make
or receive phone calls, stream audio entertainment or wirelessly connect to
select Garmin HD action cameras. Offering a seamless upgrade path, pilots and
aircraft owners can easily upgrade (or select as an option with a new G1000 NXi
installation) to the new audio panel as its slide-in replaceable and only
requires minor wiring modifications.
The GWX 75 weather radar is
also compatible with the latest upgrade for G1000 NXi-equipped King Air
aircraft, which offers exceptional range and a new, enhanced color palette that
features four-times more color contouring than traditional weather radars on
the market. The Doppler-based, solid-state GWX 75 offers a range of 320
nautical miles, horizontal scan angles of up to 120 degrees and to focus on an
area of interest, pilot-adjustable sector scanning. The GWX 75 also retains vertical
scan capabilities, which allows the pilot to focus on storm tops, gradients and
storm cell build-up at various altitudes. Optional features such as
Doppler-enabled turbulence detection and ground clutter suppression are also
available with the GWX 75.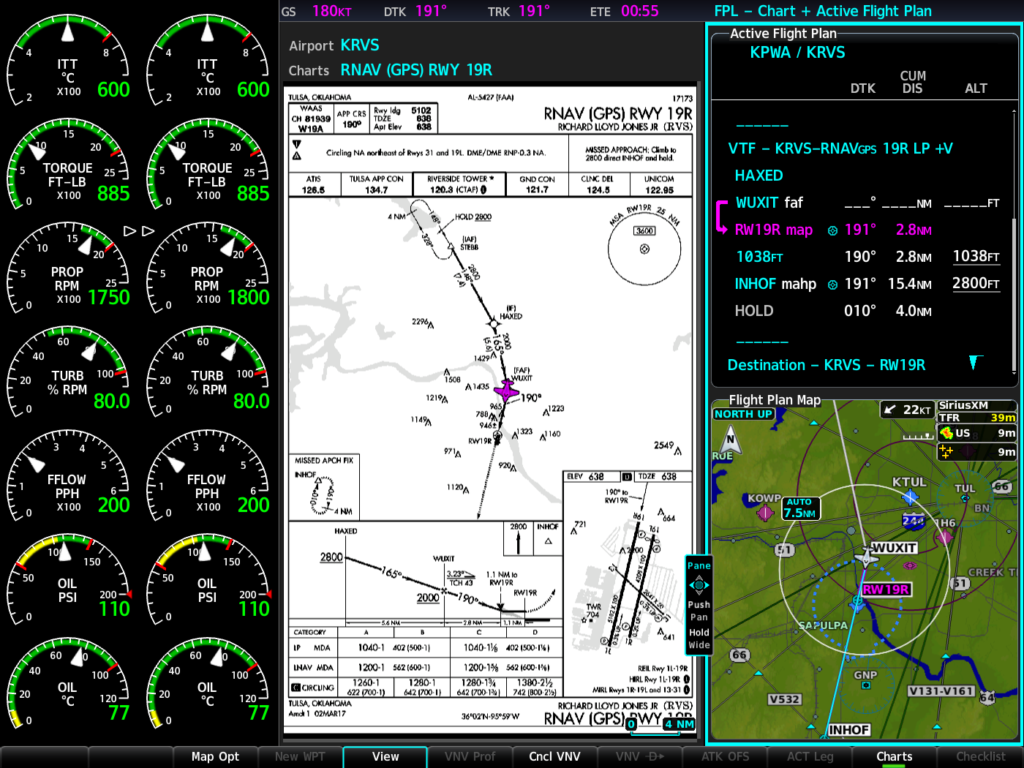 Also included as part of this
upgrade:
Split-screen view is available on the MFD,
offering a simultaneous view of maps, charts, checklists, flight plans and more
on a single screen.
Pilots can view decoded Terminal Aerodrome
Forecasts (TAF's) on the primary flight display (PFD) and multi-function
displays (MFD).
For current King Air
owners and operators, the latest features are available immediately from select
Garmin Authorized Dealers as a free upgrade (installation and hardware charges
may apply). Optional equipment upgrades are also currently available. King Air
owners and operators may contact a Garmin Authorized Dealer for pricing
information. For more details regarding the G1000 upgrade for the King Air
series aircraft, contact Scott Frye at (913)-440-2412. For additional
information, visit: www.garmin.com/kingair.
The post New Upgrades for G1000 NXi-Equipped King Air Aircraft appeared first on Garmin Blog.
https://www.garmin.com/en-US/blog/aviation/new-upgrades-for-g1000-nxi-equipped-king-air-aircraft/
Clemens Aircraft, a fleet management company located in Benton, Kansas, is nearing completion of their 11th G5000 integrated flight deck upgrade within its managed fleet of Beechjet 400A/Hawker 400XP aircraft. They have completed a comprehensive upgrade for each Beechjet that includes the G5000 integrated flight deck, winglets, as well as new paint and interior.
"After all of these upgrades, the G5000 in the Beechjet provides the best value when compared to other aircraft in its class," said Dwayne Clemens, owner of Clemens Aircraft. "Additionally, these upgrades significantly expand our operational capability through a combination of benefits such as lower approach minimums because of access to WAAS/LPV approaches, an increase in useful load of over 300 pounds and an overall reduction in operational costs."
The G5000 integrated flight deck features three high-resolution, 12-inch flight displays with multi-pane capability, allowing pilots to simultaneously view maps, charts, checklists, TAWS, TCAS, flight plan information, weather and more. Two touchscreen display/controllers serve as the primary crew interface for the system, offering an intuitive graphical menu to simplify cockpit tasks.
With the G5000 upgrade, the Beechjet 400A/Hawker 400XP receives a Federal Aviation Administration (FAA) and European Aviation Safety Agency (EASA) rule-compliant Automatic Dependent Surveillance-Broadcast (ADS-B) Out solution. It also allows for access to more airports and lower minimums throughout the world through standard PBN/RNP 0.3, radius-to-fix (RF) legs support and LPV/APV approach capability. The G5000 upgrade provides operators with a platform positioned to take advantage of future global airspace modernization applications.
For additional information regarding the G5000 integrated flight deck modernization program for the Beechjet 400A/Hawker 400XP, contact Dave Brown at +1-913-440-1714 or dave.brown@garmin.com.
The post 11 Consecutive Beechjet G5000 Installations by Clemens Aircraft appeared first on Garmin Blog.
https://www.garmin.com/en-US/blog/aviation/11th-consecutive-g5000-installation-by-clemens-aircraft/
Gulfstream has selected a complete Garmin Automatic Dependent Surveillance-Broadcast (ADS-B) In solution for new and existing G280 business jets. The solution features Garmin GDL 88 ADS-B datalink and Flight Stream 210 providing easy access to the benefits of ADS-B In traffic, which is correlated from multiple sources, and subscription-free Flight Information Service-Broadcast (FIS-B) weather. This ADS-B In solution also integrates with existing TCAS systems and cockpit displays to provide a cohesive and straightforward upgrade, reducing cost and streamlining the installation process.
Available as a forward-fit or retrofit ADS-B In solution, the GDL 88 and Flight Stream 210 offer Gulfstream G280 aircraft operators a simple path to receive ADS-B In. The Flight Stream 210 wireless gateway can connect via Bluetooth to up to two mobile devices simultaneously, while the GDL 88 receives data from nearby ADS-B ground stations and other aircraft on the ground and in-flight. Because the GDL 88 integrates with the aircraft's existing GPS and AHRS, pilots can display GPS position data, including velocity, attitude and heading information, alongside ADS-B In traffic and weather utilizing the Garmin Pilot app on iOS or Android mobile devices.
The GDL 88 and Flight Stream 210 uniquely integrate with existing avionics in the cockpit of the Gulfstream G280 to provide pilots with greater situational awareness. For example, ADS-B In traffic is correlated from multiple sources, including the aircraft's existing TCAS system, offering optimal traffic alerting. Enhancing the traffic picture, patented TargetTrend and TerminalTraffic can also be viewed within Garmin Pilot. Because the GDL 88 is also dual-link, operators with this solution have the capability to see more aircraft – even those operating at small reliever airports where ADS-B ground stations may not be nearby. Aural traffic alerts are also available with this solution. The display of ADS-B In traffic and weather is also available within the FltPlan Go app, ForeFlight Mobile and Jeppesen Mobile FliteDeck.
In addition to displaying ADS-B In traffic and FIS-B weather, Garmin Pilot provides a comprehensive suite of tools and full-featured navigation for pilots around the globe on both iOS and Android mobile devices. A standalone electronic flight bag, Garmin Pilot also offers worldwide features such as European IFR autorouting and filing, access to Jeppesen charts, as well as Leidos Flight Service ICAO flight plan filing.
As part of this ADS-B In upgrade, Gulfstream G280 customers also receive a five-year subscription to Garmin Pilot U.S. IFR Premium. For additional details regarding this Garmin ADS-B In solution, contact a local Gulfstream Service Center. For more information regarding Garmin's suite of ADS-B solutions, contact aviation.sales@garmin.com.
The post Gulfstream G280 Gets Garmin ADS-B Solution appeared first on Garmin Blog.
https://www.garmin.com/en-US/blog/aviation/gulfstream-g280-gets-garmin-ads-b-solution/
We're thrilled to announce the availability of the G700 TXi—a touchscreen flight display designed for Part 23 Class IV and Part 25 transport category aircraft. The initial Supplemental Type Certificate (STC) will be approved for select Cessna Citation II/SII and Citation V aircraft soon, is available from JETTECH and can be installed across the Garmin dealer network.
"The G700 TXi series has redefined aircraft and helicopter cockpits and we're excited to extend this modern upgrade to now include this class of business aircraft," said Carl Wolf, vice president of aviation marketing and sales. "The availability of the G700 TXi is a significant achievement for Garmin as this is the first public validation of the TXi series in this class of aircraft. Alongside JETTECH, we are excited to provide a dedicated upgrade path for some of the most popular business jets in the market."
This certification of the G700 TXi is comprised of a single or dual 10.6-inch flight display that boasts a bright, LCD touchscreen design and features dual concentric knobs for added convenience and versatility when interfacing with the system. Because the G700 TXi is paired with dual GTN 650/750 touchscreen navigators, pilots receive flight management system (FMS) functionality through an intuitive touchscreen interface. The G700 TXi also integrates seamlessly with these navigators, offering even more operational capability, including fully coupled LPV/WAAS approach guidance, as well as the option to display vertical navigation (VNAV) guidance to fly complex RNAV arrival procedures.
Using the latest display technologies, the G700 TXi system improves dispatch rates, reduces aircraft downtime, as well as overall life cycle costs. Modern, solid-state sensors utilized by the G700 TXi system offer improved reliability over heavier, maintenance-prone legacy instrumentation. Flight data logging maximizes aircraft availability and productivity as system parameters, autopilot status and more are recorded on a removeable SD card within the G700 TXi for quick and easy identification and interpretation of maintenance-related issues.
Pilots will appreciate a familiar in-flight experience between the G700 TXi flight displays and the GTN touchscreen navigators as the user interface is harmonious across both products. New features and optional capabilities of the G700 TXi flight display include:
HSI mapping offers a multifunction display-like perspective map view on the PFD, helping pilots to better visualize traffic, terrain, weather and more as it relates to a flight plan without diverting their attention away from the PFD.
Customizable crew profiles allow pilots to configure and save settings such as map configurations and audio volume levels so they can easily be recalled prior to each flight.
Synthetic vision technology (SVT) is standard and uses sophisticated graphics modeling to present a 3D depiction of terrain, obstacles, traffic and the runway environment on the PFD.
TCAS II Resolution Advisory (RA) display offers pilots visual and aural instructions to avoid immediate traffic conflicts.
TAWS-A and TAWS-B are available as options.
Various global datalink weather products are accessible when paired with the optional GSR®
Support for Reduced Vertical Separation Minimum (RVSM) operations is available.
Pilots can view Garmin FliteCharts terminal approach procedures or optional Jeppesen approach charts.
Connext wireless cockpit connectivity with added Database Concierge and flight plan transferring via Flight Stream 510 is available with a compatible tablet or smartphone and conveniently uploads and syncs database and flight plan information.
ADS-B In/Out display is standard, featuring patented TargetTrend and TerminalTraffic.
The G700 TXi flight display is available from JETTECH and select Garmin dealers and will be approved for the Cessna Citation II/SII and Citation V equipped with the Sperry SPZ 500 autopilot. Additional aircraft approvals are expected in the future. Visit our static display (SD 20) to see a Citation II equipped with the G700 TXi touchscreen flight display system and visit our exhibit (2695) at the NBAA Business Aviation Convention & Exhibition in Orlando, Florida, October 16-18, 2018. For additional information regarding the G700 TXi upgrade, contact aviation.sales@garmin.com or visit www.garmin.com/TXi.
The post G700 TXi Flight Display for Part 23 Class IV and Part 25 Aircraft appeared first on Garmin Blog.
https://www.garmin.com/en-US/blog/aviation/g700-txi-flight-display-for-part-23-class-iv-and-part-25-aircraft/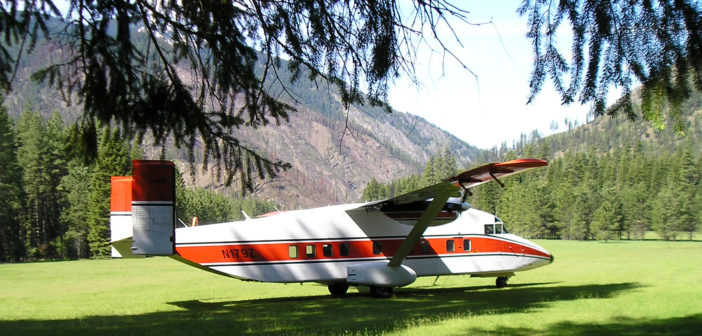 We are excited to announce the certification of our G950 NXi integrated flight deck for the United States Forest Service (USFS) fleet of Sherpa aircraft (Shorts SD3-60). The installation and certification was completed by Field Aerospace in Oklahoma City, Oklahoma. The G950 NXi provides the USFS with an advanced avionics suite that solves avionics obsolescence, exceeds regulatory requirements and expands the operational life of these versatile, mission-driven aircraft.
"Alongside Field Aerospace, Garmin is excited the G950 NXi integrated flight deck upgrade is ready to support the United States Forest Service and their vital missions," said Carl Wolf, vice president of aviation marketing and sales. "The next generation G950 NXi is a modernized cockpit that decreases pilot workload and increases mission effectiveness, while also providing greater utility to these aircraft in support of critical wildland fire operations."
The G950 NXi encompasses all of the features of the G1000 NXi integrated flight deck, while integrating with the Sherpa's existing APS 65 autopilot, reducing cost and installation complexity. Three 12-inch displays combine navigation, communication, terrain, traffic, weather and more within the G950 NXi integrated avionics suite, providing the flight crew with easier access to pertinent information. Flight plan information is overlaid on a rich, dynamic map displaying airspace, rivers, lakes, parks and woodland areas that are pertinent to the missions conducted by the USFS.
Increased situational awareness provided by synthetic vision technology (SVT), presents a 3D depiction of terrain, obstacles, traffic and the runway environment. SVT works seamlessly with Class-A Terrain Awareness and Warning System (TAWS) by providing alerts such as excessive closure rate and large glideslope deviations. Additional features of the G950 NXi include WAAS/LPV approach capability, Traffic Alert and Collision Avoidance System (TCAS II) and more. Features such as SVT and TAWS improve situational awareness, particularly during low altitude flying in mountainous terrain, which is critical in the day-to-day operations of the USFS.
Global airspace modernization requirements are met with the ADS-B Out-compliant GTX 3000 Mode S Extended Squitter (ES) remote transponder. The GDL 88 ADS-B datalink provides flight crews with the additional benefit of ADS-B In Flight Information Service-Broadcast (FIS-B) weather. The addition of the GWX 70 weather radar aids in weather interpretation and analysis in the cockpit. Replacement of the existing avionics with the G950 NXi is estimated to provide a weight savings of up to 250 pounds, allowing the option to carry additional cargo, personnel or fuel. In addition to increased utility, the G950 NXi offers greater reliability, increased dispatch rates and will deliver tangible operational cost benefits to the USFS.
The G950 NXi-equipped Sherpa aircraft is used to support wildland fire operations, including smokejumper, passenger and cargo missions. For additional information regarding the G950 NXi integrated flight deck upgrade, visit: www.garmin.com/aviation.
The post G950 NXi Certified for United States Forest Service Sherpa Aircraft Fleet appeared first on Garmin Blog.
https://www.garmin.com/en-US/blog/aviation/g950-nxi-certified-for-united-states-forest-service-sherpa-aircraft-fleet/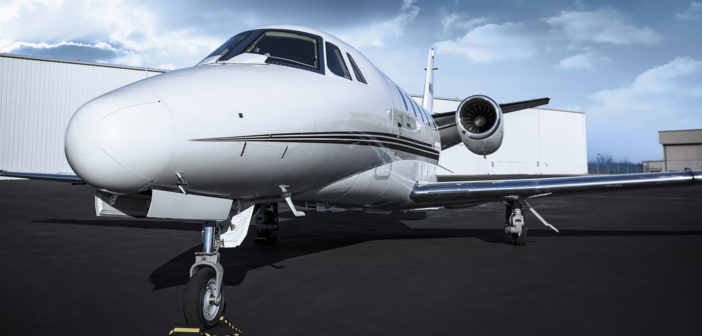 The National Business Aviation Association (NBAA) annual convention and exhibition returns to Orlando, Florida, October 16-18—bringing together over 25,000 industry professionals at the third largest tradeshow in the United States. Our aviation team will be on site representing our latest avionics, everything from ADS-B solutions to full integrated flight decks.
ADS-B Solutions
This year, we'll be showcasing our wide range of ADS-B solutions for business aircraft—did you know we've fielded more ADS-B solutions than any other brand in the industry? We've designed all-inclusive packages such as our GTX 3000 Mode S Extended Squitter transponder paired with our GDL 88 ADS-B datalink. These solutions are engineered to provide seamless integration between existing equipment such as TCAS systems, transponder control heads or radio management units to minimize cockpit modifications and streamline the installation process.
Integrated Flight Decks and Garmin-Equipped Citations
Be sure to check out our latest integrated flight deck upgrades, including G5000 and G1000 NXi. We are continuing to field G5000 for Beechjet upgrades around the globe, and the G5000 retrofit program for Cessna Citation Excel/XLS is making great flight test progress – we'll have an example on static display. G1000 NXi continues to be a staple upgrade for the vast fleet of King Air aircraft and TBM 850/900, and now, Cessna Citation Mustang and Phenom 100/300 programs are nearing completion. Attendees can also get a look at our TXi series of touchscreen flight displays, including a G700 TXi-equipped Cessna Citation II on static display, plus our GHD 2100 Head-Up Display for business aircraft.
Avionics Training
For the first time at NBAA 2018, we are hosting avionics training courses at the convention. On Wednesday, October 17, from 9am-11am and 2pm-4pm, attendees can learn about advanced features within Garmin integrated flight decks. Learn Climb, Cruise, and Descent VNAV operational techniques through a scenario-based profile. These seminars will also cover weather radar fundamentals while exploring the operation and features of the Garmin GWX Radar series. Courses will take place in meeting room N320A; walk-ins are welcome or register here.
Visit us in booth 2695 in the North/South Hall and check out static aircraft on display featuring a Cessna Citation 560 XLS featuring G5000 and a Cessna Citation II 550 featuring dual G700 TXi flight displays and dual GTN 750 touchscreen navigators at the Orlando Executive Airport. For more information about our latest business aviation solutions, visit garmin.com/businessaviation.
The post NBAA 2018: Integrated Flight Decks, ADS-B Solutions, Avionics Training and More appeared first on Garmin Blog.
https://www.garmin.com/en-US/blog/aviation/nbaa-2018-integrated-flight-decks-ads-b-solutions-avionics-training/