Garmin TeamX unveiled the aera 760, a premium aviation portable that is purpose-built for the pilot and the cockpit. The aera 760 boasts a 7-inch bright, sunlight readable touchscreen display complete with comprehensive chart options in a compact and dedicated portable GPS. Additional features of the aera 760 include the option to load instrument approach procedures, arrivals and departures, approach chart overlay on the map, Garmin Connext wireless connectivity, as well as the option to integrate it with select Garmin avionics. The aera 760 is expected to be available in May for a list price of $1,599 USD.
"On behalf of our innovative and nimble TeamX gang of aviation enthusiasts, we're excited to introduce the latest edition to the distinguished family of Garmin portable GPS products, the feature-packed aera 760," said Carl Wolf, vice president of aviation sales and marketing. "For nearly three decades, Garmin has sold hundreds of thousands of portable GPS products for aircraft big and small. Building upon our acclaimed portable aviation GPS line-up, the aera 760 has the most robust aviation feature set to-date, that is designed exclusively by pilots – for pilots."
Featuring a modern yet rugged design, the aera 760 is an all-in-one aviation portable complete with a built-in GPS/GLONASS receiver that is optimized for the cockpit. Its bright, 7-inch sunlight readable display can run on battery power for up to four hours on a single charge. Along the bezel, an industry-standard USB-C connection is used to charge and power the aera 760, while a microSD card slot allows pilots to load topography and street maps or use it to easily transfer user waypoints. The aera 760 features an intuitive user-interface resembling that of many other popular Garmin products such as the GTN Xi series, G3X Touch and Garmin Pilot allowing pilots to easily transition between multiple Garmin products in the cockpit. Capable of operating in harsh conditions, the aera 760 has also been tested and hardened to meet stringent temperature and vibration standards.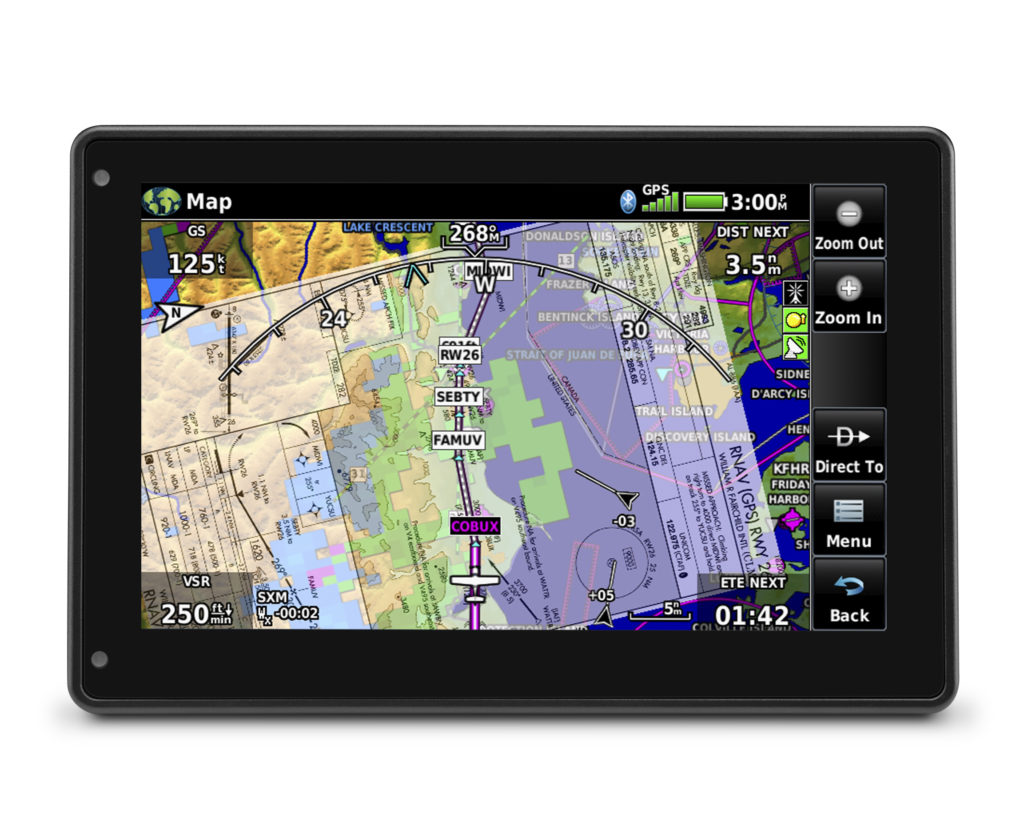 New to the aera 760, pilots can load departures, arrivals and instrument approach procedures (IAPs) within a flight plan, which can be wirelessly transferred to a navigator in the cockpit. Once a procedure is loaded within the aera 760, pilots have the option to view the chart or they can overlay it on the moving map. IFR enroute charts, VFR sectionals and Garmin FliteCharts are also geo-referenced, providing optimal situational awareness. Jeppesen electronic charts are compatible with the aera 760 and give customers worldwide access to instrument approach chart information. In addition to procedures, victor airways, user-defined holds and holds over an existing navigation fix can be entered into a flight plan.
Built-in Wi-Fi and Bluetooth allow the aera 760 to take advantage of Garmin Connext wireless connectivity inside and outside of the cockpit. When connected to Wi-Fi, pilots can easily download aviation database and software updates without the need to physically connect it to a computer. Prior to departure, pilots can also view worldwide weather information on the aera 760 when it's connected to Wi-Fi. In the cockpit, it is capable of wirelessly connecting to select products such as the GTX 345 or the GDL 52 to display the benefits of Automatic Dependent Surveillance-Broadcast (ADS-B) traffic, Flight Information Service-Broadcast (FIS-B) weather, SiriusXM aviation weather and more via Bluetooth. Exclusive features such as TerminalTraffic and TargetTrend can also be viewed on the moving map and dedicated traffic pages.  
Pilots can hard-wire the aera 760's power, audio and dual RS-232 connections to receive additional benefits. When connected to a navigator such as the GTN 650Xi/750Xi, GTN 650/750 or the GNS 430W/530W, the aera 760 can send and receive flight plan data that is entered into the navigator over a serial port so all products remain synchronized throughout the flight. It is also capable of wirelessly connecting to these navigators when paired with a Flight Stream 210/510. When connected to a NAV/COM such as the GTR 225, GNC 255 or GTR 200, frequencies and airport identifiers can also be transferred from the aera 760 to the corresponding NAV/COM. For aircraft flying in visual conditions, pilots can optionally connect the aera 760 to select autopilots to fly lateral GPS and single point vertical navigation (VNAV) guidance. For example, pilots flying in visual conditions can fly a VNAV profile from their current altitude to pattern altitude using the aera 760 fully coupled to the autopilot.
3D Vision technology displays a virtual 3D perspective view of surrounding terrain, obstacles and airports, as well as a horizontal situation indicator (HSI) that is capable of showing lateral and vertical deviation bars. When the aera 760 is panel mounted or paired with a compatible attitude source such as a GDL 52 or GTX 345, pilots can view synthetic vision (SVX), which adds the display of back-up attitude information on the portable.
The aera 760 also features fuel price information, an E6B flight computer and weight and balance calculators. The E6B can be used prior to a flight to aid in calculating fuel burn, estimated time of arrival (ETA) and more. While in-flight, the aera 760 utilizes ground speed information to recalculate fuel burn and ETA. Helicopter operators also have access to features tailored to their unique operations, such as WireAware wire-strike avoidance technology. WireAware overlays power line locations and relative altitude information on the moving map and provides both aural and visual alerting when operating near power lines. Pilots also have the option to enter street intersections or non-aviation waypoints. GPS altitude display is offered in both mean sea level (MSL) and above ground level (AGL), so they are easier to identify relative to the aircraft flight path.
The aera 760 is expected to be available in May for a list price of $1,599 USD and is compatible with the cost-effective Garmin Navigation Database that is available in the Americas with US coverage starting at $39.95 for a single update. A variety of annual bundles are also available on the flyGarmin website, such as the U.S bundle for $169.95, which includes the Garmin Navigation Database, FliteCharts, IFR/VFR Charts, terrain, obstacles, SafeTaxi, and the airport directory with fuel prices. Pilots can also add enhanced map information such as topography or street maps using a MicroSD card. The aera 760 is supported by our award-winning aviation support team, which provides 24/7 worldwide technical and warranty support. For additional information, visit www.garmin.com/aera760.
The post aera 760: 7-inch Format Portable Aviation GPS appeared first on Garmin Blog.
https://www.garmin.com/en-US/blog/aviation/aera-760-7-inch-format-portable-aviation-gps/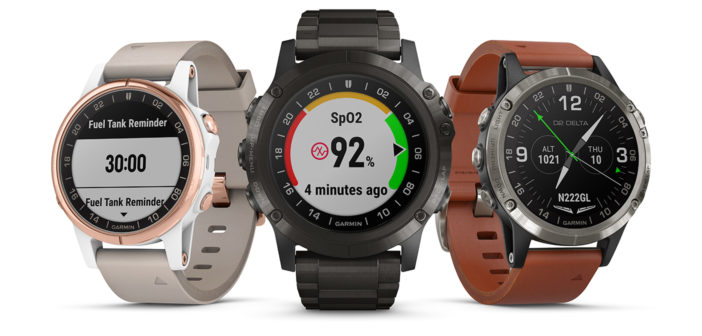 Introducing D2 Delta PX, D2 Delta S and D2 Delta aviator watch series, three new GPS-enabled smartwatches built in a variety of sizes and personalities for pilots and aviation enthusiasts. New to the D2 aviator watch series, the D2 Delta PX incorporates built-in wrist-based Pulse Oximeter for oxygen saturation awareness. Additionally, all D2 Delta watches come with wireless connectivity with select Garmin avionics, Garmin Pay contactless payment solution, storage for music playlists and more. These features offer pilots more flexibility, greater connectivity and utility in a compact aviator watch that's as functional as it is stylish.
"The D2 Delta series merges modern style and functionality in a sophisticated watch that is available in three distinct sizes tailored to male and female pilots and aviation enthusiasts," said Carl Wolf, vice president of aviation marketing and sales. "Whether you're climbing into a single-pilot cockpit on the weekend, shooting instrument approaches to minimums or flying professionally, the D2 Delta transforms the aviator watch market with exclusive aviation functions and connected features that appeal to every pilot – regardless of what flying they do."
The premium D2 Delta PX features an elegant titanium gray diamond-like carbon (DLC) finish on a large, 51mm bezel. Especially useful in-flight and during high altitude activities, the D2 Delta PX exclusively incorporates wrist-based Pulse Ox to help monitor oxygen saturation levels.
The D2 Delta S features a stylish rose gold-tone bezel and is lighter, sleeker and smaller than previous D2 models. At 42mm, the D2 Delta S is ideal for smaller wrists and comes with a beige leather strap that makes it easy to transition from the cockpit to a night out. The third model in the series, the D2 Delta, measures 47 mm and has a silver titanium bezel, as well as a premium brown leather strap.
The D2 Delta series seamlessly integrates with select Garmin avionics to achieve a harmonious, connected cockpit. The D2 Delta can connect wirelessly to the Garmin Pilot app, as well as the
GTN 650/750 touchscreen navigator series or the G1000 NXi integrated flight deck via
Flight Stream 510 to enable wireless flight plan transfer to the watch. When connected, all models in the new D2 Delta series can receive additional information from compatible avionics including GPS position information, altitude, airspeed, groundspeed, magnetic heading, outside air temperature and more.
Bluetooth-capable music streaming enriches every activity as all models of the D2 Delta incorporate integrated music storage of up to 500 songs within the watch, offering phone-free listening. Download playlists from select music streaming services or transfer customized playlists from a computer directly to the watch. Once the playlist is loaded, pilots can pair a D2 Delta with a compatible Bluetooth Garmin audio panel such as the GMATM 245, GMA 345 or GMA 350c. The D2 Delta can also be paired with a Bluetooth headset or headphones (sold separately).
All sizes of the D2 Delta also include Garmin Pay, a contactless payment solution, allowing customers to leave their cash and credit cards at home. Utilizing their Garmin Pay wallet, customers have the same benefits and rewards of the physical cards, with the convenience of having them available on their wrist.
The D2 Delta aviator watch series also features new smartwatch alerting tailored to aviation operations. These new alerts include:
Configurable pressure altitude notifications, which consists of a series of vibrations when arriving at a selected altitude;
A fuel tank timer that vibrates at configurable intervals to help remind pilots to switch fuel tanks while in-flight;
A cross track error notification, which triggers a vibrating alert when pilots deviate from an active flight plan.
The D2 Delta aviator watch series come preloaded with a full multisport toolset for running, golfing, cycling, skiing, workouts and more. It is also water rated to 100 meters so it can withstand swimming and other water activities. When paired with a compatible smartphone, users can send, receive and respond to text messages and see social media updates, app alerts, calls, emails and more via the watch. Garmin Elevate wrist-based heart rate technology also monitors heart rate 24/7 alongside daily activity tracking. Because the D2 Delta is versatile and supports a variety of activities, QuickFit bands allow users to easily switch between stylish leather and metal accessory bands to sporty silicone in seconds and without tools.
All of the new D2 Delta models come preloaded with a worldwide aviation database and incorporate signature aviation accents, dedicated direct-to and nearest airport buttons, as well as the option to input a customizable aircraft tail number on the face of the watch. A large, sunlight-readable, high-resolution color display with an LED backlight on the watch face, allows pilots to view data in most lighting conditions in the cockpit. The D2 Delta PX offers up to 18 hours of battery life in GPS and Pulse Ox mode and up to 20 days in smartwatch mode