We've put together a features table comparing Stratus Insight, ForeFlight Pro Plus and
Garmin Pilot so you can see how Stratus Insight compares with other flight apps.
| | | |
| --- | --- | --- |
| STRATUS INSIGHT | FOREFLIGHT (PRO PLUS) | GARMIN PILOT |
| $99.99 / year | $199.99 / year | $149 / year |
1. Stratus Audio Cable required
2. Improved time and fueling calculating is available with ForeFlight Performance Plus ($299.99/annually)
3. Detailed Aircraft Performance Profiles is available with ForeFlight Performance Plus ($299.99/annually)
We're offering a 30 day free trial so you can see for yourself.
https://www.appareo.com/2020/05/05/so-how-does-stratus-insight-compare/
Guil Barros was browsing the Aeromart at AirVenture Oshkosh, an annual U.S. gathering of aviation enthusiasts, when he spotted an RV-9A tail and empennage kit in a caged off area. Three years and about 2,500 after-work and weekend hours later, he had himself a fully built aircraft.
Barros works in computer technology, and prior to building
his own aircraft, had logged about 40 flight hours a year as a hobby aviator in
his older 172. He didn't necessarily consider himself a serious aviator, and
certainly not a plane builder.
But suddenly Barros was the owner of that RV-9A kit — and
filled with the determination to eventually fly it for real.
"It's a huge project, right?" he said. "It seems
insurmountable. When you start, there's about 15,000 rivets, which means you
have to drill out about 15,000 holes, you have to deburr about 15,000 holes,
you have to prime hundreds of parts, you have to deburr hundreds of parts."
To maintain motivation, and maybe a little bit of sanity,
Barros just took it day-by-day, tackling small tasks each day.
"It's just about managing a big project and managing your
expectations for what you're going to get out of it every week," he said.
Fortunately, Barros is a part of a large experimental aviation community. He had plenty of experts and fellow aircraft builders, including Garmin Team X, to lean on. And throughout the process, Barros had airplane mechanic friends come and look over the airplane.
"I wanted as many people as possible to look at the airplane
before I flew it," he said. "I told them, 'You're not going to hurt my feelings
if you find a problem with it.'"
Once it was fully built, a Federal Aviation Administration
official inspected the aircraft, which was followed by a 40-hour flight test
period within a limited area. By the end of that test period, Barros was having
some serious fun in his new airplane. He spent the next 18 months flying it
wherever he could.
Eventually, Barros felt ready for a serious trip. While
Alaska was tempting, Barros spent the first 19 years of his life in Rio de
Janeiro, Brazil. He felt strongly that a return to his homeland and family
would be the most meaningful trip he could take after all those years building an
aircraft that could take him there.
Planning the trip — including building a route and itinerary, planning out fuel stops, getting approvals, researching lodging options in the various countries, and packing and prepping equipment — overtook his after-work and weekend time that was once spent building his airplane.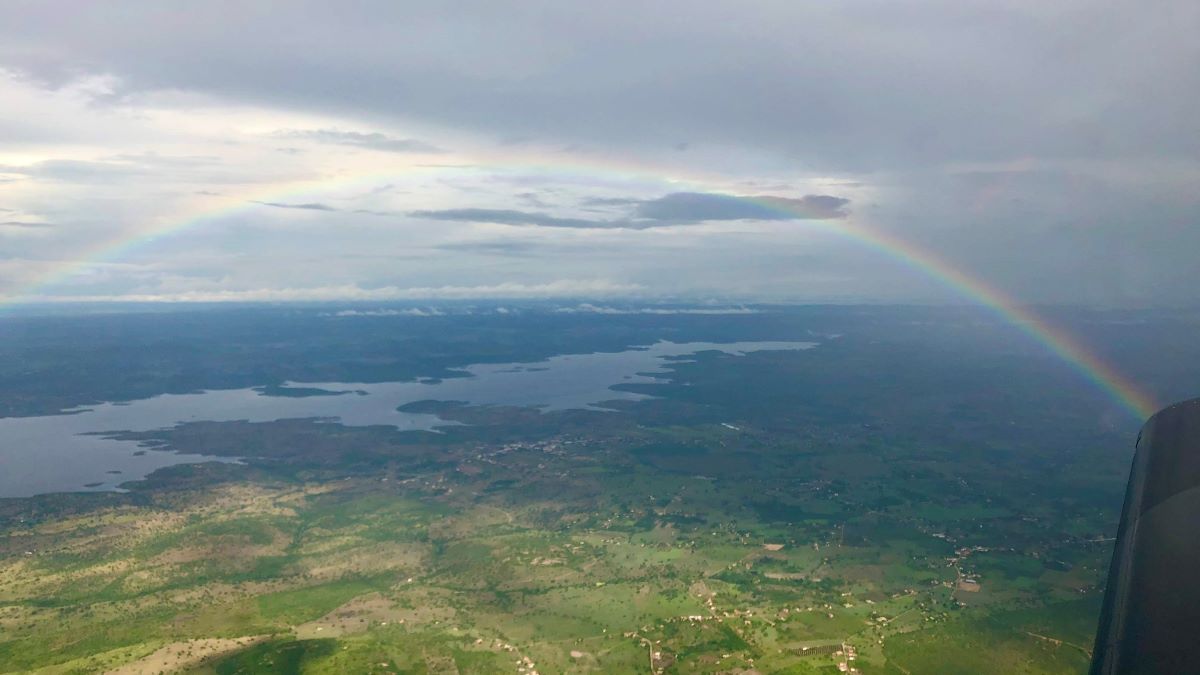 2020 Takeoff
Finally, in early 2020, Barros and his wife took off from the
Madison, Wisconsin, airport. They flew south to Florida, headed east towards
The Bahamas, the Dominican Republic, Puerto Rico and Antigua, and then south along
the French island chain of the Caribbean — touching down to fuel up and spend time exploring
each destination.
Finally, a little over a week in, they reached South
America.
The trip had been fairly straightforward through that point, but South America doesn't have as much general aviation, so it took time to obtain approvals and airport and weather information. That's where his inReach® satellite communicator came in handy.
"It was a lot of planning and a lot of keeping our eye on what the weather looked like," Barros said. "I think that was where the inReach Mini really, really shined. I don't think I would ever do a trip like this without being able to communicate with the ground."
Throughout the flight, Barros used the inReach to
communicate via two-way text with airport officials and pilot friends on the
ground.
"We were getting messages on the inReach throughout the
flight about weather reporting and conditions," he said. "Or they would tell us
'Hey, the weather here is not great, why don't you continue to this next
airport that's only another hour away, and we've already called them to check
that there's fuel there waiting for you.' It made a stressful and detailed
planning situation significantly easier."
They also had the inReach tracking their trip and sending track points to their live MapShare

page so friends, family members, fans and the media could follow along.
"We had a lot of people watching the trip," he said.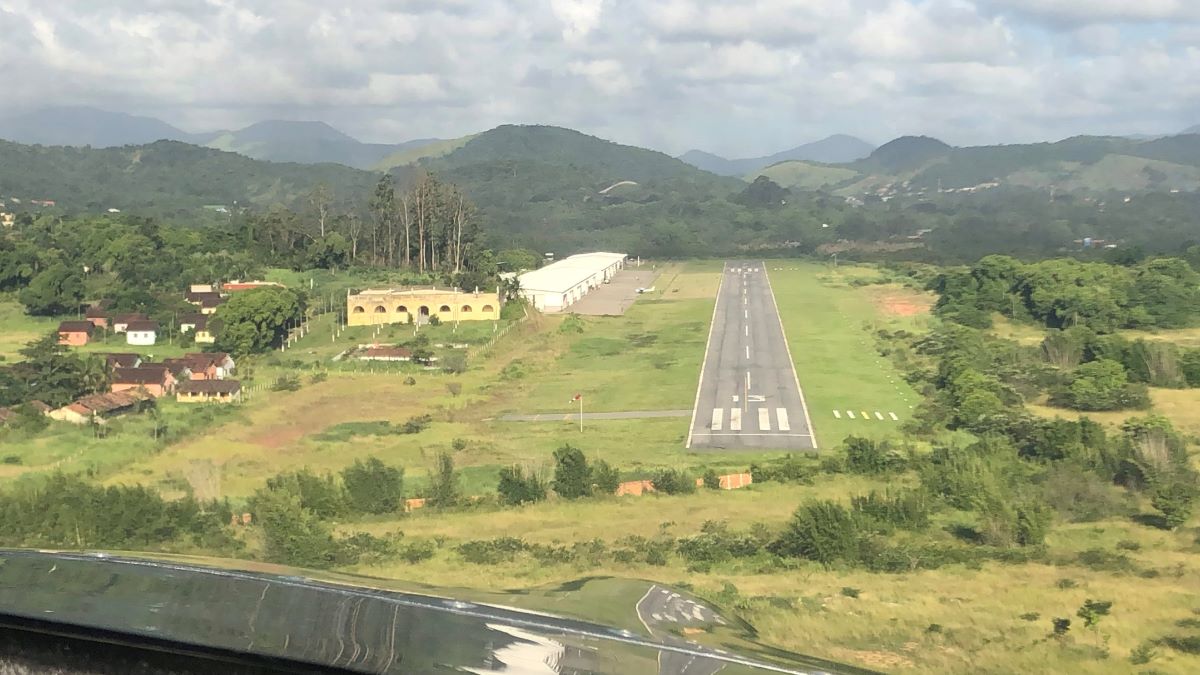 Highlights from
12,000 Miles
It certainly was a trip of a lifetime for Barros and his
wife. They relished the new sights of his homeland from a bird's-eye view, such
as flying over the Amazon River.
"That was absolutely gorgeous," he said. "Green — so many different tones of
green. Seeing the hills and the rivers from above was just incredible."
They also enjoyed their stops at some of the smaller, lesser-known
airports along the way, like the one that was within the Amazon rainforest.
"You're suddenly in the rainforest, right?" he said. "It's
like you're in a movie. You're in a gorgeous forest with these animals and
these birds that you only see on TV. It was incredible."
Barros was charmed by the people he met along the way, too,
who offered space in hangars, places to stay the night and dinners at local
flying clubs.
One airport in Brazil had a more complicated runway than he was used to. It was a little shorter and tighter, with surrounding hills, and he felt apprehensive about flying in and out. But while touring the area, Barros got to chatting with a man who turned out to be a flight instructor.
"He said, 'Let's go – we're going to get you comfortable,'"
Barros said. "So we hopped in an airplane and spent a couple of hours just
practicing getting familiar with that airport."
And when he finally touched down in Rio, Barros was met with
a crowd of people and fanfare.
"The story that the news put out was about the wayward son
of Brazil coming back in his homebuilt aircraft," Barros said, laughing. "They
were excited about it."
On his way back, Barros opted to fly along the coast of
Brazil.
"That was just one beautiful flight after another following
the eastern shore of Brazil," he said. "The views were just of beautiful ocean
and beaches. It was phenomenal."
Once he got back to Wisconsin, the only thing Barros could think
of to have done differently was pretty simple.
"I just wish I had done it over six months instead of one month," he said. "There was so much to see and so many people we wanted to spend time with that we met along the way."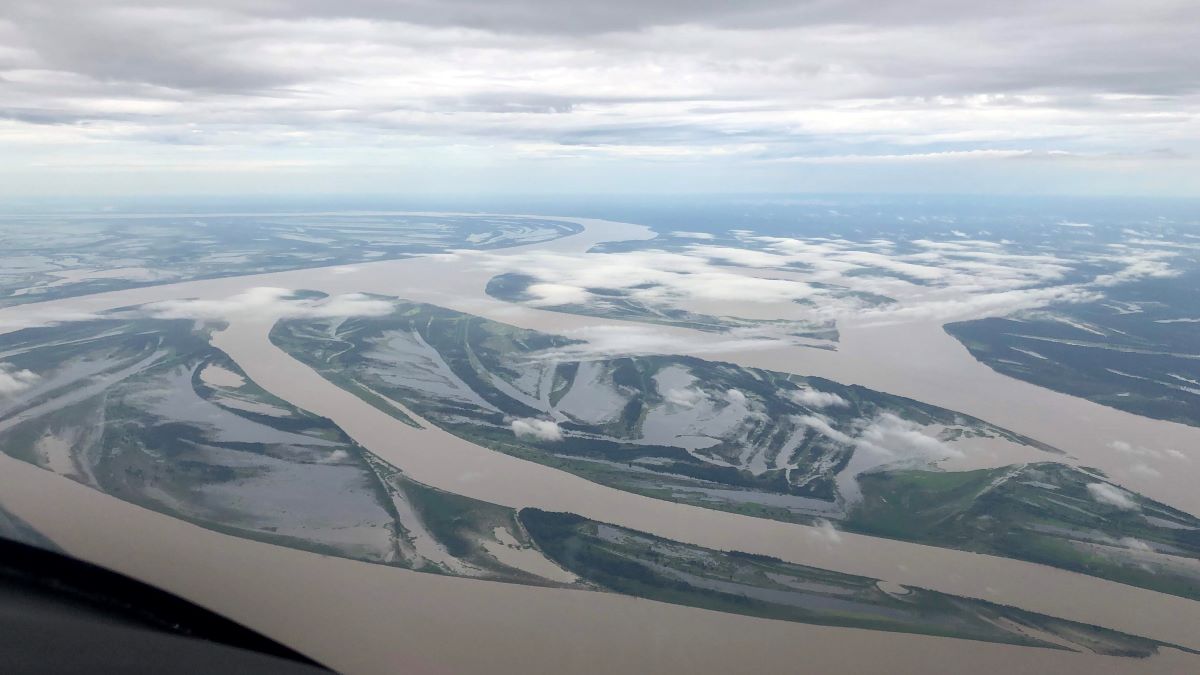 Trip Takeaways
While the trip was beautiful and filled with positive
experiences, it did take immense planning and logic, both beforehand and along
the way. His biggest piece of advice? Plan ahead.
"It's important to keep an eye on where you're going,"
Barros said. "What is the complexity of doing this? Do the places that you're
going usually handle general aviation? Because if they don't, it's going to be
more complicated."
He also recommends that pilots be aware of where they're
going to be flying when packing survival gear. The most nerve-wracking portion
of the Wisconsin to Rio journey for Barros was the flight from Grenada to
Georgetown, which was the longest stretch over the ocean he encountered. He and
his wife wore life jackets for the entire flight.
But, in the end, after 600 gallons of fuel, 92 hours in the air and 12,000 miles flown in his homebuilt aircraft, Barros wants other aviators to know one thing:
"It's not difficult," he said. "This type of trip takes planning, but it's not hard. And, ultimately, it's such a cool experience. So just do it."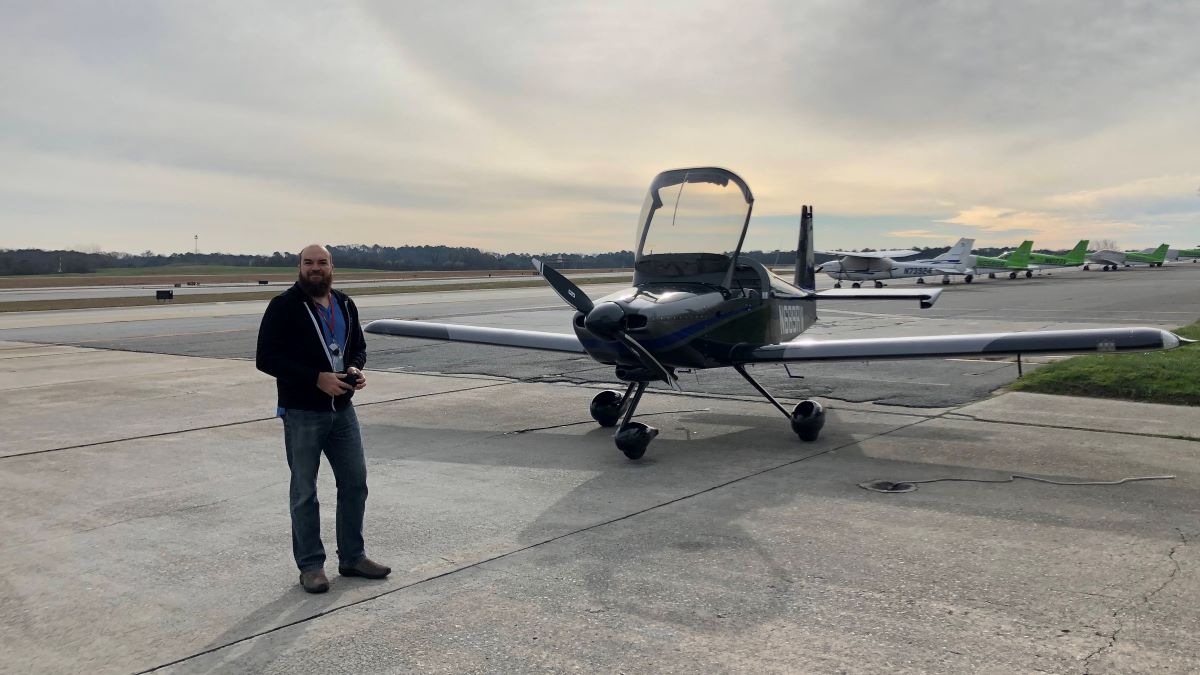 Learn more about Barros' journey to Brazil and back on his YouTube, Instagram and Facebook pages.
NOTICE: To access the Iridium satellite network for live tracking and messaging, including SOS capabilities, an active satellite subscription is required. Some jurisdictions regulate or prohibit the use of satellite communications devices. It is the responsibility of the user to know and follow all applicable laws in the jurisdictions where the device is intended to be used.
The post 12,000 Mile Journey: Wisconsin to Brazil and Back in a Homebuilt Aircraft appeared first on Garmin Blog.
https://www.garmin.com/en-US/blog/aviation/wisconsin-to-brazil-homebuilt-aircraft/
Weighing less than two pounds, this rugged and compact enclosure withstands DO-160G category tests to ensure the survival of critical flight data.
FARGO, North Dakota (April 29, 2020) — Appareo today announced a new addition to the company's line of crash-survivable, remote-mountable, flight data recording modules for rotorcraft and fixed-wing aircraft. The Recoverable Data Module, model 300 (RDM-300) is a small, lightweight, flexible, and affordable crash-hardened flight data recorder that was originally developed as a custom solution for a customer, and has now been equipped with an auto-detect feature for ARINC or serial buses, making it easily installed in any type of aircraft.
While there are regulatory requirements for commercial aircraft to be equipped with flight data recorders, there are no equivalent requirements for many smaller aircraft. Even so, aircraft manufacturers and large fleet operators have realized the benefits of recovering flight data for the benefits of helping investigators determine if an incident or accident was caused by an airplane system problem, an external event, or pilot error. Historically, this flight data has contributed to airplane system design improvements.
One airframe manufacturer who decided to invest in the benefits of recoverable flight data collaborated with Appareo to design a small and lightweight device that could meet high survivability standards.
"This module is ideal for aircraft that are not required to carry ED-112 compliant, large, heavy data recorders, but rather, for applications where reliable survivability of flight data provides great business and investigative value," said David Batcheller, President & CEO of Appareo.
The RDM-300 is easy to incorporate into any aircraft, automatically accommodating the aircraft's bus speed, and easily configurable to recording preferences. Once installed, the unit can record more than 500 parameters per second to the non-complicated, solid-state memory within the device. Weighing less than two pounds, the RDM-300 perfectly balances rigorous survivability needs while optimizing the size and weight of the product.
Although typically used to collect parametric data from ARINC 429 buses or other serial interfaces, the RDM-300 can also be configured to collect cockpit voice recorder (CVR) or cockpit image data.
For full technical specifications, refer to the RDM-300 Data Sheet.
# # #
https://www.appareo.com/2020/04/29/appareo-releases-crash-hardened-recoverable-data-module-with-auto-bus-detection/
Garmin TeamX unveiled the aera 760, a premium aviation portable that is purpose-built for the pilot and the cockpit. The aera 760 boasts a 7-inch bright, sunlight readable touchscreen display complete with comprehensive chart options in a compact and dedicated portable GPS. Additional features of the aera 760 include the option to load instrument approach procedures, arrivals and departures, approach chart overlay on the map, Garmin Connext wireless connectivity, as well as the option to integrate it with select Garmin avionics. The aera 760 is expected to be available in May for a list price of $1,599 USD.
"On behalf of our innovative and nimble TeamX gang of aviation enthusiasts, we're excited to introduce the latest edition to the distinguished family of Garmin portable GPS products, the feature-packed aera 760," said Carl Wolf, vice president of aviation sales and marketing. "For nearly three decades, Garmin has sold hundreds of thousands of portable GPS products for aircraft big and small. Building upon our acclaimed portable aviation GPS line-up, the aera 760 has the most robust aviation feature set to-date, that is designed exclusively by pilots – for pilots."
Featuring a modern yet rugged design, the aera 760 is an all-in-one aviation portable complete with a built-in GPS/GLONASS receiver that is optimized for the cockpit. Its bright, 7-inch sunlight readable display can run on battery power for up to four hours on a single charge. Along the bezel, an industry-standard USB-C connection is used to charge and power the aera 760, while a microSD card slot allows pilots to load topography and street maps or use it to easily transfer user waypoints. The aera 760 features an intuitive user-interface resembling that of many other popular Garmin products such as the GTN Xi series, G3X Touch and Garmin Pilot allowing pilots to easily transition between multiple Garmin products in the cockpit. Capable of operating in harsh conditions, the aera 760 has also been tested and hardened to meet stringent temperature and vibration standards.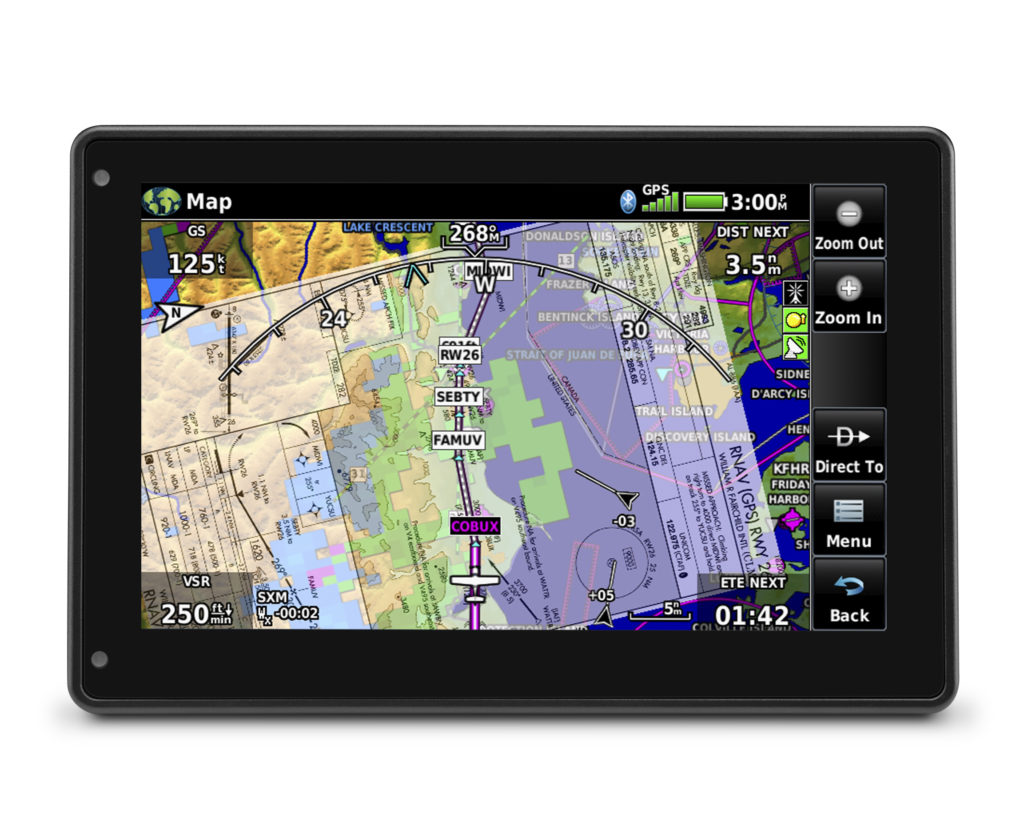 New to the aera 760, pilots can load departures, arrivals and instrument approach procedures (IAPs) within a flight plan, which can be wirelessly transferred to a navigator in the cockpit. Once a procedure is loaded within the aera 760, pilots have the option to view the chart or they can overlay it on the moving map. IFR enroute charts, VFR sectionals and Garmin FliteCharts are also geo-referenced, providing optimal situational awareness. Jeppesen electronic charts are compatible with the aera 760 and give customers worldwide access to instrument approach chart information. In addition to procedures, victor airways, user-defined holds and holds over an existing navigation fix can be entered into a flight plan.
Built-in Wi-Fi and Bluetooth allow the aera 760 to take advantage of Garmin Connext wireless connectivity inside and outside of the cockpit. When connected to Wi-Fi, pilots can easily download aviation database and software updates without the need to physically connect it to a computer. Prior to departure, pilots can also view worldwide weather information on the aera 760 when it's connected to Wi-Fi. In the cockpit, it is capable of wirelessly connecting to select products such as the GTX 345 or the GDL 52 to display the benefits of Automatic Dependent Surveillance-Broadcast (ADS-B) traffic, Flight Information Service-Broadcast (FIS-B) weather, SiriusXM aviation weather and more via Bluetooth. Exclusive features such as TerminalTraffic and TargetTrend can also be viewed on the moving map and dedicated traffic pages.  
Pilots can hard-wire the aera 760's power, audio and dual RS-232 connections to receive additional benefits. When connected to a navigator such as the GTN 650Xi/750Xi, GTN 650/750 or the GNS 430W/530W, the aera 760 can send and receive flight plan data that is entered into the navigator over a serial port so all products remain synchronized throughout the flight. It is also capable of wirelessly connecting to these navigators when paired with a Flight Stream 210/510. When connected to a NAV/COM such as the GTR 225, GNC 255 or GTR 200, frequencies and airport identifiers can also be transferred from the aera 760 to the corresponding NAV/COM. For aircraft flying in visual conditions, pilots can optionally connect the aera 760 to select autopilots to fly lateral GPS and single point vertical navigation (VNAV) guidance. For example, pilots flying in visual conditions can fly a VNAV profile from their current altitude to pattern altitude using the aera 760 fully coupled to the autopilot.
3D Vision technology displays a virtual 3D perspective view of surrounding terrain, obstacles and airports, as well as a horizontal situation indicator (HSI) that is capable of showing lateral and vertical deviation bars. When the aera 760 is panel mounted or paired with a compatible attitude source such as a GDL 52 or GTX 345, pilots can view synthetic vision (SVX), which adds the display of back-up attitude information on the portable.
The aera 760 also features fuel price information, an E6B flight computer and weight and balance calculators. The E6B can be used prior to a flight to aid in calculating fuel burn, estimated time of arrival (ETA) and more. While in-flight, the aera 760 utilizes ground speed information to recalculate fuel burn and ETA. Helicopter operators also have access to features tailored to their unique operations, such as WireAware wire-strike avoidance technology. WireAware overlays power line locations and relative altitude information on the moving map and provides both aural and visual alerting when operating near power lines. Pilots also have the option to enter street intersections or non-aviation waypoints. GPS altitude display is offered in both mean sea level (MSL) and above ground level (AGL), so they are easier to identify relative to the aircraft flight path.
The aera 760 is expected to be available in May for a list price of $1,599 USD and is compatible with the cost-effective Garmin Navigation Database that is available in the Americas with US coverage starting at $39.95 for a single update. A variety of annual bundles are also available on the flyGarmin website, such as the U.S bundle for $169.95, which includes the Garmin Navigation Database, FliteCharts, IFR/VFR Charts, terrain, obstacles, SafeTaxi, and the airport directory with fuel prices. Pilots can also add enhanced map information such as topography or street maps using a MicroSD card. The aera 760 is supported by our award-winning aviation support team, which provides 24/7 worldwide technical and warranty support. For additional information, visit www.garmin.com/aera760.
The post aera 760: 7-inch Format Portable Aviation GPS appeared first on Garmin Blog.
https://www.garmin.com/en-US/blog/aviation/aera-760-7-inch-format-portable-aviation-gps/
Pilots often buy inReach® devices for the two-way satellite
communication or SOS functionality, sometimes with the thought of a worst-case
scenario — an in-flight
malfunction or a crash — in
mind. But in Alaska, anything can happen. And on a cold day in January, that
was the case for Chad Lewis.
No stranger to flying, Lewis got his pilot's license before
he even had his driver's license. His first job was at an airport. And he ultimately
moved from the East Coast to settle in Alaska because of his love for
flying.
"I've just always loved it," Lewis said. "And of course that
romanticism of Alaska bush flying is what drew me here originally."
Many years later, Lewis uses his Supercub for recreational
flying and to get to remote portions of Alaska.
In early January, however, Lewis found himself in a
precarious situation.
It was his last intended landing of the day, and Lewis found
a spot that looked good to stop. It was a bit of a swampy area, and he knew the
snow would be deep. He did several passes to check out the location and made
some tracks to pack the snow. But when he finally came to a stop, the tail and
one side of the plane sunk down into the snow — nearly down to the wing.
Lewis made several attempts to dig the plane out and get it
turned around, but his efforts were futile. And by that point, it was -20 degrees
Fahrenheit, the sun was setting, and Lewis knew he wouldn't be able to pull out
of that location in the dark even if he could get the plane unstuck.
"As soon as the sun started to go down – within 15 minutes
to half an hour – it got down to -35 degrees," Lewis said.
Lewis began preparing to spend an unplanned night in a snow
cave in a very remote area of Alaska. He had survival gear and a -20 degree
sleeping bag, but the air temperature and snowy, swampy landscape made it
almost impossible for Lewis to get a significant fire going. He had a stove, too,
but it was so cold he couldn't get it to ignite. That meant he couldn't make
food or boil water to drink.
"It was rough," he said. "Maybe rougher than it should have
been based on how I was prepared."
Tracking and Texting
Not every portion of Alaska has flight following or other
radar coverage, which is partly why Lewis had invested in an inReach satellite
communication device in the first place. He wanted his wife back at home to
be able to track his flight path via MapShare

.
"If I'm ever late, my wife can easily log in to the site and
see where I was last or what's going on," he said. "Then we can communicate
back and forth, and I can let her know why I'm late or what happened."
The inReach device's two-way text communication via the
global Iridium® satellite network was key to his initial investment in
the technology as well.
"I was looking for a way to actually be able to
communicate," he said. "If you know where somebody is but you can't communicate
so you don't know what's going on, that can heighten anxiety for the folks on
the other end."
Lewis was particularly grateful he could communicate with
his wife on that early January night. He had the inReach device attached close
to his body to keep it warm, and so as soon as he realized he was stuck, he
texted his wife on the device to inform her of the situation.
SOS Situation
Still awake in the cold of that -35-degree night, Lewis
determined that his feet had been numb for about 10 hours and began to worry
about doing permanent damage to his extremities.
That worry finally prompted him to trigger an SOS and communicate
with staff at the GEOS International Emergency Response Coordination Center.
A search and rescue team via helicopter was dispatched to
Lewis.
"They found me immediately because they had my coordinates,"
he said. "The biggest challenge they had was finding a good place to land
because the snow was so deep."
The helicopter sank all the way down to the frame, so they
opted to lower a rescuer down instead. Without snowshoes, the rescuer sank all
the way down to his chest. The depth of the snow was serious, but the rescue
team managed to get Lewis out and transport him to a local hospital.
Lewis had developed severe frostbite on his hands and feet.
His right thumb was black with third-degree frostbite and felt as though it were
burning.
"The rescue team actually told me that rather than suffering
as long as I had through the night, I should have just triggered the SOS
earlier and not risked potential harm," he said.
Ultimately, though, Lewis recovered – and kept all of his
fingers and toes.
"But without the inReach I would have had to spend the night
until the morning and then continued trying to get unstuck," he said. "Or I
could have potentially hit the plane's ELT, but that doesn't give your exact
location, and I don't know if it would have been working in those
temperatures."
Later, Lewis used the inReach coordinates to guide him back
to where his plane was located and retrieved the plane with a helicopter.
Be Calm, Be Prepared
In addition to having all the necessary survival gear to spend the night in negative temperatures, Lewis credits his ability to stay calm for his ultimately successful rescue.
"I was definitely prepared, but the biggest thing was just
being calm," he said. "I was calm about the situation the whole time. Maybe
just a little frustrated I was stuck."
Back at home, his wife was calm, too, because she could text
back and forth with Lewis.
 "I think it would have been a lot worse – she would have been really concerned – if there was no way to communicate," Lewis said. "That made all the difference in settling fears and anxiety. Because I was safe. It wasn't a crash. I just landed and got stuck and couldn't get out because I was in the middle of nowhere."
That's why his advice to other pilots who fly in the
backcountry is to carry an inReach.
"At the end of the day, the minor additional cost to be able to communicate with somebody if something happens, and being able to provide details of the situation so that rescue can be prepared, is huge peace of mind," he said. "I recommend it to everybody."
NOTICE: To access the Iridium satellite network for live tracking and messaging, including SOS capabilities, an active satellite subscription is required. Some jurisdictions regulate or prohibit the use of satellite communications devices. It is the responsibility of the user to know and follow all applicable laws in the jurisdictions where the device is intended to be used.
The post Frostbitten Pilot Rescued After Burying Plane On -35° Night appeared first on Garmin Blog.
https://www.garmin.com/en-US/blog/saved-by-garmin/pilot-rescued-after-burying-plane/
Technology is changing the way we fly. Technological advancements are improving the safety and efficiency in how we aviate and navigate through increased in-flight automation and GPS navigation. Today, tech is even enhancing the way we communicate, with digitally delivered text messages — known as datalink communications — in the cockpit. These services, known as Data Comm, are expanding throughout the world to complement traditional voice communications between flight crews and air traffic controllers. That helps save time, reduce delays and cockpit workload, and more.
What are datalink communications?
In two words: text messages. The datalink communications network is a series of VHF ground stations and/or satellites delivering messages between air traffic controllers and pilots. Traditionally, pilots received their departure clearances and weather reroutes via radio transmissions. It's an effective system, but Data Comm services offer an alternative to avoid frequency congestion and mitigate delivery or read back errors by sending clearance and reroute information directly to pilots in text format. This method was originally intended to help reduce the number of miscommunications — and ultimately reduce pilot workload.
How does it work?
When an aircraft is flying above land with ground-based coverage, the VHF ground stations act as the primary communication link. For oceanic flights where ground stations aren't available, a satellite network becomes the primary mode. At select airports with controller-pilot datalink communications (CPDLC) departure clearance capabilities, pilots can send their flight information to air traffic control from the flight deck, either upon departure or via pre-departure clearance services. Upon receipt and approval, controllers respond with route details, departure clearance information and approval. Additionally, reroute information can be sent via Data Comm for pilots to review and respond accordingly via digital text message.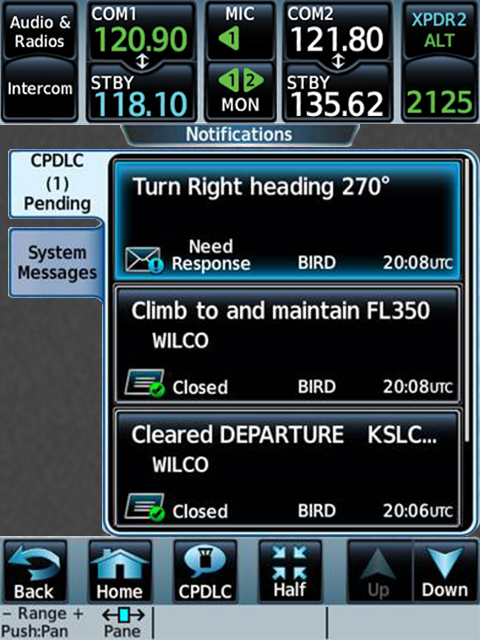 For several aircraft types equipped with our G3000 or G5000 integrated flight decks, compatible Data Comm equipment and enablement, these messages and flight information can be directly uploaded and incorporated into the flight plan for added convenience.
Garmin datalink communications solutions
Garmin offers a wide range of datalink communications solutions tailored to meet diverse aircraft and operations. Through the FltPlan.com team at Garmin, pilots can take advantage of U.S. FAA Data Comm departure clearances, en route services and more for $499 per select aircraft per year. Visit our website to learn more about which airframes are current candidates for FAA Data Comm services, which regions and airports are eligible for CPDLC-departure clearances and more.
The post Data Comm: Easy and Efficient Cockpit Communication appeared first on Garmin Blog.
https://www.garmin.com/en-US/blog/aviation/data-comm-easy-and-efficient-cockpit-communication/
The Garmin aviation training team is making it easier for pilots to enhance their avionics skills from the comfort of home. Throughout April, May and June, several free webinars and promotions on select eLearning courses are available for many of our most popular avionics. These online classes range from basic product fundamentals best operating practices and techniques to expert tips and tricks. Learn about our GTN and GTN Xi series navigators, GFC 500 and GFC 600 retrofit autopilots, Garmin weather radars, the Garmin Pilot app, and G1000, G1000 NXi, G3000, G5000 and more.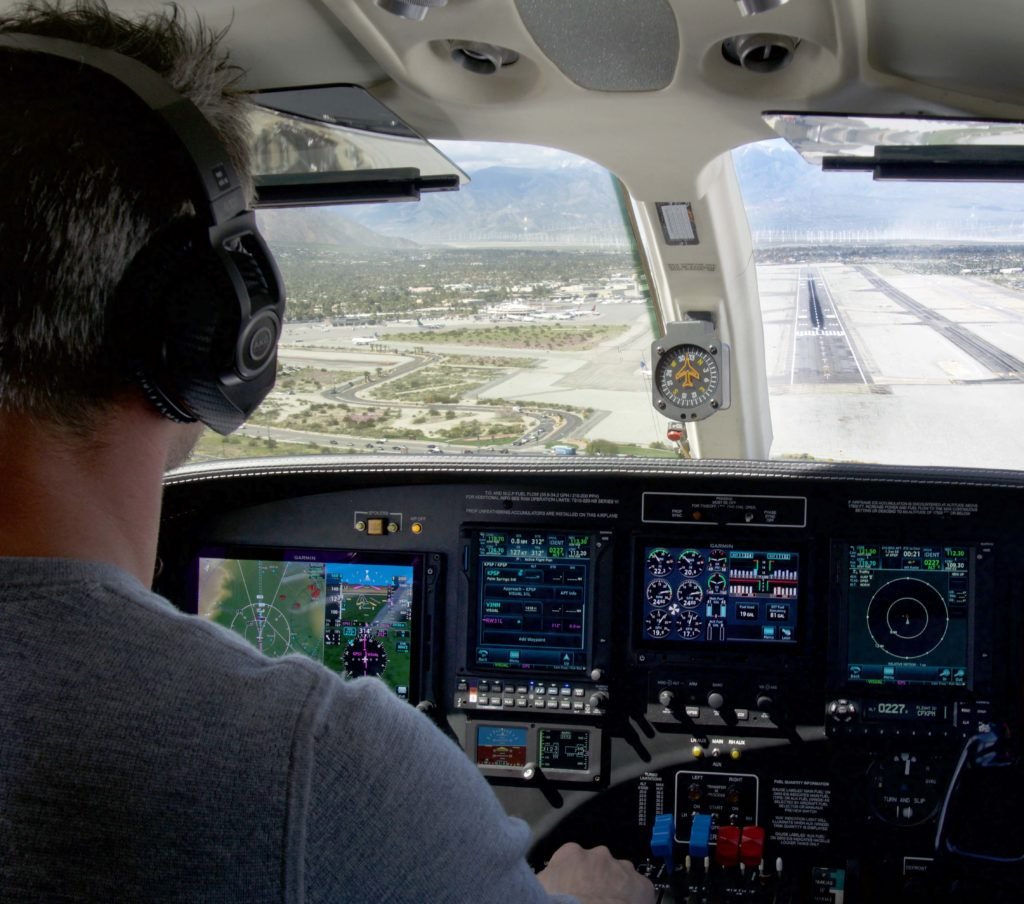 Pilot Training –
Approaches
Learn techniques and best operating practices for using
Garmin navigation and flight control systems to set up and fly ILS and a
GPS-guided WAAS LPV approaches into all types of airports.
April 16, 2020, 10 a.m. CT: Register Here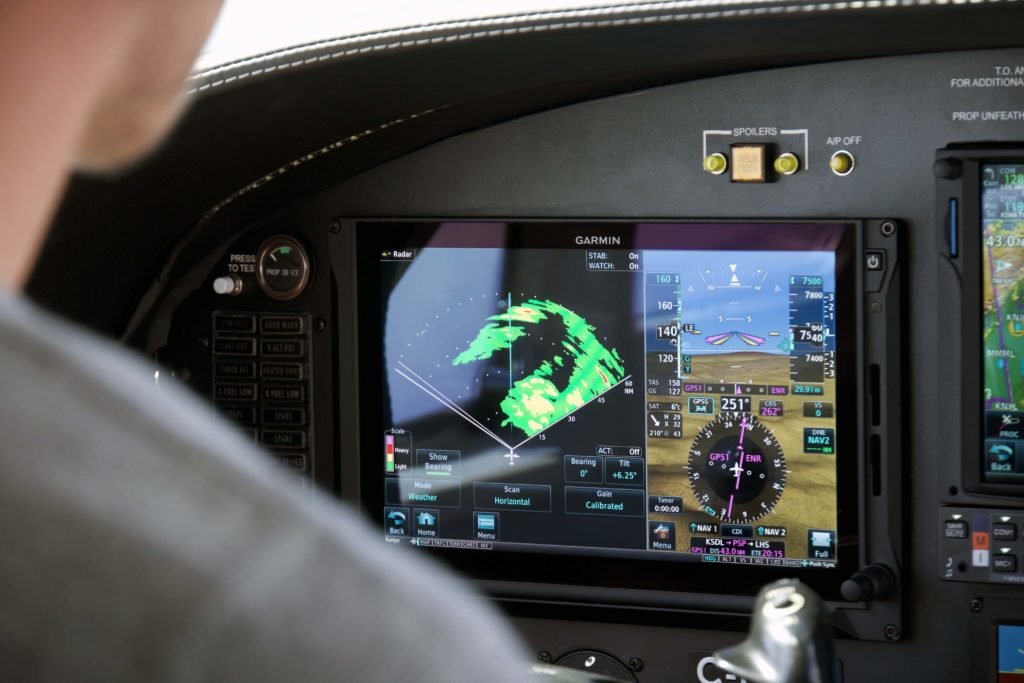 Weather Radar Pilot
Training
Get familiar with the fundamentals of radar technology and
learn techniques and safety tips to help maximize the benefits of your Garmin
airborne weather radar system.
April 24, 2020, 10 a.m. CT: Register Here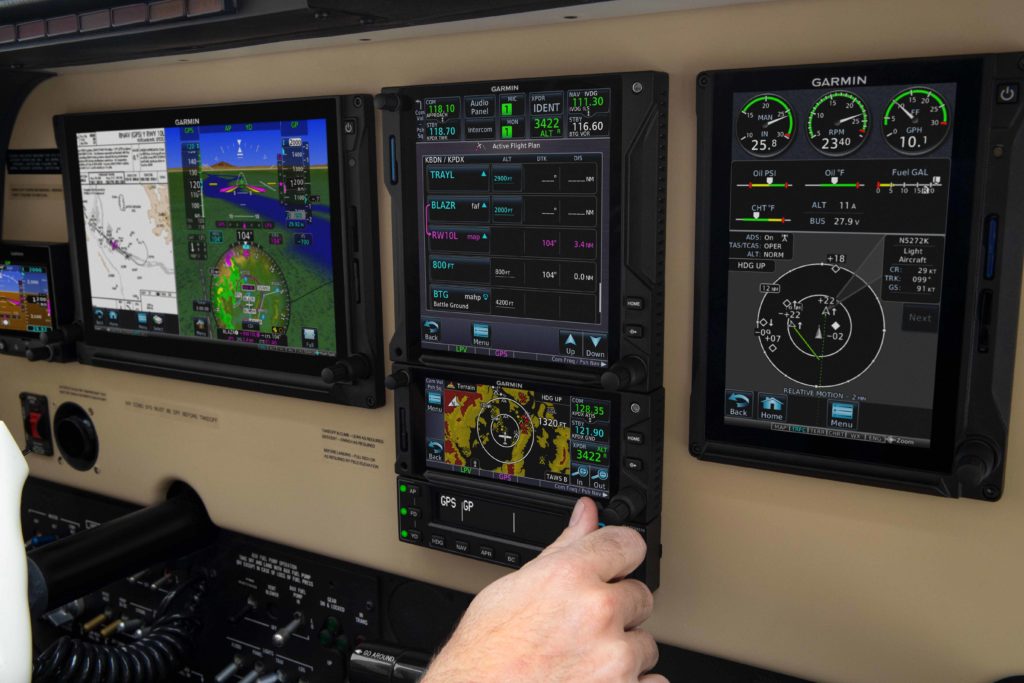 GTN VNAV Pilot Training
Explore techniques for flying descent vertical navigation
profiles throughout the en route and terminal phases of flight with your GTN or
GTN Xi series touchscreen navigator.
April 30, 2020, 10 a.m. CT: Register Here
May 26, 2020, 10 a.m. CT: Register Here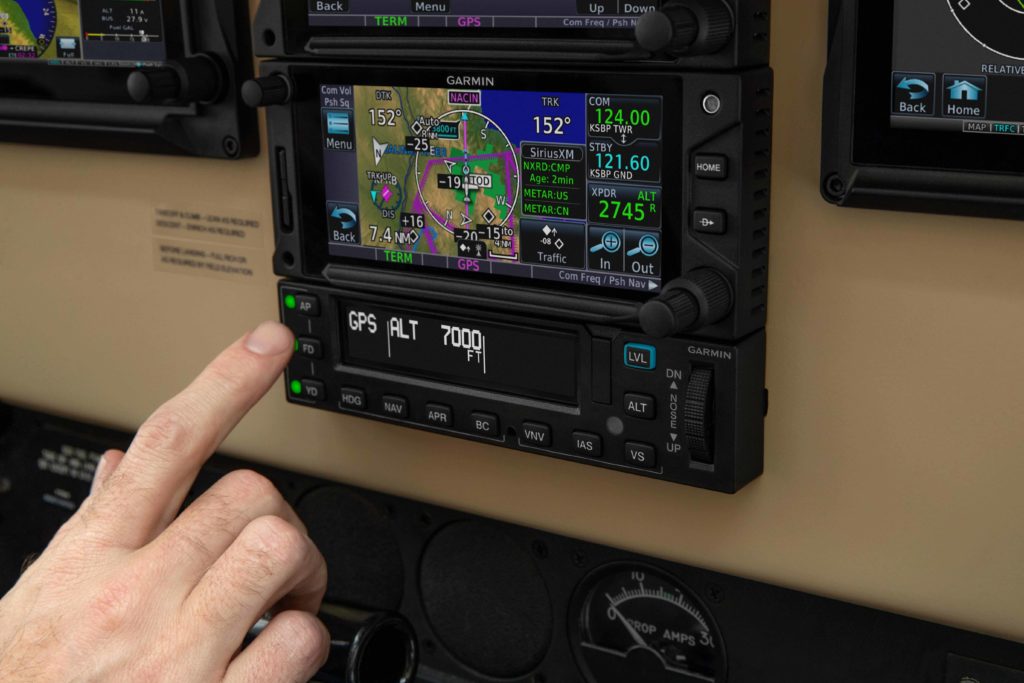 GFC 600 Pilot Training
Learn the fundamentals of using our GFC 600 digital flight
control system and its advanced capabilities to couple and fly various
instrument approaches, set up flight profiles and more.
May 7, 2020, 10 a.m. CT: Register Here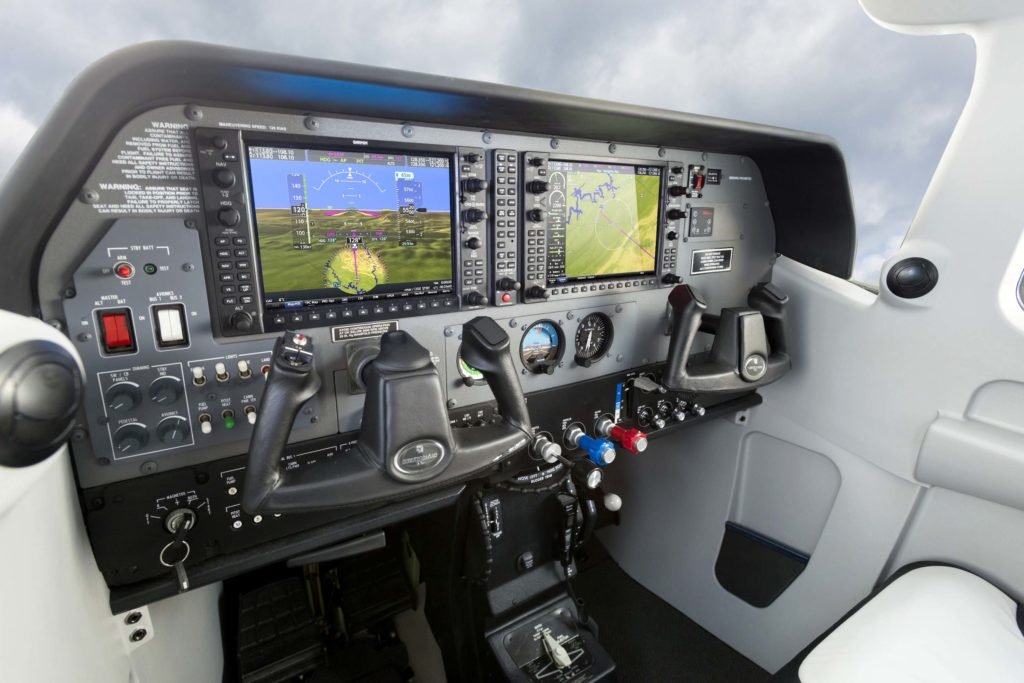 Garmin Logic, Tips and Tricks:
GTN and G1000 Pilot Training
Get an overview of the Garmin design logic for its GPS-based
navigation systems and learn insider tips and tricks for getting the most out
of your GTN or G1000 system and its capabilities.
May 14, 2020, 10 a.m. CT: Register Here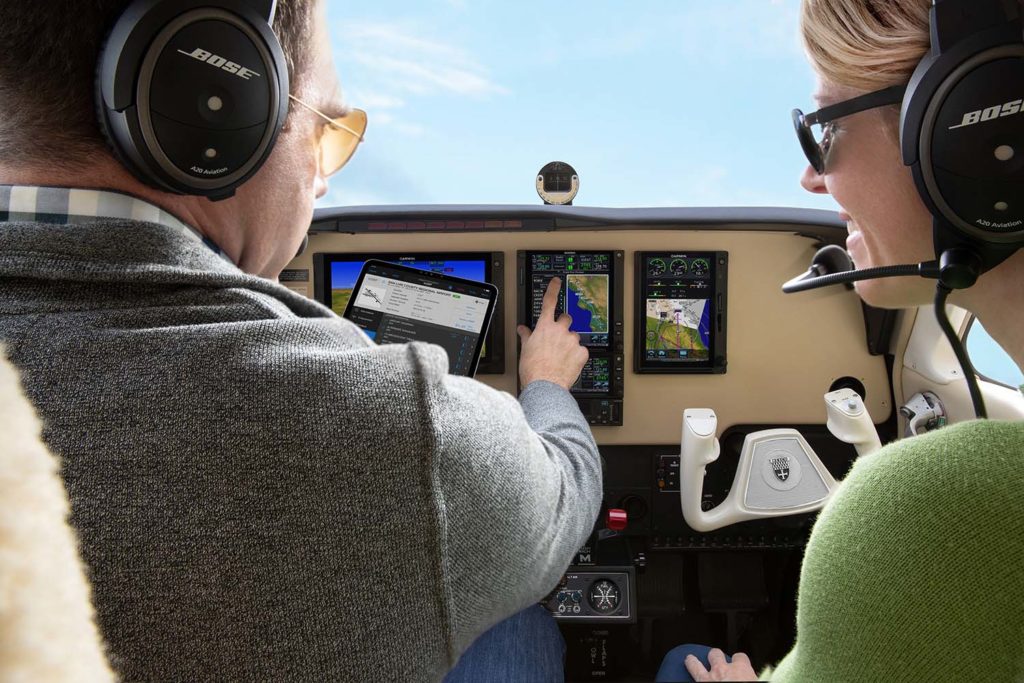 GTN Follow-along Scenarios
Pilot Training
Receive step-by-step, scenario-based operational training on
our GTN series navigators, using the downloadable GTN simulator app on your
tablet or PC. To get the most out of the training, please have this installed
prior to joining the webinar.
May 22, 10 a.m. CT: Register Here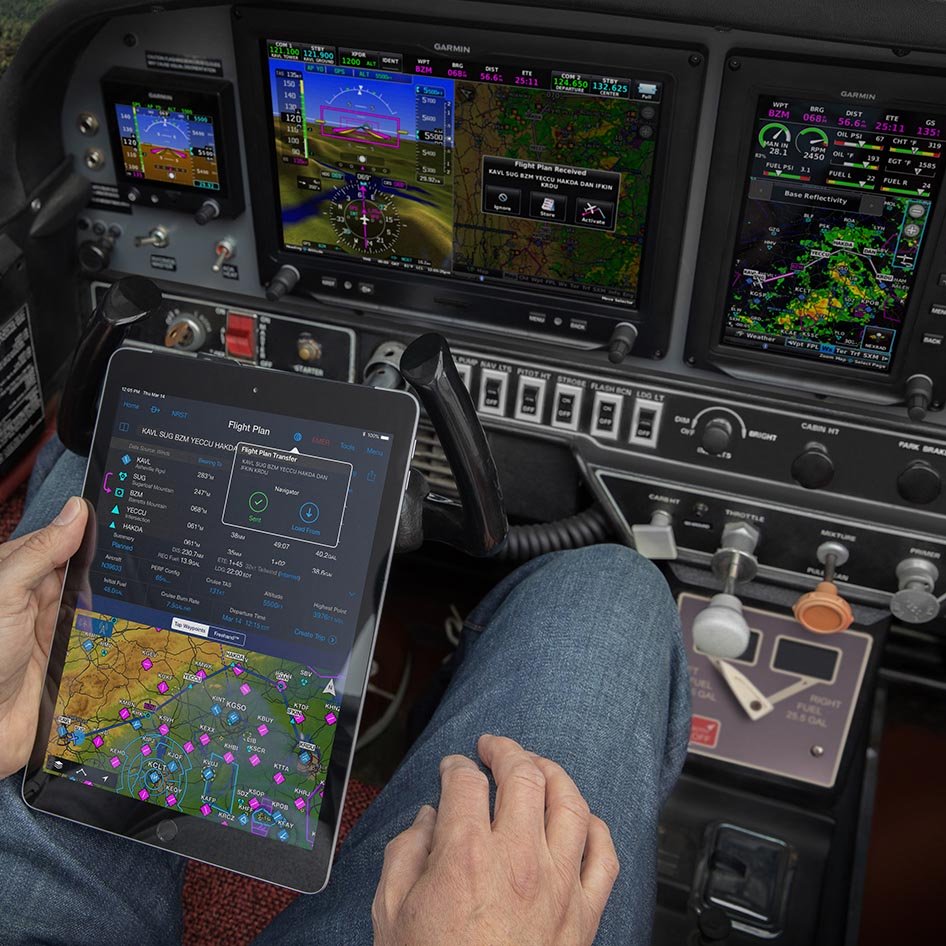 Garmin Pilot App
Get familiar with the fundamentals of the Garmin Pilot app —
including an effective preflight, map essentials and the latest on new route
data packages that help ensure you've downloaded all the data required for your
flight plan.
Garmin Pilot 101: Create and File a Flight Plan — April 22, 2020, 4 p.m. CT: Register Here
Garmin Pilot Tips and Tricks — May 12, 2020, 10 a.m. CT: Register Here
Garmin Pilot 101: Map Essentials — June 17, 2020, 4 p.m. CT: Register Here
Aviation eLearning Course
Sale
From March 30, 2020 through May 29, 2020, save 10% on select
Garmin aviation eLearning courses. Using typical flight scenarios, these
courses provide a new pilot (or an experienced pilot who wants a refresher) instruction
on best practices for operational use. Eligible courses are listed below.
For additional information visit, Garmin.com/aviationwebinars.
The post Garmin Aviation Expands Online Education Series appeared first on Garmin Blog.
https://www.garmin.com/en-US/blog/aviation/garmin-aviation-expands-online-education-series/
Cleaning your Garmin avionics is a great way to not only
maintain a clean cockpit environment, but also help prevent the spread of
disease. Because our products are built with sophisticated electronic
components and touchscreen materials, it's important to take special care in
choosing which cleaning method is best for your specific Garmin products. Below
are general guidelines for cleaning the touchscreens, buttons, knobs and bezels
on Garmin avionics.
NOTE: The following guidance is intended to help reduce
the spread of disease while preserving the integrity of Garmin aviation
products. Garmin does not guarantee that it will do so in all cases. For
general cleaning and disinfecting guidance, please refer to CDC guidelines and
other applicable guidelines.
Cleaning and Disinfecting:
Cleaners containing ammonia will harm the antireflective
coating on many Garmin aviation display lenses.
Disinfecting using a solution of 70% isopropyl
alcohol that does not contain ammonia is preferred. Solutions of up to 91%
isopropyl alcohol are also acceptable.
Clean the display lens using a clean, lint-free
cloth and a cleaner that is specified as safe for antireflective coatings.
For other exposed surfaces such as knobs,
buttons and bezels, a damp cloth with soap and water is acceptable. Garmin does
not recommend bleach-based cleaners, ammonia-based cleaners or other harsh
chemicals on any surface.
Remove all soap/soap residue to prevent buttons
and knobs from gumming up or becoming slippery.
Many aviation products are not rated as
waterproof. Spraying or wetting the units to the extent where moisture could go
beyond the exterior surfaces could damage the unit.
This information is sourced from Garmin Service Advisory 2051: Cleaning/Disinfecting Guidance.
The post Avionics Care: Cleaning and Disinfecting Guidance appeared first on Garmin Blog.
https://www.garmin.com/en-US/blog/aviation/avionics-care-cleaning-and-disinfecting-guidance/
Features include ATC Transcription, Vertical Weather Profile, Radar Forecast, TAWS, and Smart Flight Plan
FARGO, North Dakota (March 31, 2020) — Appareo today introduced a new flight app called Stratus Insight™. Stratus Insight is an electronic flight bag (EFB) suite that includes VFR sectional maps, IFR low/high charts, geo-referenced approach plates, TAWS, and AHRS with synthetic vision. Beyond typical EFB features, Stratus Insight also provides ATC Radio Transcription and Playback, Vertical Weather Profile, Radar Forecast, and Smart Flight Plan. The Stratus Insight application supports integration with all generations of Stratus™ receivers, which provide subscription-free weather, WAAS GPS information, and ADS-B traffic to the app during flight.
Stratus Insight is one of two software applications in the Stratus family of pilot-friendly affordable avionics. The other app, Stratus Horizon Pro, was the industry's first app to provide ATC Radio Transcription and Playback to pilots. Those features are now also available in the new Stratus Insight EFB to give pilots the option of flying with an "all-in-one" app experience.
At its core, Stratus Insight is a full-featured EFB designed to make pilots' lives easier and to provide enhanced situational awareness in the cockpit. Stratus Insight's weather tools were designed to give pilots a deeper understanding of weather for improved preflight planning. For example, weather modeling products such as Radar Forecast, and a Vertical Weather Profile tool that allows pilots to see conditions across their route of flight based on their aircraft speed and departure time. If changes in weather advisories force a pilot to take an alternate route, Stratus Insight goes beyond simply listing alternate airports — the Smart Flight Plan tool considers fuel stops and day/night currency.
Stratus Insight displays supplemental attitude information driven by a Stratus receiver — essentially creating a "backup glass cockpit" on your iPad, with an impressive synthetic vision view. The app can also be paired with a Bluetooth headset or audio panel to alert pilots with TAWS or runway information.
Beyond its full-featured EFB functionality, Stratus Insight boasts a custom aviation speech recognition system. When paired with a Stratus Audio Cable, the ATC Radio Transcription feature works similar to visual voicemail. ATC communications are converted into text and displayed directly above the audio playback line, providing a helpful visual assist for referencing previous audio clips. This enables pilots to receive a clearance, ATIS, or other important ATC communications without needing to write them down.
The future of aviation: a beyond-glass strategy
The speech recognition and language understanding technology that drives the Radio Transcription feature was custom-designed by the Artificial Intelligence (AI) division at Appareo. "We are focused on developing machine learning technology to reduce workload and increase safety in the cockpit," said Appareo AI Systems Director Josh Gelinske.
The opportunity
At a global scale, speech recognition, translation, and transcription features are commonplace (e.g. Alexa and Siri). However, ATC communications present many challenges for these common speech recognition systems. The high rate of speech, noisy signal, narrow frequency band, and unique location identifiers are among those challenges. Appareo identified that shortfall in the existing technology and set out to develop a speech recognition system customized for aviation.
The solution
"We began by designing a deep neural network and training it on thousands of hours of speech and hundreds of hours of ATC data," said Gelinske. Appareo then designed a custom aviation speech recognition system that was able to run on mobile devices without requiring cellular service or internet connection, so there would be no accessibility limitations during flight.
As Gelinske explains, "Natural Language Processing is also used to interpret the output of the speech recognition system, to present it in a more pilot-friendly format. For example, tail numbers, altitudes, runways, and frequencies are transcribed in a way that will be more helpful to pilots."
Comparison example:

Appareo Aviation President Kris Garberg explains, "this new AI technology is the baseline for exciting features we have in our app roadmap, which is focused on creating a safer, more convenient way to fly."
Stratus Insight is available for download from the Apple Store, and currently offers two subscription plans — $9.99 monthly or $99.99 annually. Available only for iOS devices. No cellular service or internet connection is required to operate the app. The Stratus Audio Cable (available to purchase here) is necessary to enable the Radio Transcription and Playback features. For more information, visit www.stratusinsight.app.
# # #
Acronym Key
ATC: Air Traffic Control
ATIS: Automatic Terminal Information Service
AEA: Aircraft Electronics Association
TAWS: Terrain Awareness and Warning System
EFB: Electronic Flight Bag
AHRS: Attitude Heading Reference System
VFR: Visual Flight Rules
IFR: Instrument Flight Rules
About Appareo
Appareo is a recognized leader in the custom design, development and manufacture of innovative electronic and software solutions for aerospace. Through the creative application of cutting-edge technologies, Appareo creates complex end-to-end solutions that include both mobile and cloud-based components. The company is privately held, with headquarters in Fargo, N.D., and design offices in Tempe, Ariz. and Paris, France. All Stratus products are designed, developed, built and supported in the USA.
Stratus and Stratus Insight are registered trademarks of Appareo Systems, LLC ©2020
https://www.appareo.com/2020/03/31/appareo-releases-new-efb-stratus-insight/
With the cancellation of several marquee aviation events, our aviation team is bringing an educational line-up of webinars to you. Ranging from an overview of our latest products, such as the GI 275 and GTN Xi series, to cost-effective autopilot upgrades, these free webinars offer pilots and customers a broad overview of our latest avionics solutions, while also providing a general operational overview.
These aviation webinars are scheduled in Central European Time (CET) or Central Time (CT) to accommodate customers' schedules around the world. Select webinars are also held in German. To sign up for any of the following webinar topics, visit these websites:
SUN 'n FUN 2020 SEMINAR SCHEDULE
Aviation Webinars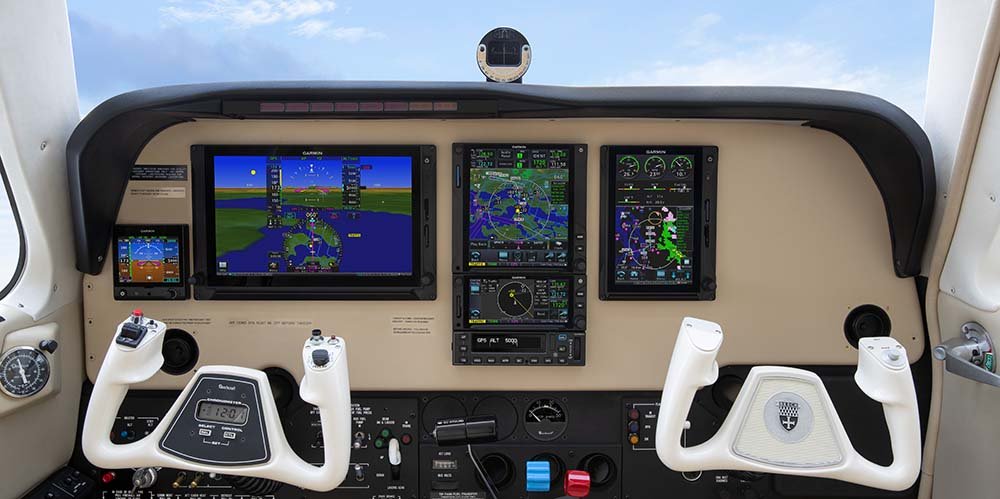 The Latest Products from Garmin: GI 275, GTN Xi and more
Check out the latest avionics
available from Garmin, including the powerful GI 275 electronic flight
instrument and the faster, brighter GTN 650Xi/GTN 750Xi touchscreen navigators.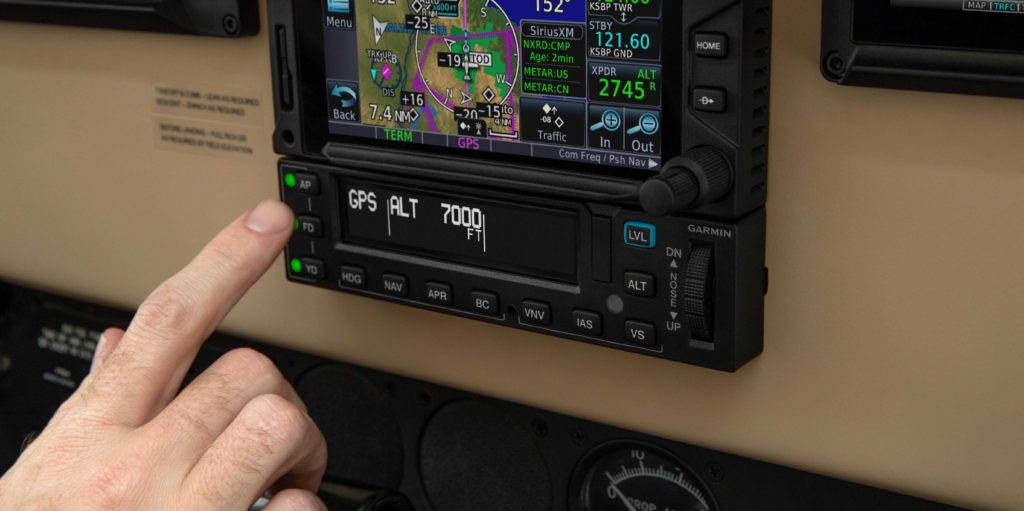 Autopilot
Retrofits
The GFC 500 and GFC 600 retrofit autopilots offer reduced maintenance, as well as safety-enhancing capabilities such as Garmin Electronic Stability Protection (ESP), underspeed/overspeed protection and coupled approaches. This webinar will focus on the features and benefits of both autopilots.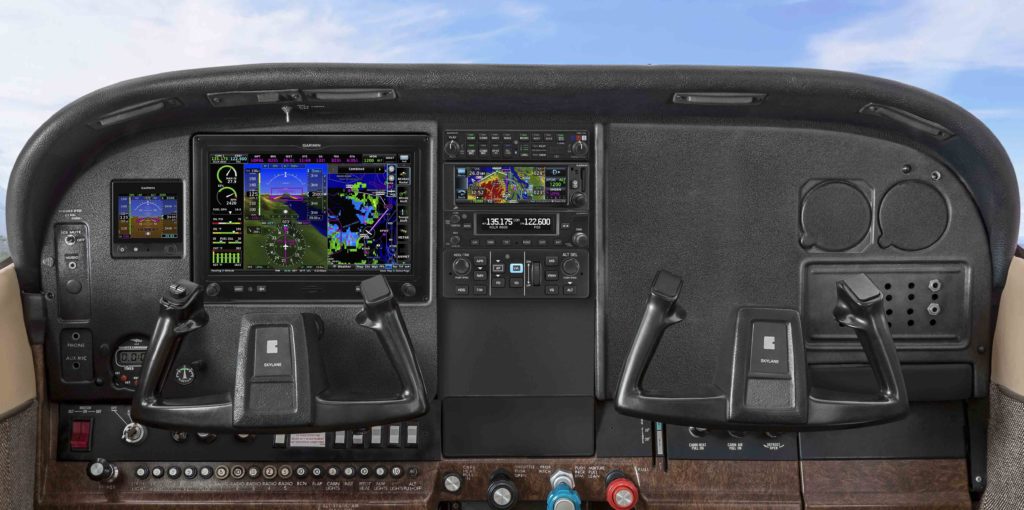 Cost-effective
Avionics Upgrades
Learn about upgrading an aircraft panel with cost-effective avionics such as the GPS 175, GNC 355 and GNX 375 two-inch navigators, G3X Touch and the GFC 500 autopilot.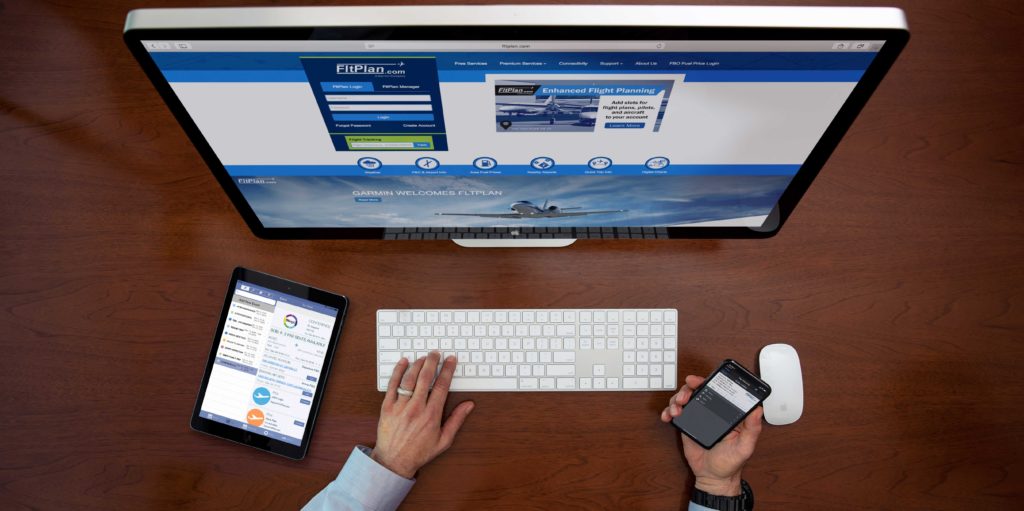 Garmin
Services Overview
Learn how cost-effective Garmin database
offerings, apps and web-based solutions can simplify everything from
pre-departure clearances to international flight handling and more.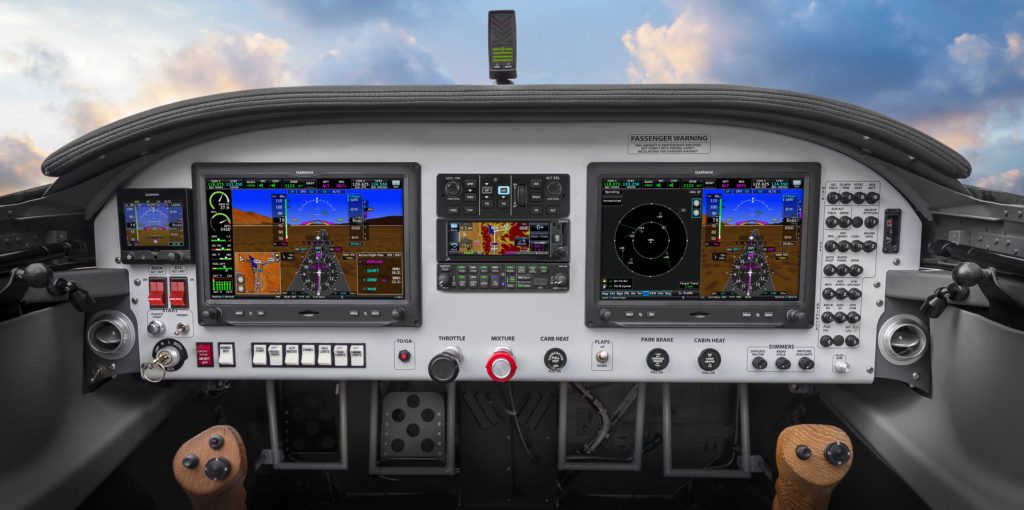 Garmin
Avionics for Experimental Aircraft
Check out experimental avionics options from Garmin, including the G3X Touch flight display and the G5 electronic flight instrument, GMA 245 audio panels and more.
Spring 2020 Promotions
In
addition to a comprehensive webinar line-up, Garmin is offering the same rebates
and promotions that it planned to offer at the Spring aviation events.
Spring
2020 Avionics Rebate
Customers can receive rebates on select certified avionics, including the GFC 600/GFC 500 autopilots, the GNX 375, GNC 355 and GPS 175 navigators, select audio panels and more. Eligible purchases must be made between March 30 and April 6. Attend one of the webinars above to learn more.
Spring
2020 Portables Rebate
Customers can take advantage of a $150 rebate on the D2 Delta PX, D2 Delta S and D2 Delta aviation watches, and a $100 rebate on the GDL 50/51/52 series. Eligible purchases must be made between March 30 and May 29.
eLearning
Promotion
Through
April 30, customers can receive 10% off normal pricing on the purchase of
eligible eLearning courses, including the G5000 Essentials, GTN Essentials,
Garmin Aviation Weather Radar, Garmin TXi Essentials and the Garmin G3000
Essentials courses.
For
additional information regarding aviation rebates or promotions, visit: https://www.garmin.com/en-US/promotions/aviation/.
The post Virtual Sun 'n Fun, AERO Friedrichshafen Experience with Aviation Webinar Series appeared first on Garmin Blog.
https://www.garmin.com/en-US/blog/aviation/virtual-sun-n-fun-aero-friedrichshafen-experience-with-aviation-webinar-series/