Appareo offers the simplest and lowest-cost flight data monitoring solution to meet new US Forest Service (USFS) contract requirements. Part 135.607 requires every helicopter in USFS operations to be equipped with an approved flight data monitoring system (FDMS) capable of recording flight data performance.
The mandate states flight data monitoring systems must comply with 14 CFR 135.607. Recordings must be stored in crash-hardened memory and have removable media. Any software required to review the data must be available to the government. Also, the following parameters must be recorded:
Attitude data including pitch attitude, roll attitude, pitch rate, roll rate, yaw rate, and acceleration (g-forces)
Position data including latitude, longitude, altitude, vertical speed, ground speed, and heading
Cockpit imaging including an unobstructed view of engine and flight instruments
Ambient cockpit audio
Appareo's Vision 1000 and AIRS-400 are two options for the easiest way to comply. For more information contact [email protected].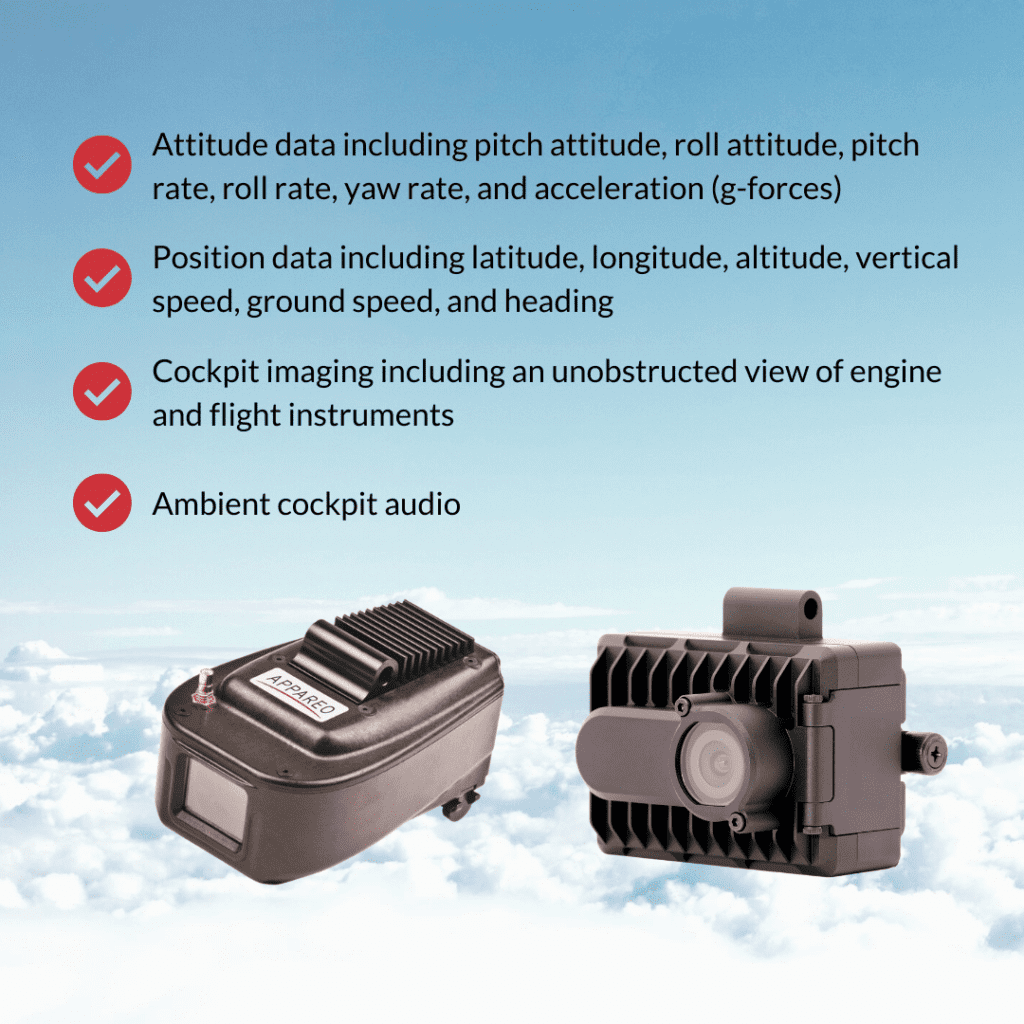 Easiest FDM Compliance for US Forest Service Mandate 135.607
Airbus Helicopters, Inc. honored the Garmin aviation team with a 2020 On-Time Delivery Award from Airbus Helicopters, Inc. for its efficient performance related to product delivery. Garmin avionics are available as standard on select Airbus Helicopters, including the H125, H130, H135 and H145.
Each year, Airbus Helicopters, Inc. recognizes suppliers who stand out in performance, competitiveness and reliability. This is the second year in a row Garmin has won the On-Time Delivery Award for commitment and timeliness in delivering avionics to fulfill Airbus Helicopters Inc. production lines and customer orders.
"We are once again very proud to be recognized by Airbus with this prestigious award for our commitment to serve them and our mutual customers with the on-time delivery of our products," said Carl Wolf, Garmin vice president aviation sales and marketing. "To again receive this award is truly humbling and ultimately would not be possible without the dedication of our entire Garmin team, in addition to the gratifying strategic relationship with Airbus Helicopters."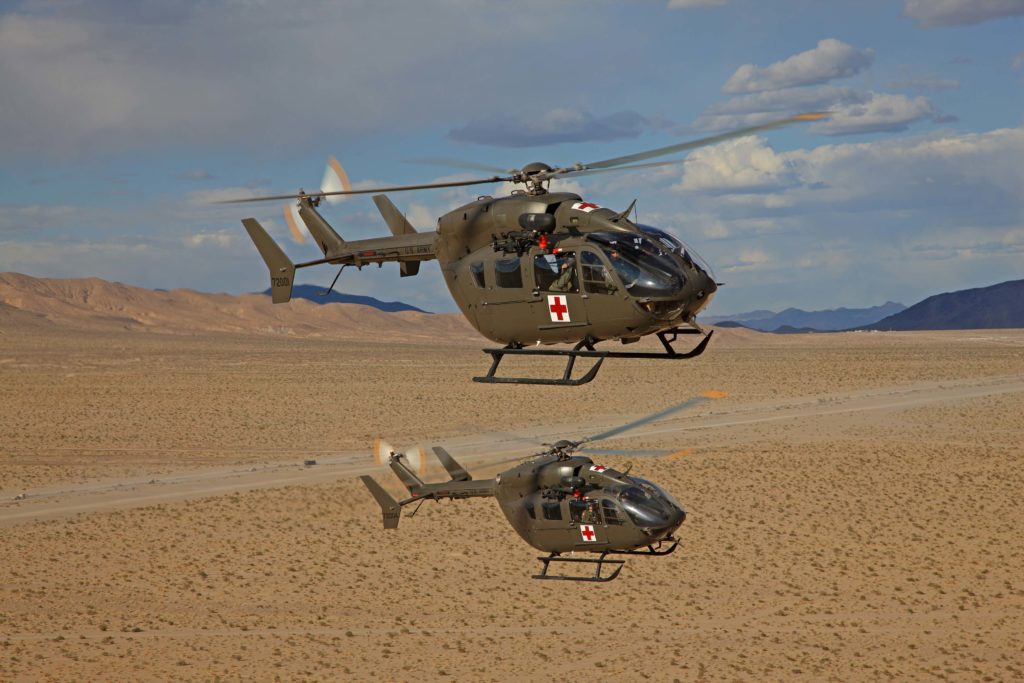 Garmin avionics are available as standard on the Airbus H125, including the G500H TXi flight display, GTN 650 touchscreen navigator, GNC 255 nav/comm, GMA 350c audio panel and the GTX 335R remote-mount ADS-B Out transponder. The GTN 750, GNC 255 and GTX 335R are also available as standard on the H130, while the H135/H145 feature the GTN 750 and Flight Stream 510 as standard equipment.
This marks the third consecutive year Garmin has received an award from Airbus Helicopters, Inc. In 2018, Garmin was also recognized by Airbus Helicopters, Inc. as the Supplier of Excellence for its unmatched responsiveness and competitiveness in its support of the UH-72A Lakota helicopter program, and for its overall support at the Airbus Helicopters Inc. finally assembly and completion center in Columbus, Miss.
The post Airbus Helicopters Honors Garmin with Consecutive On-Time Delivery Awards appeared first on Garmin Blog.
https://www.garmin.com/en-US/blog/aviation/airbus-helicopters-honors-garmin-with-consecutive-on-time-delivery-awards/
Pilots who fly behind our G1000® NXi and G1000H NXi for helicopters now have additional opportunities to refine their avionics skills. Our aviation training team introduced two new eLearning training courses for the G1000 NXi, as well as two separate eLearning courses for the G1000H NXi for helicopters. These courses are available in a virtual format allowing pilots to learn at their own pace. The G1000 NXi Fundamentals eLearning Course provides a foundational understanding of the system, while the G1000 NXi Essentials eLearning Course is focused on systems installed in high-performance piston and turbine engine aircraft. The two comprehensive eLearning courses for the G1000H NXi integrated flight deck titled G1000H NXi Fundamentals, and G1000H NXi Advanced-IFR, use scenario-based training to highlight helicopter-specific operations and are tailored for pilots new to the G1000H NXi system, in addition to those with experience wanting a deeper understanding of the system.
Core training topics
All four training courses build on a common core of training topics. These topics are common to all G1000 NXi and G1000H NXi systems but are tailored to the audience for each course. The topics include:
Primary Flight Display (PFD) and Multifunction Display (MFD) function
Audio Panel Features
Automatic Flight Control System
Hazard Avoidance Features
Safety Features
Abnormal Operations
Managing Databases
Operational Flight Scenario
Learn best-practices for G1000 NXi operational use
For those that are new to Garmin avionics, transitioning to advanced avionics, or perhaps want to refresh their understanding of the system, the G1000 NXi Fundamentals eLearning Course provides comprehensive training on the system designed for piston engine equipped aircraft. This course describes features of the system in detail and use a scenario to demonstrate how particular features function in different phases of flight in order to see this advanced system in action. In order to practice what you learned during this course, the Garmin G1000 NXi PC Trainer software is available for purchase online.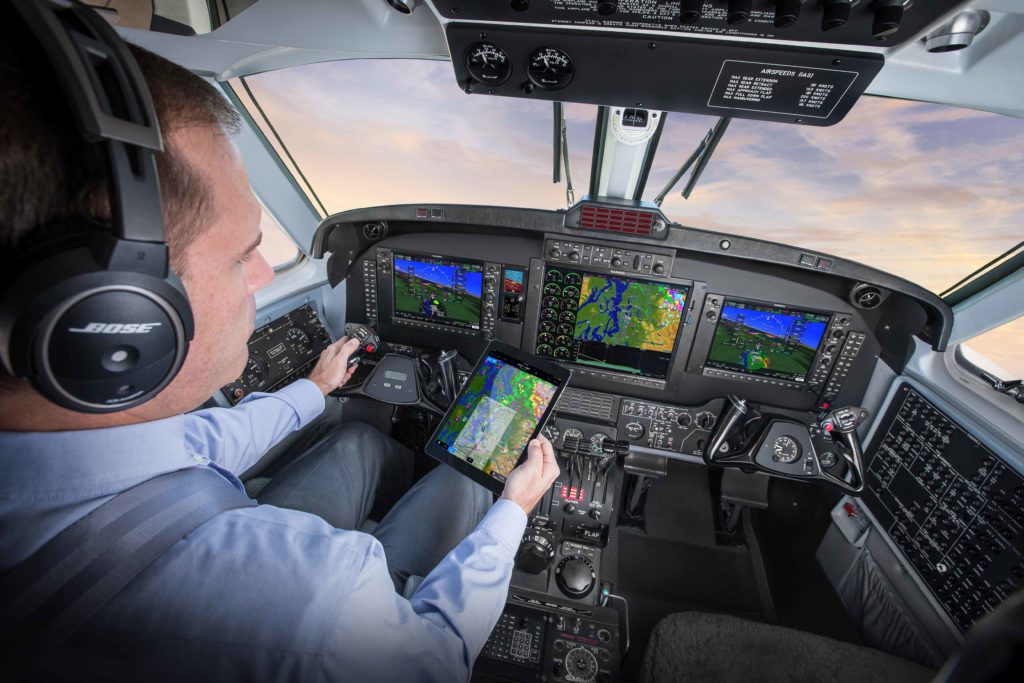 G1000 NXi for high-performance piston and turbine aircraft
For those operating high-performance piston or turbine-engine equipped aircraft, the G1000 NXi Essentials course presents best-practices for the G1000 NXi integrated flight deck by providing detailed training for pilots wanting to get the most out of the system. In addition to describing features in detail and showing how they can be used effectively in flight, scenario-based training demonstrates typical high-performance piston and turbine-engine aircraft operations, providing an opportunity to see the G1000 NXi system in full effect. For your specific or similar aircraft, the Garmin G1000 NXi PC Trainer software is available for purchase online, and provides the opportunity to take what you learned throughout the course and apply it. In addition to the core training topics, the G1000 NXi Essentials eLearning Course includes additional instruction on:
Vertical Navigation
Automatic Flight Control System
Advanced Features
User Waypoints
Managing Databases
Multiple Operational Flight Scenarios with different performance profiles
Build helicopter-specific system knowledge
The G1000H NXi Fundamentals course is designed for VFR helicopter pilots who are new to Garmin avionics, transitioning to advanced avionics, or perhaps want a refresher on the G1000H NXi. This allows the pilot to be comfortable with the avionics and maximize learning during valuable flight time. Learn how to take full advantage of the capabilities of the G1000H NXi system while gaining experience with operational use best practices. This virtual course allows pilots to learn at their own pace, details system features and provides a VFR flight scenario to show how these features are used in various phases of flight. Those that sign up for this course receive an additional scripted scenario for more practice through the Bell 407GXi G1000H NXi PC Trainer software, available for purchase online. The core training topics in the G1000H NXi Fundamentals eLearning Course have been tailored to helicopter-specific features and functionality, including differences for:
PFD and MFD function
Audio Panel Features
Hazard Avoidance Features
Operational Flight Scenario
Scenario-Based Exercise
Enhance IFR helicopter skills with G1000H NXi
The G1000H Advanced-IFR course provides a detailed look at the G1000H NXi system and illustrates best practices for operational use of the flight deck, with a focus on Instrument Flight Rules (IFR). The course uses phase of flight scenarios to demonstrate typical IFR helicopter operation, and depicts common practices to maximize the benefits of system features and capabilities. For helicopter pilots who fly search-and-rescue missions, emphasis on user waypoints are included in the course scenarios. Pilots can further practice what they learned throughout the course with one of the additional scripted scenarios provided for use with the purchase of the Bell 407GXi G1000H NXi PC Trainer software. Some helicopter-tailored training topics covered in the Advanced IFR eLearning Course include:
PFD and MFD function
Automatic Flight Control System
Hazard Avoidance Features
Advanced Features
User waypoints
Operational Flight Scenarios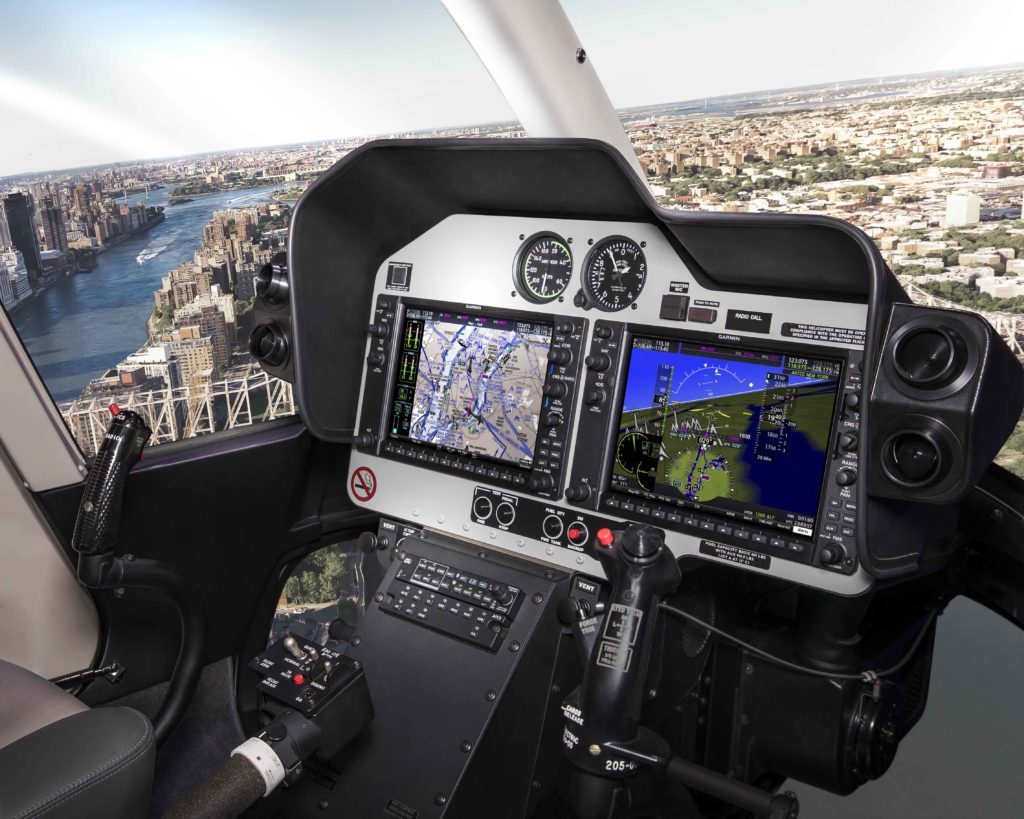 Proceed through the course at a pace that works best
Available immediately after purchase using a computer or tablet device with internet access, pilots can navigate through the virtual course at their own pace. Assessments throughout the course validate knowledge obtained of critical items while documenting the learning process. With the ability to pause lessons as needed to return to the lesson later, this is a convenient option for any pilot. Also, pilots can retake specific lessons or even the entire course during the subscription period.
The G1000 NXi Fundamentals eLearning course is available now for $94.95 USD, and the G1000 NXi Essentials eLearning Course is now available for $145.95 USD. Also available is the G1000H NXi Fundamentals eLearning Course for $74.95 USD, as well as the G1000H NXi Advanced IFR eLearning Course is available for $94.95 USD. For aviation training needs, including purchasing one of these eLearning courses, please visit www.fly.garmin.com/training.
For additional information, please contact aviation.training@garmin.com.
The post New G1000 NXi and G1000H NXi eLearning Courses Available appeared first on Garmin Blog.
https://www.garmin.com/en-US/blog/aviation/new-g1000-nxi-and-g1000h-nxi-elearning-courses-available/
The GI 275 electronic flight instrument is ready for installation in select Part 27 Federal Aviation Administration (FAA)-registered helicopters via Field Approval. It has completed stringent helicopter vibration and temperature testing, demonstrating it can withstand the harsh operating environments encountered by helicopters. Initial variants approved for installation include the course deviation indicator (CDI), radar altimeter display and the multi-function display (MFD) versions. Follow-on approval of the GI 275 as a replacement for the attitude indicator and horizontal situation indicator (HSI) via Supplemental Type Certificate (STC) is expected in Q4 2020.
"With these approvals, we're thrilled to expand the availability of the GI 275 to now include the helicopter market," said Carl Wolf, vice president of aviation sales and marketing. "The GI 275 is the perfect solution for helicopter owners and operators, as it allows them to take a scalable, cost-conscious approach to their avionics upgrade. Even further, the GI 275 adds a tremendous amount of reliability and capability to any cockpit, making it the perfect upgrade for every panel."
Lightweight and compact, the GI 275 is intentionally designed to take advantage of the common 3.125-inch flight instrument size, reducing installation time and preserving the existing instrument panel. Its bright, high-resolution touchscreen display and wide viewing angle offers superior readability in the cockpit. In addition to interfacing with the flight instrument via the touchscreen, a dual concentric knob allows pilots to access a variety of key functions. Suitable as a direct replacement to many aging flight instruments, the GI 275 offers operators a simple and straightforward upgrade path to achieve modern flight instrument features and functions.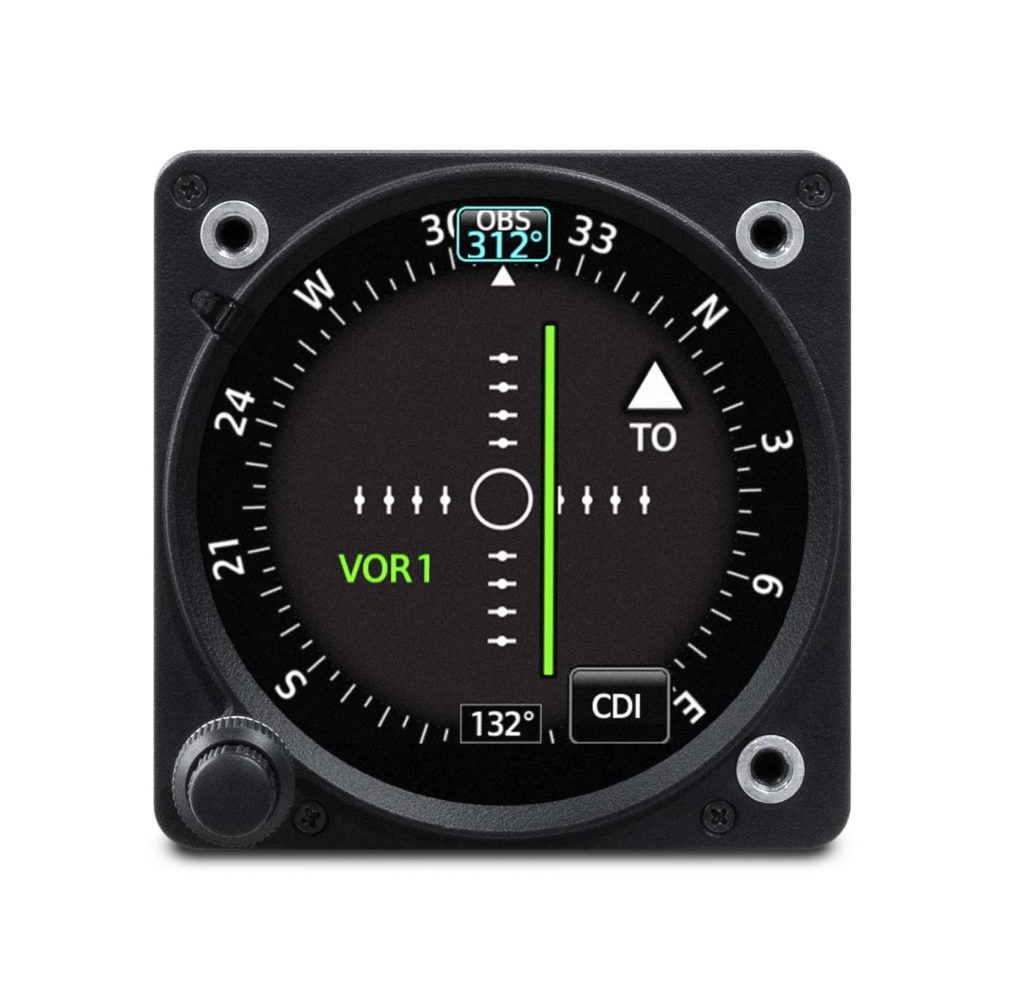 When installed as a CDI, the GI 275 is designed to accept a variety of GPS and navigation inputs, allowing up to two GPS sources and two VHF navigation sources. The GI 275 features an Omni Bearing Resolver that allows the flight instrument to interface to a variety of legacy navigators on the market. Vertical and lateral GPS, VOR/LOC and glide slope deviation can be viewed on the GI 275. When pilots replace an older mechanical CDI, the GI 275 doubles as a modern digital indicator and adds MFD-like capabilities such as a moving map, traffic and weather. MFD-like features add even more capability to the cockpit, including a moving map, MFD flight data, weather, traffic, SafeTaxi® airport diagrams, the display of radar altimeter information and more. The GI 275 can be paired with the GRA® 55/5500 and other third-party products to display radar altimeter data. Visual and aural annunciations are also available.
Built-in Wi-Fi® enables Database Concierge, the wireless transfer of aviation databases to the GI 275. Pilots also have the option to transfer databases to the GI 275 using a USB flash drive and the GSB 15 USB charger. Databases can also be synced among multiple GI 275 flight instruments in a single cockpit. Additional wireless functions include the sharing of GPS position and back-up attitude information with the Garmin Pilot

mobile application.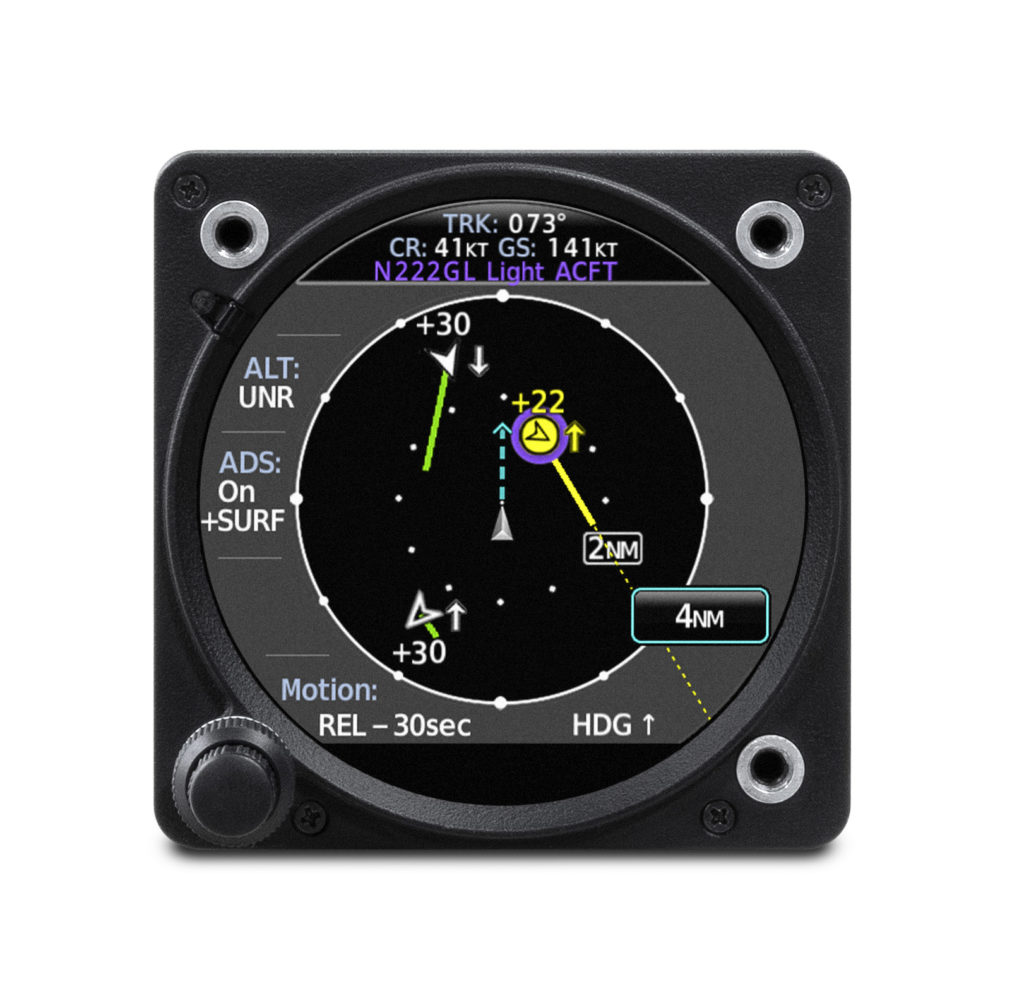 The GI 275 is available immediately for installation via Field Approval in select Part 27 FAA-registered helicopters as a CDI or MFD. Additional features and functions are expected to be approved via STC in Q4 2020. The GI 275 also comes with a two-year warranty and is supported by Garmin's award-winning aviation support team, which provides 24/7 worldwide technical and warranty support. For additional information, visit www.garmin.com/aviation.
The post GI 275 Ready for Helicopter Installations appeared first on Garmin Blog.
https://www.garmin.com/en-US/blog/aviation/gi-275-ready-for-helicopter-installations/
Garmin TeamX unveiled the aera 760, a premium aviation portable that is purpose-built for the pilot and the cockpit. The aera 760 boasts a 7-inch bright, sunlight readable touchscreen display complete with comprehensive chart options in a compact and dedicated portable GPS. Additional features of the aera 760 include the option to load instrument approach procedures, arrivals and departures, approach chart overlay on the map, Garmin Connext wireless connectivity, as well as the option to integrate it with select Garmin avionics. The aera 760 is expected to be available in May for a list price of $1,599 USD.
"On behalf of our innovative and nimble TeamX gang of aviation enthusiasts, we're excited to introduce the latest edition to the distinguished family of Garmin portable GPS products, the feature-packed aera 760," said Carl Wolf, vice president of aviation sales and marketing. "For nearly three decades, Garmin has sold hundreds of thousands of portable GPS products for aircraft big and small. Building upon our acclaimed portable aviation GPS line-up, the aera 760 has the most robust aviation feature set to-date, that is designed exclusively by pilots – for pilots."
Featuring a modern yet rugged design, the aera 760 is an all-in-one aviation portable complete with a built-in GPS/GLONASS receiver that is optimized for the cockpit. Its bright, 7-inch sunlight readable display can run on battery power for up to four hours on a single charge. Along the bezel, an industry-standard USB-C connection is used to charge and power the aera 760, while a microSD card slot allows pilots to load topography and street maps or use it to easily transfer user waypoints. The aera 760 features an intuitive user-interface resembling that of many other popular Garmin products such as the GTN Xi series, G3X Touch and Garmin Pilot allowing pilots to easily transition between multiple Garmin products in the cockpit. Capable of operating in harsh conditions, the aera 760 has also been tested and hardened to meet stringent temperature and vibration standards.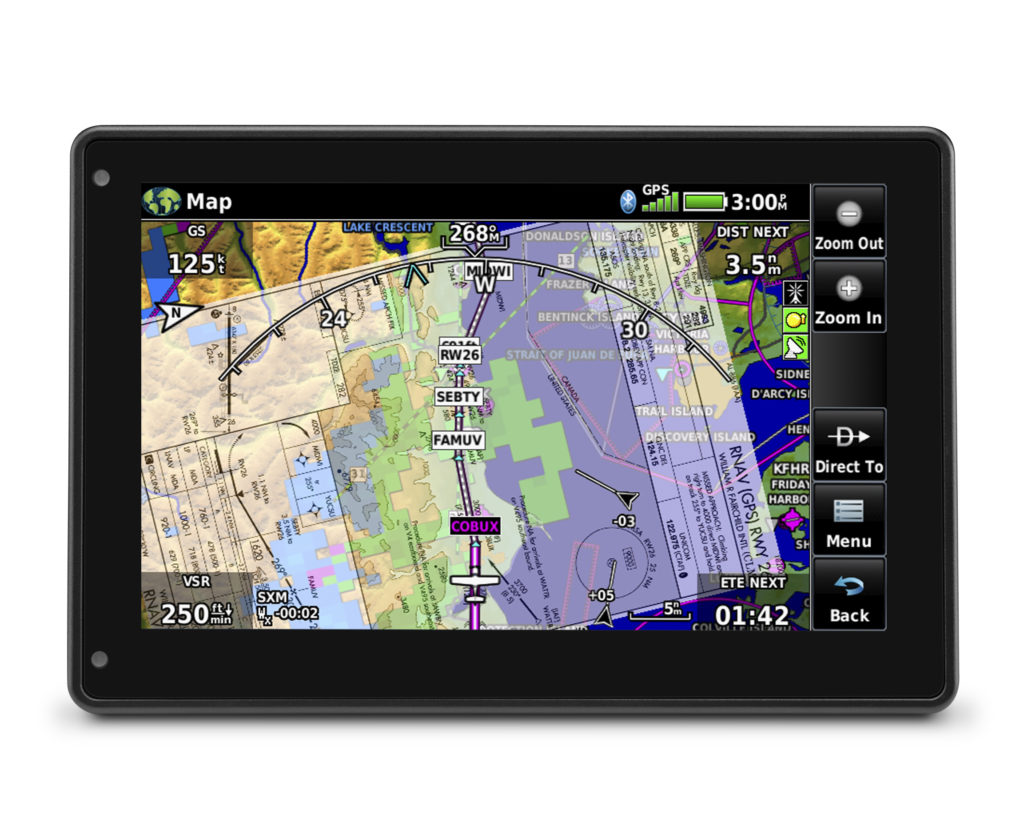 New to the aera 760, pilots can load departures, arrivals and instrument approach procedures (IAPs) within a flight plan, which can be wirelessly transferred to a navigator in the cockpit. Once a procedure is loaded within the aera 760, pilots have the option to view the chart or they can overlay it on the moving map. IFR enroute charts, VFR sectionals and Garmin FliteCharts are also geo-referenced, providing optimal situational awareness. Jeppesen electronic charts are compatible with the aera 760 and give customers worldwide access to instrument approach chart information. In addition to procedures, victor airways, user-defined holds and holds over an existing navigation fix can be entered into a flight plan.
Built-in Wi-Fi and Bluetooth allow the aera 760 to take advantage of Garmin Connext wireless connectivity inside and outside of the cockpit. When connected to Wi-Fi, pilots can easily download aviation database and software updates without the need to physically connect it to a computer. Prior to departure, pilots can also view worldwide weather information on the aera 760 when it's connected to Wi-Fi. In the cockpit, it is capable of wirelessly connecting to select products such as the GTX 345 or the GDL 52 to display the benefits of Automatic Dependent Surveillance-Broadcast (ADS-B) traffic, Flight Information Service-Broadcast (FIS-B) weather, SiriusXM aviation weather and more via Bluetooth. Exclusive features such as TerminalTraffic and TargetTrend can also be viewed on the moving map and dedicated traffic pages.  
Pilots can hard-wire the aera 760's power, audio and dual RS-232 connections to receive additional benefits. When connected to a navigator such as the GTN 650Xi/750Xi, GTN 650/750 or the GNS 430W/530W, the aera 760 can send and receive flight plan data that is entered into the navigator over a serial port so all products remain synchronized throughout the flight. It is also capable of wirelessly connecting to these navigators when paired with a Flight Stream 210/510. When connected to a NAV/COM such as the GTR 225, GNC 255 or GTR 200, frequencies and airport identifiers can also be transferred from the aera 760 to the corresponding NAV/COM. For aircraft flying in visual conditions, pilots can optionally connect the aera 760 to select autopilots to fly lateral GPS and single point vertical navigation (VNAV) guidance. For example, pilots flying in visual conditions can fly a VNAV profile from their current altitude to pattern altitude using the aera 760 fully coupled to the autopilot.
3D Vision technology displays a virtual 3D perspective view of surrounding terrain, obstacles and airports, as well as a horizontal situation indicator (HSI) that is capable of showing lateral and vertical deviation bars. When the aera 760 is panel mounted or paired with a compatible attitude source such as a GDL 52 or GTX 345, pilots can view synthetic vision (SVX), which adds the display of back-up attitude information on the portable.
The aera 760 also features fuel price information, an E6B flight computer and weight and balance calculators. The E6B can be used prior to a flight to aid in calculating fuel burn, estimated time of arrival (ETA) and more. While in-flight, the aera 760 utilizes ground speed information to recalculate fuel burn and ETA. Helicopter operators also have access to features tailored to their unique operations, such as WireAware wire-strike avoidance technology. WireAware overlays power line locations and relative altitude information on the moving map and provides both aural and visual alerting when operating near power lines. Pilots also have the option to enter street intersections or non-aviation waypoints. GPS altitude display is offered in both mean sea level (MSL) and above ground level (AGL), so they are easier to identify relative to the aircraft flight path.
The aera 760 is expected to be available in May for a list price of $1,599 USD and is compatible with the cost-effective Garmin Navigation Database that is available in the Americas with US coverage starting at $39.95 for a single update. A variety of annual bundles are also available on the flyGarmin website, such as the U.S bundle for $169.95, which includes the Garmin Navigation Database, FliteCharts, IFR/VFR Charts, terrain, obstacles, SafeTaxi, and the airport directory with fuel prices. Pilots can also add enhanced map information such as topography or street maps using a MicroSD card. The aera 760 is supported by our award-winning aviation support team, which provides 24/7 worldwide technical and warranty support. For additional information, visit www.garmin.com/aera760.
The post aera 760: 7-inch Format Portable Aviation GPS appeared first on Garmin Blog.
https://www.garmin.com/en-US/blog/aviation/aera-760-7-inch-format-portable-aviation-gps/
Our GFC 600H helicopter flight control system has achieved FAA Supplemental Type Certification in the AS350 B2/B3. This attitude-based flight control system boasts a number of helicopter-tailored safety features, including attitude hold, Garmin Helicopter Electronic Stability and Protection, dedicated return-to-level mode, hover assist, as well as overspeed and low speed protection. The GFC 600H requires the Garmin G500H1 or G500H TXi flight display and offers integration with compatible instruments and navigation sources.
With advanced AHRS technology and redundant, cross-checking sensors, GFC 600H was designed for smooth handling, providing inputs to help stabilize the helicopter while hand-flying. The stability provided by the system offers significant workload reduction and great benefits to helicopter operators by maintaining a commanded attitude. Designed with the pilot in mind, its cyclic-mounted trim controls allow for seamless interactions without taking a hand off of the helicopter flight controls during basic operations, including system initialization of attitude hold mode, adjustments of the pitch and roll trim, and much more. While flying in attitude hold mode, pilots can easily "fly through" the flight control inputs for smooth maneuvers beyond the preset trim condition.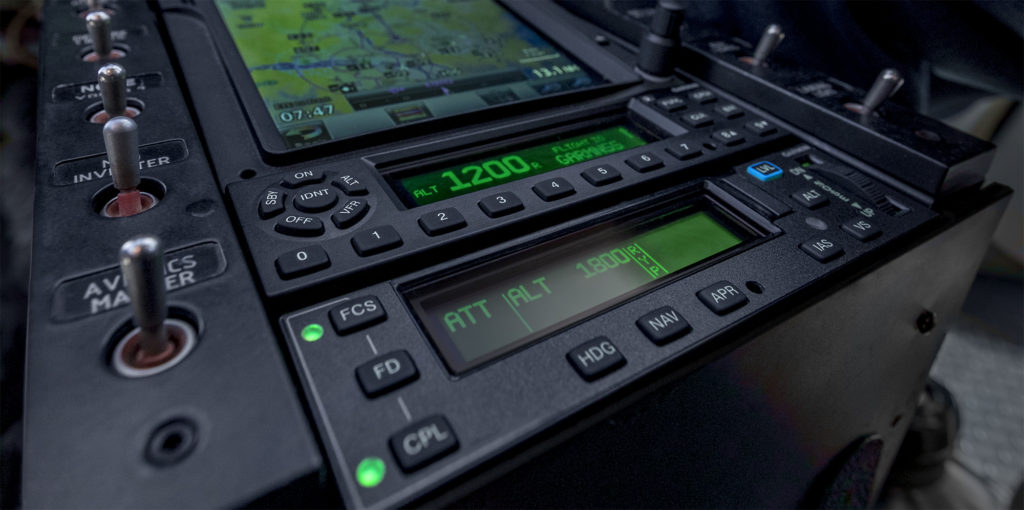 Hover Assist
Hover assist mode is capable of automatically detecting a hover condition, and provides flight control inputs to help maintain position over the ground. With the optional yaw axis control, the GFC 600H will also hold heading while in a hover. In addition to hover assist mode, groundspeed hold2 is also available, allowing the pilot to input a forward or sideways command, which can be particularly useful during taxi and take-off.
Garmin H-ESP
Garmin Helicopter Electronic Stability and Protection (H-ESP) helps the pilot remain within a safe flight envelope when hand-flying the helicopter. H-ESP works in all modes – even when the system is not engaged – and can be manually disabled to allow for maneuvering flight. The GFC 600H also features a dedicated level mode that can be engaged by the pilot to return to straight-and-level flight, helping to avoid a potential loss-of-control scenario.
For
enroute and approach navigation, the system uses guidance from a compatible
Garmin navigator, such as the GTN 750/650 series, to automatically fly
approaches and search and rescue patterns. Additional vertical and lateral
modes include altitude hold, altitude select, vertical speed, indicated
airspeed and heading select.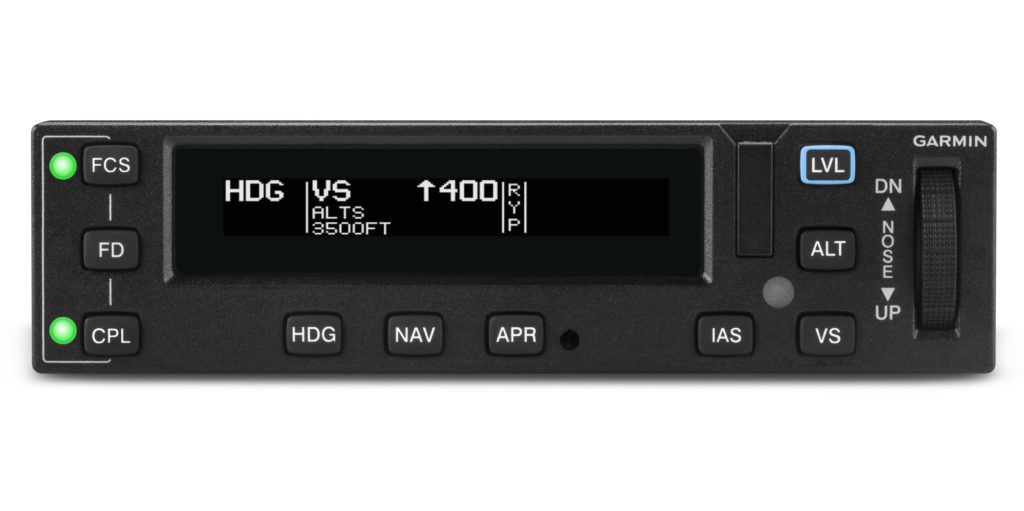 The
GFC 600H features a stack-width mode controller with push-button controls and a
night vision goggle (NVG) compatible display. Its robust architecture supports a
3-axis configuration to provide the features and handling characteristics
needed for a helicopter. Integrated "smart" servos provide pitch and roll
inputs as commanded by the system, and the available third servo and collective
sensor provide yaw axis control capability and smooth flight control
adjustments when the pilot moves the collective. Digitally controlled,
high-torque servos allow for faster, crisper, more powerful response, which
enables the GFC 600H to perform with smooth efficiency and advanced capability.
With its extensive features and advanced technology, the GFC 600H offers unprecedented value at a competitive price. It is supported by our award-winning aviation product support team, which provides 24/7 worldwide technical and warranty support.
1.Requires additional sensors.
2.Requires a GTN 650/750 or GTN 650Xi/750Xi touchscreen navigator.
The post GFC 600H Helicopter Flight Control System Approved in AS350 appeared first on Garmin Blog.
https://www.garmin.com/en-US/blog/aviation/gfc-600h-helicopter-flight-control-system-approved-in-as350/
Andreas Hermansky is recognized as the 2019 Appareo Pilot of the Year, an award presented annually by Helicopter Association International (HAI) as part of their Salute to Excellence program. This award recognizes an outstanding single feat performed by a helicopter pilot during the year or extraordinary professionalism over time.
Hermansky was recognized for his work with the Denali National Park and Preserve mountaineering staff, mobilizing the park's helicopter to fly mountaineering rangers to an accident site with an elevation of 11,000 feet. Hermansky flew several reconnaissance flights to the area because of deteriorating weather conditions. The nominator noted that the series of short-haul flights highlights Hermansky's exceptional flying ability and his ability to work in concert with the ranger team to accomplish critical missions. Read more about his heroic efforts in Vertical Magazine.
The Appareo Pilot of the Year award will be presented to Andreas at HAI HELI-EXPO in Atlanta, Georgia this March.
https://www.appareo.com/2019/01/11/andreas-hermansky-receives-appareo-pilot-of-the-year-award/
Over the past four decades the Sikorsky S-70/UH-60 Black Hawk helicopter has established itself as an icon of versatility in aviation. It can be found in the service of nations all around the world. It's a symbol of rescue for those in an emergency at sea or in remote locations, and a warrior against wild fires. This medium-lift utility helicopter excels at being, well, utilitarian – excelling at many different missions. An aircraft this valuable shouldn't simply be retired, it should be utilized, and with utilization over any period of time, comes the need to upgrade – the type of upgrades that can carry a proven airframe into a new generation of service. That's exactly why we teamed with Ace Aeronautics in Guntersville, Alabama – to combine the advanced capabilities of our G5000H integrated flight deck with the now legendary Black Hawk airframe. This modernization is known as the ACE DECK VL-60.
Garmin G5000H Integrated Flight Deck
The G5000H installation in the ACE DECK VL-60 helicopter incorporates four 12-inch high resolution widescreen displays along with two touchscreen controllers that serve as the pilot interface to the flight deck. On the primary flight displays (PFD) and multifunction displays (MFD), pilots can view flight information alongside maps, checklists, weather, geo-referenced charts and more across all four displays. Our Helicopter Synthetic Vision Technology can also depict 3-D terrain, obstacles, wires, traffic and the terminal environment for increased information throughout every phase of flight.
Flying the G5000H-equipped ACE DECK VL-60
The G5000H not only represents a modern upgrade for the Black Hawk airframe, it's also designed to ease pilot workload and enhance situational awareness from inside the cockpit. "The 4K displays are clean, crisp, and provide an exceptional viewing area for the [Primary Flight Display], Synthetic Vision, video, and custom ship synoptic pages. And, the geo-referenced approach plates and procedure cueing completely simplify instrument approaches," said Randy Nolin, Ace Aeronautics Vice President of Engineering/Test Pilot and retired US Army UH-60 Black Hawk pilot.
Pilots transitioning from older style analog gauges and legacy instruments in a S-70/UH-60 shouldn't be too concerned learning to fly behind the next generation flight deck. "It was a very easy transition [flying with G5000H]. The controls are extremely intuitive, and the touchscreen works much like a smartphone. With the Garmin [G5000H] all of the functions are easy to access," added Nolin.
We've built the Garmin aviation brand on providing safety enhancing features in all of our avionics solutions—everything from portable navigators through our fully integrated flight decks. "The Synthetic Vision coupled with the worldwide terrain and obstacles database give the G5000H an awareness that legacy Black Hawk pilots have been asking for since the Black Hawk began. Now it's here," said Kenneth Czarnecki, Ace Aeronautics Chief Pilot and retired US Army UH-60 Black Hawk pilot.
A Medium-Lift Utility Helicopter for the Future
The G5000H-equipped Ace Deck VL-60 helicopter is a great example of combining a proven airframe with modern avionics—a platform with increased capabilities and safety-enhancing features. "It is a generational and technological evolution for helicopter flight," said Nolin.
For more information about our G5000H integrated flight deck for medium-lift helicopters, visit garmin.com/helicopters. To learn about Ace Aeronautics and the ACE DECK VL-60, visit aceaero.com.
The post Aviation Icon meets Next Gen Avionics Technology appeared first on Garmin Blog.
https://www.garmin.com/en-US/blog/aviation/aviation-icon-meets-next-gen-avionics-technology/