Introducing D2

Air, our latest GPS smartwatch for the modern pilot with powerful aviation capabilities and a sleek, new touchscreen design that can be worn 24/7. The newest addition in the D2 aviator watch series, the D2 Air offers tools for all phases of flight, including weather, direct-to navigation, airport information, flight logging, Pulse Ox1, and much more. To keep up with life on the go, the D2 Air incorporates connected features like smart notifications2, Garmin Pay contactless payment solution3 and phone-free music, along with enhanced health monitoring, and animated workouts. 
"The D2 Air is an exciting option for current and aspiring pilots, as well as the aviation enthusiast," said Carl Wolf, vice president of aviation sales and marketing. "The D2 Air offers a bright and striking display with valuable capabilities that benefit pilots in the air while offering advanced smartwatch features on the ground, placing the D2 Air aviator smartwatch in a category of its own."
A Dedicated In-Flight Navigator on Your Wrist
The D2 Air includes several pre-flight features and tools, with the ability to display multiple time zones including Zulu time, and METAR and TAF aviation weather reports and forecasts, to name a few. Additionally, airport information such as runway orientation with wind components, runway lengths, airport frequencies and traffic pattern altitudes are easily accessible for each airport.
Preloaded with a worldwide navigation database containing NAVAIDs and Intersections, a waypoint info page, direct-to navigation, a three-axis compass with a horizontal situation indicator (HSI), and an altimeter with adjustable barometric setting, the D2 Air is packed with features to assist aviators in navigation and enhance situational awareness.
The D2 Air utilizes Garmin Pilot flight plan transfer4, allowing for an easy way to access to flight plan information by seamlessly transferring flight plans into the watch. Aviation alerts such as speed, time, distance, elevation, and a fuel timer are available on the D2 Air watch during flight. For post-flight ease, the D2 Air integrates with flyGarmin.com logbook5 to sync post-flight data such as date, duration, and route of flight.
Smart Features for Life on the Go
The D2 Air provides all-day connection and convenience for life on the go. When paired with a compatible device, users can receive smart notifications for incoming calls, text messages, calendar reminders and more on the vivid 1.2" AMOLED touchscreen display. Users can also download songs or playlists6, including those from third-party music services like Spotify, Amazon Music and Deezer6. And with Garmin Pay, pilots can make contactless payments right from their wrist3.
Health, Wellness and Sports
As a multifunctional smartwatch, the D2 Air offers a broad range of health and wellness features, including advanced sleep monitoring, respiration tracking, stress tracking, hydration tracking, the Body Battery

energy monitor enabling pilots to track energy levels all-day, Pulse Ox that gauges blood oxygen saturation levels for reference when flying at altitude, and more1. With GPS, Elevate wrist-based heart rate7, and over 20 built-in indoor and outdoor sports apps including walking, running, cycling, pool swimming, golf and more, the D2 Air is packed with features to keep up with an active lifestyle.
The D2 Air's AMOLED screen brings workouts to life with an additional 40+ on-device animated workouts for strength training, cardio, yoga and Pilates. Easy-to-follow workouts demonstrate proper form and technique right on the user's wrist and can be downloaded at no charge from the Garmin Connect app5.
Designed for Flying in Style
The design of the D2 Air features an aviation-themed watch face, stylish stainless-steel finish on a 43.2mm bezel and an elegant premium black leather strap with yellow accents. The D2 Air boasts a rugged scratch- and damage-resistant lens with Corning® Gorilla® Glass 3 for durability, allowing pilots the freedom to use the watch as it was designed in a demanding flight environment. Also included with the D2 Air is a sporty silicone quick-release watch band, allowing for a seamless transition between exercise or a round of golf, to a more formal leather strap better suited for business environments or a night out, with additional band options available and sold separately.
The D2 Air boasts a battery life of up to 5 days while using smart notifications and pre-flight planning tools, and up to 10 hours of battery life when continuously using GPS and Pulse Ox while flying. Pilots can utilize the D2 Air's always-on mode to ensure all their information is right at hand when they need it. The D2 Air is available now for a suggested retail price of $499.
1 This is not a medical device and is not intended for use in the diagnosis or monitoring of any medical condition; see Garmin.com/ataccuracy. Pulse Ox not available in all countries.
2 When paired with a compatible smartphone; see Garmin.com/ble
3 View current supported country, payment network and issuing bank information at Garmin.com/GarminPay/banks
4 When paired with a compatible smart device downloaded with the Garmin Pilot app
5 When paired with a compatible smart device downloaded with the Garmin Connect app
6 May require premium subscription by a third-party music provider                
7 See Garmin.com/ataccuracy
The post D2 Air: Aviator Smartwatch with Powerful Flight Functionality, Vibrant AMOLED Display appeared first on Garmin Blog.
https://www.garmin.com/en-US/blog/aviation/d2-air-aviator-smartwatch-with-powerful-flight-functionality-vibrant-amoled-display/
For tools of any trade, portability can improve versatility. Portable products can help keep you mobile, potentially allowing more options or opportunities for projects and pastimes. This is especially true in aviation. For some, portables can be cost-effective navigation tools for specific aircraft – or a transferable option for multiple aircraft. For others, it could simply be a dependable backup, one that typically stays in the flight bag for any unplanned or unexpected situation. The common thread in these products is their ability to deliver additional information within the cockpit, enhanced situational awareness or an extra form of communication, all in a mobile package. Here are our portable avionics solutions fit for any flight bag:
aera® 660 and aera® 760: purpose-built portable navigators
Mount it on the yoke, in the panel or keep it by your side, the aera 760 and aera 660 GPS navigation devices feature sunlight-readable touchscreen displays and come in two different sizes — a 5" display with the aera 660 and 7" display with the aera 760. These aren't just tools for getting you from Point A to Point B, they feature a 3D Vision view that shows terrain, obstacles and a detailed layout of the airport environment to help keep you aware of your surroundings. Plus, add even more situational awareness by pairing a GDL® 50/51/52 series portable receiver — they can wirelessly stream weather and traffic data to the aera 660/760 and even overlay that information directly on the map display.
GDL 50/51/52 portable receivers
An ideal companion to our aera 660/760 series portable navigators or mobile devices running Garmin Pilot

, the GDL 50/51/52 series provides valuable information including weather and traffic data wirelessly. The data type offered is different for each unit, tailored to different pilots' specific needs. The GDL 50 provides subscription-free U.S datalink weather via ADS-B "In" technology1. It also provides ADS-B traffic data via our TargetTrend and TerminalTraffic technology, providing detailed directional information on traffic targets in-flight and on the ground using relative motion technology2. Next in line is the GDL 51, which provides SiriusXM® satellite aviation weather and digital audio entertainment. For those wanting both ADS-B weather and traffic data plus SiriusXM Aviation Weather and digital audio entertainment? Go for the GDL 52, it features all of the aforementioned features. Additionally, all GDL 50/51/52 devices provide GPS position data and backup attitude information to compatible products.
inReach® series satellite communicators*
Popular in the outdoor and adventurer communities, our inReach satellite communicators can be indispensable for pilots. It doesn't matter if a mission takes you into the backcountry, oversees or simply across the state. With inReach, pilots can benefit from two-way satellite messaging and position tracking — so loved ones can stay in touch, in the know on your location and ensure you've arrived at your destination safely. Plus, each inReach model features an SOS button in case of emergency. If activated, it triggers an interactive SOS message to GEOS, a professional 24/7 global monitoring and response center (satellite subscription required). Add peace-of-mind to every flight with inReach.
For additional information on our latest portable or panel-mounted avionics solutions, visit Garmin.com/aviation.
1. Not all ADS-B weather products may be available across all devices. Check your Pilot's Guide for specifics about which products are available on your device.
2. Audible traffic alerting, TargetTrend and TerminalTraffic require compatible displays. Check your Pilot's Guide for specific capabilities available on your display.
*NOTICE: Active satellite subscription required. Some jurisdictions regulate or prohibit the use of satellite communication devices. It is your responsibility to know and follow all applicable laws in the jurisdictions where the satellite communication device is intended to be used.
Sirius, XM and all related marks and logos are trademarks of Sirius XM Radio Inc.
The post Aviation Tools You Can Take with You appeared first on Garmin Blog.
https://www.garmin.com/en-US/blog/aviation/aviation-tools-you-can-take-with-you/
Garmin TeamX unveiled the aera 760, a premium aviation portable that is purpose-built for the pilot and the cockpit. The aera 760 boasts a 7-inch bright, sunlight readable touchscreen display complete with comprehensive chart options in a compact and dedicated portable GPS. Additional features of the aera 760 include the option to load instrument approach procedures, arrivals and departures, approach chart overlay on the map, Garmin Connext wireless connectivity, as well as the option to integrate it with select Garmin avionics. The aera 760 is expected to be available in May for a list price of $1,599 USD.
"On behalf of our innovative and nimble TeamX gang of aviation enthusiasts, we're excited to introduce the latest edition to the distinguished family of Garmin portable GPS products, the feature-packed aera 760," said Carl Wolf, vice president of aviation sales and marketing. "For nearly three decades, Garmin has sold hundreds of thousands of portable GPS products for aircraft big and small. Building upon our acclaimed portable aviation GPS line-up, the aera 760 has the most robust aviation feature set to-date, that is designed exclusively by pilots – for pilots."
Featuring a modern yet rugged design, the aera 760 is an all-in-one aviation portable complete with a built-in GPS/GLONASS receiver that is optimized for the cockpit. Its bright, 7-inch sunlight readable display can run on battery power for up to four hours on a single charge. Along the bezel, an industry-standard USB-C connection is used to charge and power the aera 760, while a microSD card slot allows pilots to load topography and street maps or use it to easily transfer user waypoints. The aera 760 features an intuitive user-interface resembling that of many other popular Garmin products such as the GTN Xi series, G3X Touch and Garmin Pilot allowing pilots to easily transition between multiple Garmin products in the cockpit. Capable of operating in harsh conditions, the aera 760 has also been tested and hardened to meet stringent temperature and vibration standards.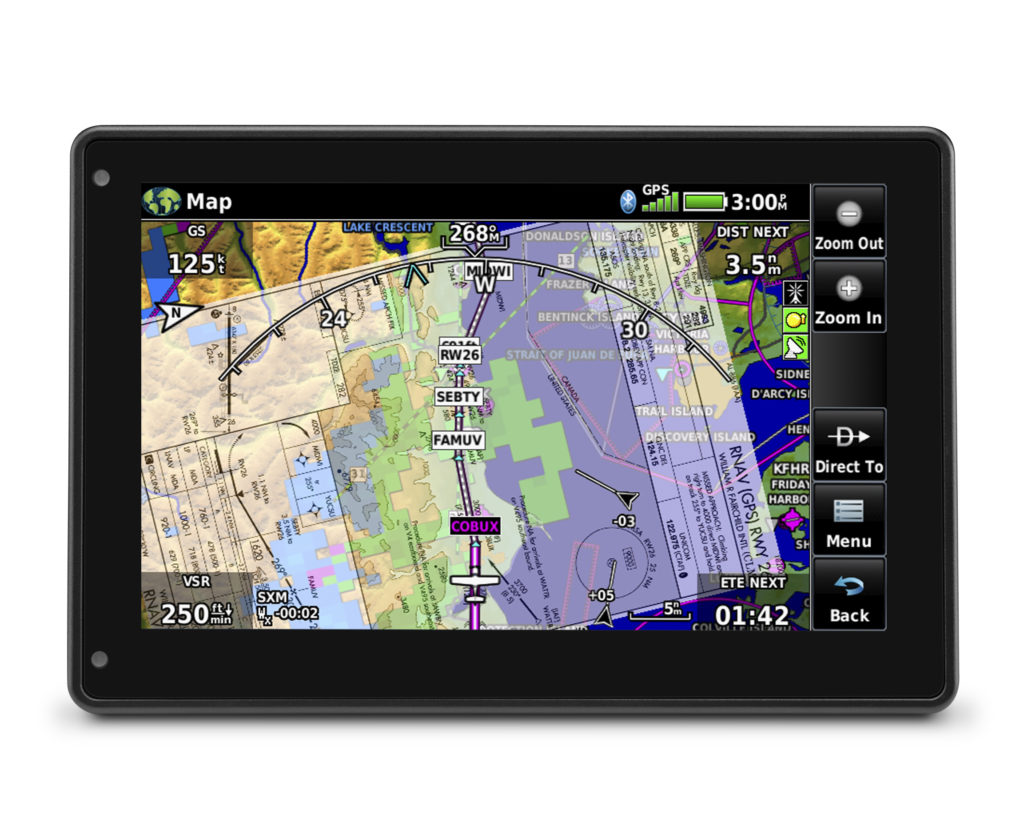 New to the aera 760, pilots can load departures, arrivals and instrument approach procedures (IAPs) within a flight plan, which can be wirelessly transferred to a navigator in the cockpit. Once a procedure is loaded within the aera 760, pilots have the option to view the chart or they can overlay it on the moving map. IFR enroute charts, VFR sectionals and Garmin FliteCharts are also geo-referenced, providing optimal situational awareness. Jeppesen electronic charts are compatible with the aera 760 and give customers worldwide access to instrument approach chart information. In addition to procedures, victor airways, user-defined holds and holds over an existing navigation fix can be entered into a flight plan.
Built-in Wi-Fi and Bluetooth allow the aera 760 to take advantage of Garmin Connext wireless connectivity inside and outside of the cockpit. When connected to Wi-Fi, pilots can easily download aviation database and software updates without the need to physically connect it to a computer. Prior to departure, pilots can also view worldwide weather information on the aera 760 when it's connected to Wi-Fi. In the cockpit, it is capable of wirelessly connecting to select products such as the GTX 345 or the GDL 52 to display the benefits of Automatic Dependent Surveillance-Broadcast (ADS-B) traffic, Flight Information Service-Broadcast (FIS-B) weather, SiriusXM aviation weather and more via Bluetooth. Exclusive features such as TerminalTraffic and TargetTrend can also be viewed on the moving map and dedicated traffic pages.  
Pilots can hard-wire the aera 760's power, audio and dual RS-232 connections to receive additional benefits. When connected to a navigator such as the GTN 650Xi/750Xi, GTN 650/750 or the GNS 430W/530W, the aera 760 can send and receive flight plan data that is entered into the navigator over a serial port so all products remain synchronized throughout the flight. It is also capable of wirelessly connecting to these navigators when paired with a Flight Stream 210/510. When connected to a NAV/COM such as the GTR 225, GNC 255 or GTR 200, frequencies and airport identifiers can also be transferred from the aera 760 to the corresponding NAV/COM. For aircraft flying in visual conditions, pilots can optionally connect the aera 760 to select autopilots to fly lateral GPS and single point vertical navigation (VNAV) guidance. For example, pilots flying in visual conditions can fly a VNAV profile from their current altitude to pattern altitude using the aera 760 fully coupled to the autopilot.
3D Vision technology displays a virtual 3D perspective view of surrounding terrain, obstacles and airports, as well as a horizontal situation indicator (HSI) that is capable of showing lateral and vertical deviation bars. When the aera 760 is panel mounted or paired with a compatible attitude source such as a GDL 52 or GTX 345, pilots can view synthetic vision (SVX), which adds the display of back-up attitude information on the portable.
The aera 760 also features fuel price information, an E6B flight computer and weight and balance calculators. The E6B can be used prior to a flight to aid in calculating fuel burn, estimated time of arrival (ETA) and more. While in-flight, the aera 760 utilizes ground speed information to recalculate fuel burn and ETA. Helicopter operators also have access to features tailored to their unique operations, such as WireAware wire-strike avoidance technology. WireAware overlays power line locations and relative altitude information on the moving map and provides both aural and visual alerting when operating near power lines. Pilots also have the option to enter street intersections or non-aviation waypoints. GPS altitude display is offered in both mean sea level (MSL) and above ground level (AGL), so they are easier to identify relative to the aircraft flight path.
The aera 760 is expected to be available in May for a list price of $1,599 USD and is compatible with the cost-effective Garmin Navigation Database that is available in the Americas with US coverage starting at $39.95 for a single update. A variety of annual bundles are also available on the flyGarmin website, such as the U.S bundle for $169.95, which includes the Garmin Navigation Database, FliteCharts, IFR/VFR Charts, terrain, obstacles, SafeTaxi, and the airport directory with fuel prices. Pilots can also add enhanced map information such as topography or street maps using a MicroSD card. The aera 760 is supported by our award-winning aviation support team, which provides 24/7 worldwide technical and warranty support. For additional information, visit www.garmin.com/aera760.
The post aera 760: 7-inch Format Portable Aviation GPS appeared first on Garmin Blog.
https://www.garmin.com/en-US/blog/aviation/aera-760-7-inch-format-portable-aviation-gps/