Let's be real — coming up with the "best gift ever" can be a bit stressful. It is likely not going to be the most wonderful time of the year if your significant other's tastefully dropped hints go unnoticed and you pick out a kitschy pair of socks for the fourth year in a row. (Disclaimer: Our legal department would like us to let you know we cannot guarantee your relationship status if you finally buy a good gift after three years of kitschy socks. It may be too far gone. What were you thinking?)
Anyway, we get it. Finding the perfect present for everyone on your holiday shopping list has been nearly impossible — until now. No matter where your loved one likes to play — be that land, sea or air — Garmin has just the thing. Keep scrolling for a roundup of gift ideas that Santa Claus won't be able to top.

Fitness Gifts
Featuring advanced mapping, cycling safety features and dynamic performance insights, the Edge 530 is a lightweight GPS cycling computer designed for use on all terrains. Whether you're a podium finisher, gravel grinder, urban rider or somewhere in between, the Edge 530 is ready for any adventure.
Focus on the fundamentals or take your training to the next level with the Forerunner 55. No matter your skill level, the Forerunner 55 is here to help you track your stats. Lightweight and comfortable, this watch is the perfect fit for running and for everyday life.
Designed to help athletes stay connected on the go, the Forerunner 945 LTE brings phone‑free safety and tracking features1, spectator messaging and live event sharing to the wrist — all while still providing the detailed training data, performance monitoring tools and smartwatch features athletes have come to rely on.
Take your ride inside with the Tacx Boost, an affordable and quiet basic trainer that makes it easy to train year‑round. Key training features like resistance control, realistic ride feel and more let you make the most of every ride. Ride at any time without disturbing others; the closed resistance unit reduces noise so you can work out without waking the whole household.
No matter where or when, you ride, stand out and stay aware of cars approaching from behind with the Varia RTL515 rearview radar tail light. When paired with a compatible Garmin device, your phone or both, you will receive visible and audible alerts warning of approaching vehicles. During the day, the tail light can be seen from up to a mile away, making it easier for drivers to see you and providing greater peace of mind during any ride.
Wellness Gifts
When you live healthy, you live better. This GPS smartwatch is built for your active lifestyle with advanced health monitoring and fitness features to help you better understand what's going on inside your body. Available in two sizes with a battery life of up to 11 days, built‑in music, Garmin Pay

contactless payments2, smart notifications3 and more.
Get premium health, wellness and fitness features at an accessible price with the Venu Sq entry-level GPS smartwatch. It comes in a variety of colors with a battery life of up to 6 days. It includes Garmin Pay, smart notifications, and is available in a music and non‑music version.
This stylish smartwatch is the first of its kind from Garmin with an incredibly small, 34 mm watch case and a stylish patterned lens. Just tap or twist your wrist to reveal the bright touchscreen display to see your texts, calls, calendar reminders3 and more. Choose from classic and sport designs with a variety of color, metal and interchangeable band options — including leather and silicone — so you can find the perfect piece to fit your look.
vívofit jr. 3 isn't just a fitness tracker for kids. It's an interactive experience activity that unlocks app adventures. The jr. 3 has a new watch‑like shape with downloadable watch faces, an "in case of emergency" widget, and a durable, swim‑friendly band available in a multitude of colors and themes — plus a battery life of up to 1 year (no recharging!)

Outdoor Gifts
Featuring a Power Glass

solar charging lens and a customizable power manager mode, fēnix 6 Solar Editions harness the power of the sun4 to stay on and remain performance‑ready for weeks, so users will have more on‑wrist time to enjoy their activities, training features, onboard mapping, music streaming and much more. Expanding the robust activity profiles included in the fēnix series, the fēnix 6 and 6S Solar Editions come surf-, mountain bike- and indoor climb‑ready. The smaller‑sized fēnix 6S Pro Solar also features an exclusive Women of Adventure design option.
Do what you love, longer. Instinct Solar is a GPS smartwatch built to break convention, conquer the elements and endure longer. Experience unprecedented battery life with solar charging4, wrist‑based heart rate5 and built‑in sports apps right on the wrist for swimming, running, biking, hiking, rowing strength and more. With a purpose‑built design, it's available in bold color options that bring to life a nontraditional smartwatch that turns heads at every glance.
Featuring a Power Glass solar charging lens that extends battery life4 and packed with top performance features, the Enduro GPS watch is built for extreme endurance athletes like you. It's lightweight but durablefor seriously epic race conditions and gets up to 80 hours of battery life in GPS mode, the longest battery life of any Garmin watch to date.
The dive computer for both your worlds — monitor your gas and depth with the advanced, watch‑style dive computer that comes with multisport training and smart features. Pair it with a Descent

T1 transmitter for integrated pressure monitoring on up to 5 tanks via SubWave

sonar data network.
The MARQ Collection is destined for those who aspire to the lifestyles we have redefined over decades of innovation. For them we present these magnificent modern tool watches — our tribute to their rightful rewards, built with purpose in both form and function. Each modern tool watch is uniquely crafted to be an outward expression of the owner's personality, interests and ambitions.

Golf Gifts
We've got your game with the sleek Approach S12, a GPS golf watch with a sunlight-readable display, critical information from more than 42,000 course maps worldwide and a style that goes beyond the clubhouse. Boasting an array of features to help enhance a golfer's game, the Approach S12 offers a quick reference to the front, middle and back of the green as well as distances to hazards and doglegs so you have all the data you need for the perfect shot.
Set your sights on something greater with the Approach Z82 laser range finder with GPS. Designed to help improve a golfer's situational awareness, the Approach Z82 measures precise shot distances ranging from within 10" of the pin up to 450 yards. The flag finder locks in with vibrational feedback, and image stabilization makes it easier to find and range the flag. Experience full‑color, 2D CourseView mapping through the lens and Green View overlay on more than 42,000 courses worldwide.

Marine Gifts
Why guess where to find fish? See exactly where they're hiding with STRIKER Cast castable sonar. Just download the STRIKER Cast app, pair your compatible mobile device with the sonar and go fishing in minutes. Cast from shore, dock or watercraft and reel back in to locate and display fish on your compatible smartphone or tablet.
See fish and structure in colorful detail with the STRIKER Vivid Series fishfinders. These easy‑to‑use fishfinders feature high‑contrast color palettes, making it easier to see what's beneath the surface. Featuring industry‑leading Garmin CHIRP traditional sonar and ClearVü and SideVü scanning sonar technology, STRIKER Vivid ensures that anglers see crystal‑clear fish arches and remarkable target separation.
The Fusion Signature Series 3 marine speakers and subwoofers push the boundaries of what is possible on the water. The Signature Series 3 incorporates premium materials and marine‑specific design elements to deliver premium aesthetics to any boat, in addition to the ability to reproduce high‑quality audio while out on the water.

Aviation Gifts
Innovative, all‑in‑one portable GPS for pilots with a 7'' display. Fly confidently with our rugged, reliable, purpose‑built GPS that includes our latest in‑flight features, including IFR approaches, arrivals and departures, plus our familiar touchscreen interface.
You're a pilot. You want a premium GPS aviator watch with advanced tools for the cockpit and style that sets you apart even after you land. The Garmin D2 family of premium GPS aviator watches was the first to put true global flight navigation capability on the wrists of forward‑looking pilots and flying enthusiasts. Now, with our D2 Delta series, we've brought this technology to whole new levels of capability and connectivity.
Take flight with a modern smartwatch that is built for the cockpit. Whether a dedicated aviator or an aspiring pilot, D2 Air offers tools for all the phases of flight, including weather, Direct‑to navigation, airport information, flight logging, Pulse Ox6 and much more. Featuring a slim and sophisticated AMOLED touchscreen display, the D2 Air can be worn 24/7 for a seamless transition from air to land. D2 Air also incorporates connected features for life on the go, such as smart notifications3, contactless payments via Garmin Pay2, health monitoring, animated workouts and more.

Automotive Gifts
Tiny but mighty. The car key‑sized Garmin Dash Cam Mini 2 offers discreet eyewitness incident detection7, voice control technology and crisp 1080p automatic recording capabilities. With a wide 140‑degree lens and Garmin Clarity

HDR optics, the tiny camera is able to provide huge protection by capturing amazing details day and night.
Garmin Catalyst is a groundbreaking real‑time coaching tool and driving performance optimizer8 set apart from any other GPS lap timer or data system the motorsports industry has experienced. True Track Positioning

technology uses built‑in accelerometers, 10 Hz multi‑GNSS positioning and image processing to automatically generate your car's racing line on the track. Plus, our revolutionary True Optimal Lap

technology shows your fastest achievable time based on lines you actually drove.
Get a clear view of the road ahead with the dēzl

OTR500, 700, 800 and 1000 truck navigators. With PrePass® weigh station bypass options for active PrePass account users and easy‑to‑read displays across the board, there's a dezl navigator option to satisfy most trucking needs. The navigators are equipped with custom truck routing9 for the size and weight of your rig, adding popular route suggestions, truck‑friendly parking, and load-to-dock guidance.
Not sure if your RV can cross a specific bridge or road during a cross‑country trip? No worries, the RV 1090 GPS navigator can create custom routes9 that take into account the size and weight of your RV and provide road warnings for steep grades, sharp curves and more. To simplify your trip even more, the RV 1090 includes Tripadvisor® traveler ratings, a preloaded directory of RV parks and services plus content from Ultimate Public Campgrounds, KOA and more.
The zūmo XT all‑terrain motorcycle navigator is built for adventure. Thanks to an ultrabright 5.5" display and a rugged frame that is both rain‑resistant and glove‑friendly, the zūmo XT can withstand all kinds of weather, extreme temperatures and rigorous vibrations. Enthusiasts looking to explore the winding roads can access adventurous routes with turn‑by‑turn directions for on‑road navigation and topographic or downloadable BirdsEye Satellite Imagery for off‑road guidance.
1Assistance Plus is not available in all markets where Category M1 LTE network connectivity is available; see Assistance Plus coverage area at Garmin.com/LTECoverage. For safety and tracking feature requirements and limitations, see Garmin.com/ltesafety.
2View current supported country, payment network and issuing bank information at Garmin.com/GarminPay/banks
3When paired with a compatible smartphone; see Garmin.com/ble
4Assumes all-day wear with 3 hours per day outside in 50,000 lux conditions
5See Garmin.com/ataccuracy
6This is not a medical device and is not intended for use in the diagnosis or monitoring of any medical condition; see Garmin.com/ataccuracy. Pulse Ox not available in all countries.
7Some jurisdictions regulate or prohibit use of this camera device. It is your responsibility to know and comply with applicable laws and rights to privacy in jurisdictions where you plan to use this device.
8WARNING: This device is intended only for recreational use in a circuit environment. Never use this device on public roadways. Failure to follow this warning may result in an accident causing property damage, serious personal injury, or death. You are responsible for using this device in a safe and prudent manner.
9Not available in all areas. Entering your RV or trailer profile characteristics does not guarantee your RV's characteristics will be accounted for in all route suggestions. Always defer to all posted road signs and road conditions.
The PrePass logo is a trademark of the PrePass Safety Alliance.
© 2021 TripAdvisor LLC All rights reserved.
Copyright © 2021 Ultimate Campgrounds – All rights reserved.
Copyright © 2021 Ultimate Campgrounds – All rights reserved.
The post Garmin Holiday Gift Guide appeared first on Garmin Blog.
https://www.garmin.com/en-US/blog/general/garmin-holiday-gift-guide/
Guil Barros was browsing the Aeromart at AirVenture Oshkosh, an annual U.S. gathering of aviation enthusiasts, when he spotted an RV-9A tail and empennage kit in a caged off area. Three years and about 2,500 after-work and weekend hours later, he had himself a fully built aircraft.
Barros works in computer technology, and prior to building
his own aircraft, had logged about 40 flight hours a year as a hobby aviator in
his older 172. He didn't necessarily consider himself a serious aviator, and
certainly not a plane builder.
But suddenly Barros was the owner of that RV-9A kit — and
filled with the determination to eventually fly it for real.
"It's a huge project, right?" he said. "It seems
insurmountable. When you start, there's about 15,000 rivets, which means you
have to drill out about 15,000 holes, you have to deburr about 15,000 holes,
you have to prime hundreds of parts, you have to deburr hundreds of parts."
To maintain motivation, and maybe a little bit of sanity,
Barros just took it day-by-day, tackling small tasks each day.
"It's just about managing a big project and managing your
expectations for what you're going to get out of it every week," he said.
Fortunately, Barros is a part of a large experimental aviation community. He had plenty of experts and fellow aircraft builders, including Garmin Team X, to lean on. And throughout the process, Barros had airplane mechanic friends come and look over the airplane.
"I wanted as many people as possible to look at the airplane
before I flew it," he said. "I told them, 'You're not going to hurt my feelings
if you find a problem with it.'"
Once it was fully built, a Federal Aviation Administration
official inspected the aircraft, which was followed by a 40-hour flight test
period within a limited area. By the end of that test period, Barros was having
some serious fun in his new airplane. He spent the next 18 months flying it
wherever he could.
Eventually, Barros felt ready for a serious trip. While
Alaska was tempting, Barros spent the first 19 years of his life in Rio de
Janeiro, Brazil. He felt strongly that a return to his homeland and family
would be the most meaningful trip he could take after all those years building an
aircraft that could take him there.
Planning the trip — including building a route and itinerary, planning out fuel stops, getting approvals, researching lodging options in the various countries, and packing and prepping equipment — overtook his after-work and weekend time that was once spent building his airplane.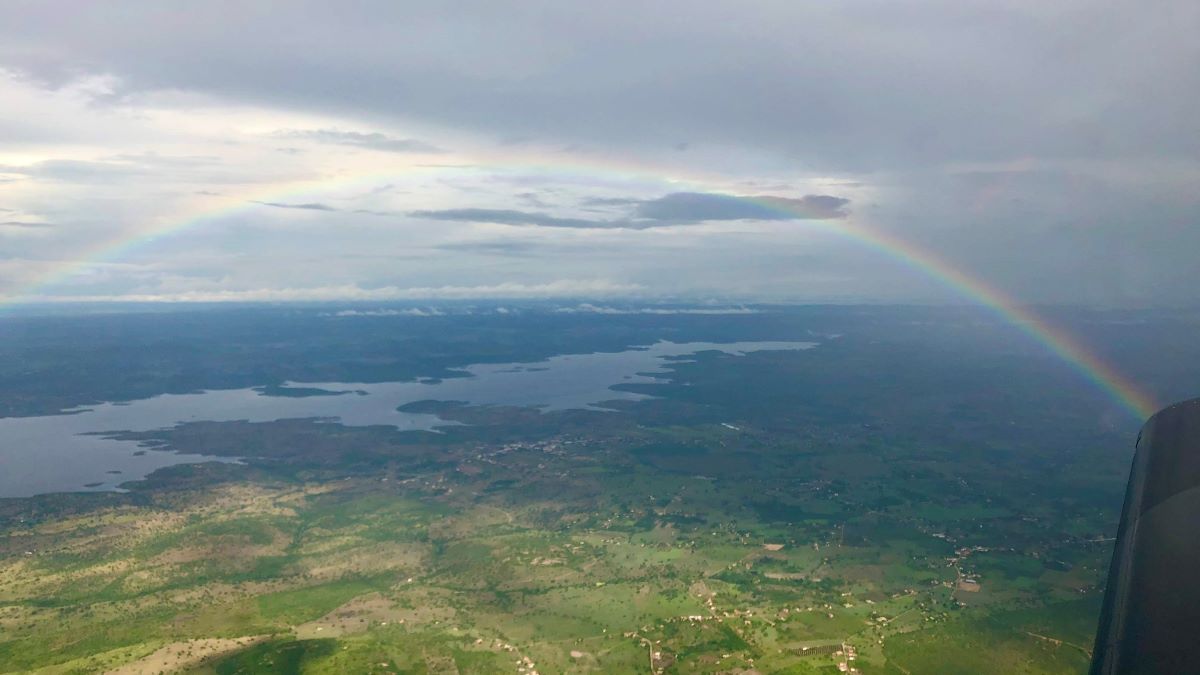 2020 Takeoff
Finally, in early 2020, Barros and his wife took off from the
Madison, Wisconsin, airport. They flew south to Florida, headed east towards
The Bahamas, the Dominican Republic, Puerto Rico and Antigua, and then south along
the French island chain of the Caribbean — touching down to fuel up and spend time exploring
each destination.
Finally, a little over a week in, they reached South
America.
The trip had been fairly straightforward through that point, but South America doesn't have as much general aviation, so it took time to obtain approvals and airport and weather information. That's where his inReach® satellite communicator came in handy.
"It was a lot of planning and a lot of keeping our eye on what the weather looked like," Barros said. "I think that was where the inReach Mini really, really shined. I don't think I would ever do a trip like this without being able to communicate with the ground."
Throughout the flight, Barros used the inReach to
communicate via two-way text with airport officials and pilot friends on the
ground.
"We were getting messages on the inReach throughout the
flight about weather reporting and conditions," he said. "Or they would tell us
'Hey, the weather here is not great, why don't you continue to this next
airport that's only another hour away, and we've already called them to check
that there's fuel there waiting for you.' It made a stressful and detailed
planning situation significantly easier."
They also had the inReach tracking their trip and sending track points to their live MapShare

page so friends, family members, fans and the media could follow along.
"We had a lot of people watching the trip," he said.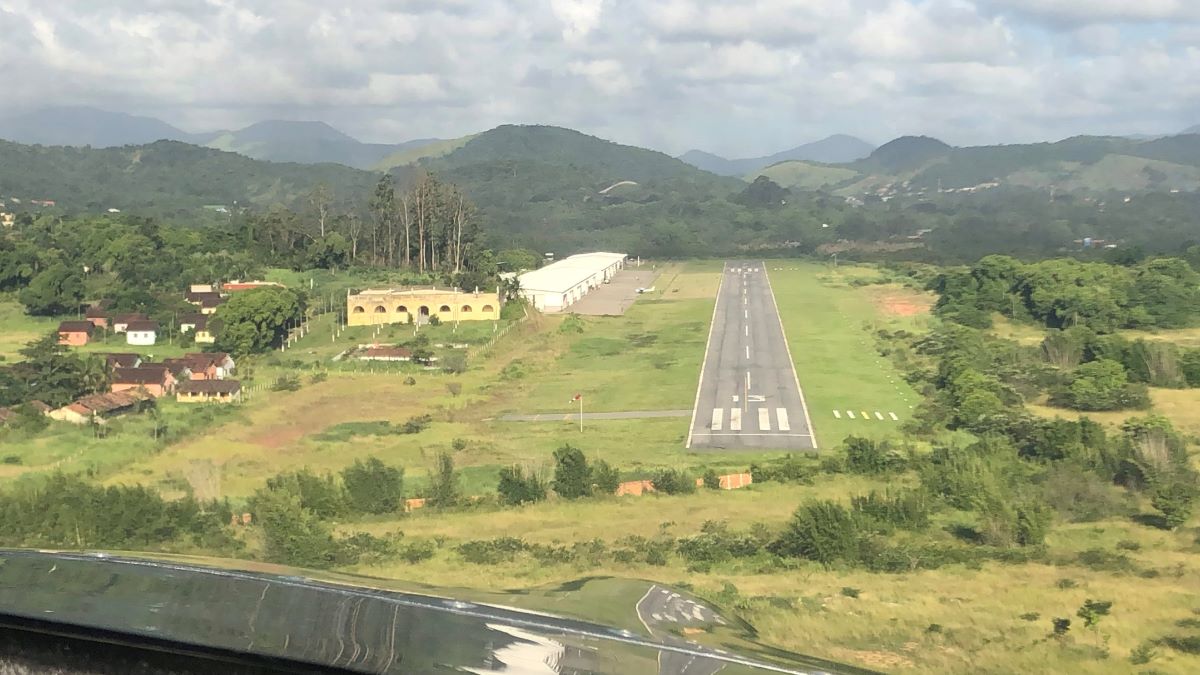 Highlights from
12,000 Miles
It certainly was a trip of a lifetime for Barros and his
wife. They relished the new sights of his homeland from a bird's-eye view, such
as flying over the Amazon River.
"That was absolutely gorgeous," he said. "Green — so many different tones of
green. Seeing the hills and the rivers from above was just incredible."
They also enjoyed their stops at some of the smaller, lesser-known
airports along the way, like the one that was within the Amazon rainforest.
"You're suddenly in the rainforest, right?" he said. "It's
like you're in a movie. You're in a gorgeous forest with these animals and
these birds that you only see on TV. It was incredible."
Barros was charmed by the people he met along the way, too,
who offered space in hangars, places to stay the night and dinners at local
flying clubs.
One airport in Brazil had a more complicated runway than he was used to. It was a little shorter and tighter, with surrounding hills, and he felt apprehensive about flying in and out. But while touring the area, Barros got to chatting with a man who turned out to be a flight instructor.
"He said, 'Let's go – we're going to get you comfortable,'"
Barros said. "So we hopped in an airplane and spent a couple of hours just
practicing getting familiar with that airport."
And when he finally touched down in Rio, Barros was met with
a crowd of people and fanfare.
"The story that the news put out was about the wayward son
of Brazil coming back in his homebuilt aircraft," Barros said, laughing. "They
were excited about it."
On his way back, Barros opted to fly along the coast of
Brazil.
"That was just one beautiful flight after another following
the eastern shore of Brazil," he said. "The views were just of beautiful ocean
and beaches. It was phenomenal."
Once he got back to Wisconsin, the only thing Barros could think
of to have done differently was pretty simple.
"I just wish I had done it over six months instead of one month," he said. "There was so much to see and so many people we wanted to spend time with that we met along the way."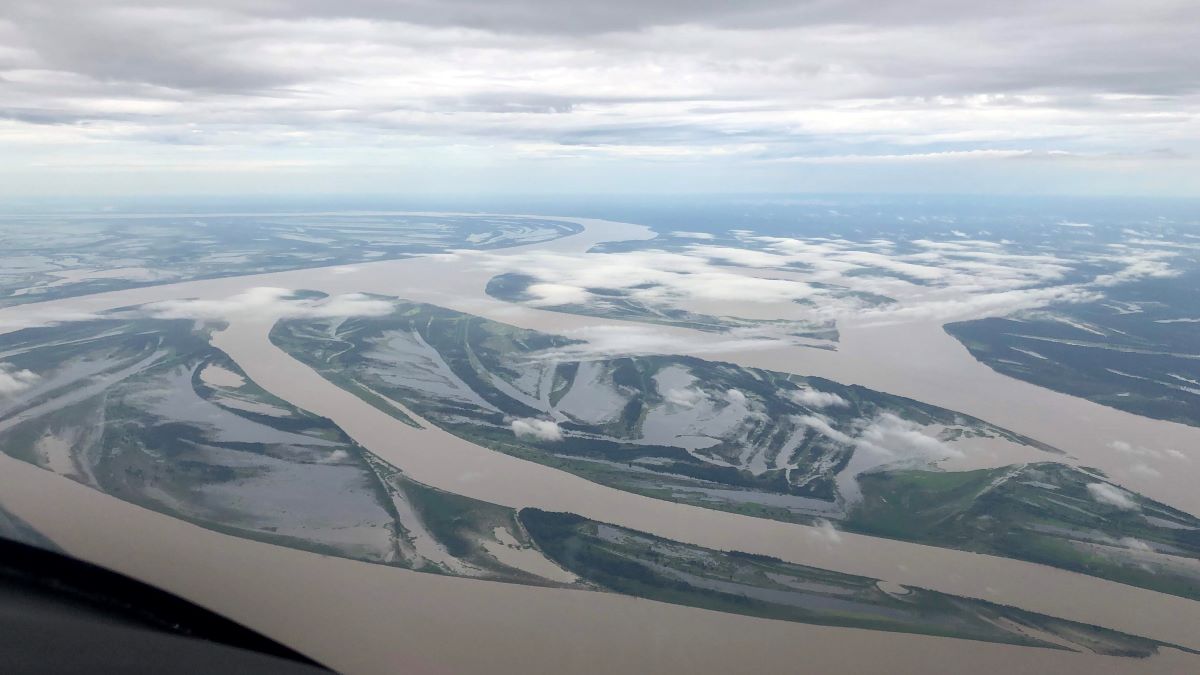 Trip Takeaways
While the trip was beautiful and filled with positive
experiences, it did take immense planning and logic, both beforehand and along
the way. His biggest piece of advice? Plan ahead.
"It's important to keep an eye on where you're going,"
Barros said. "What is the complexity of doing this? Do the places that you're
going usually handle general aviation? Because if they don't, it's going to be
more complicated."
He also recommends that pilots be aware of where they're
going to be flying when packing survival gear. The most nerve-wracking portion
of the Wisconsin to Rio journey for Barros was the flight from Grenada to
Georgetown, which was the longest stretch over the ocean he encountered. He and
his wife wore life jackets for the entire flight.
But, in the end, after 600 gallons of fuel, 92 hours in the air and 12,000 miles flown in his homebuilt aircraft, Barros wants other aviators to know one thing:
"It's not difficult," he said. "This type of trip takes planning, but it's not hard. And, ultimately, it's such a cool experience. So just do it."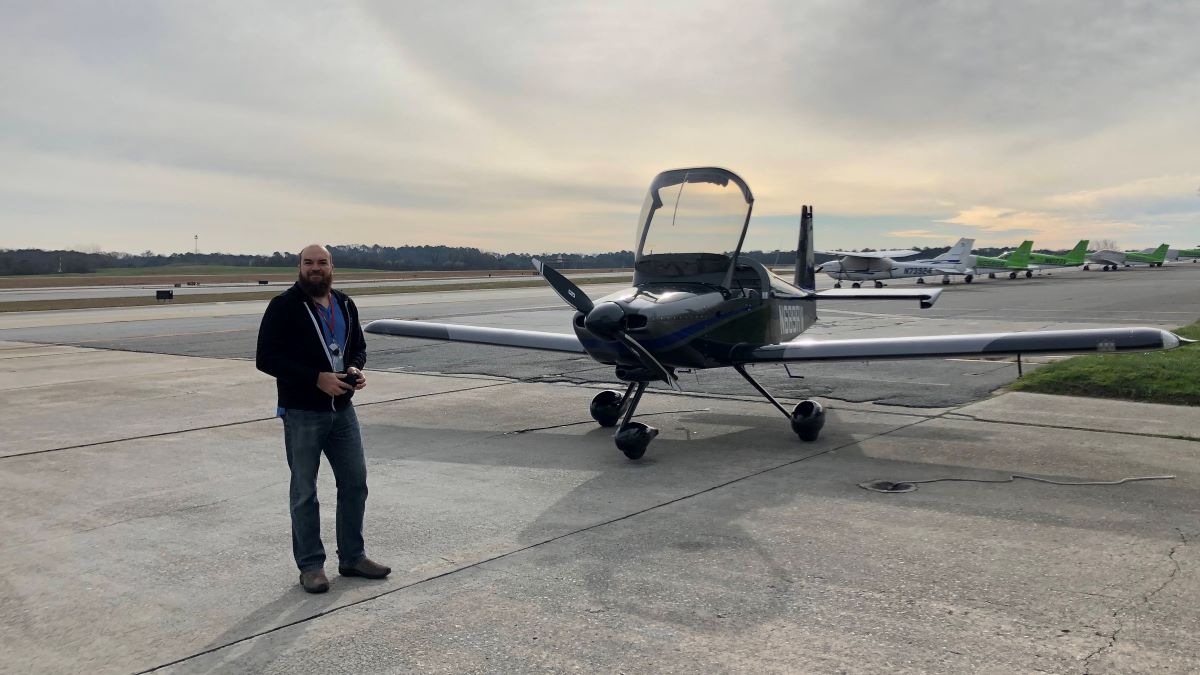 Learn more about Barros' journey to Brazil and back on his YouTube, Instagram and Facebook pages.
NOTICE: To access the Iridium satellite network for live tracking and messaging, including SOS capabilities, an active satellite subscription is required. Some jurisdictions regulate or prohibit the use of satellite communications devices. It is the responsibility of the user to know and follow all applicable laws in the jurisdictions where the device is intended to be used.
The post 12,000 Mile Journey: Wisconsin to Brazil and Back in a Homebuilt Aircraft appeared first on Garmin Blog.
https://www.garmin.com/en-US/blog/aviation/wisconsin-to-brazil-homebuilt-aircraft/
Pilots often buy inReach® devices for the two-way satellite
communication or SOS functionality, sometimes with the thought of a worst-case
scenario — an in-flight
malfunction or a crash — in
mind. But in Alaska, anything can happen. And on a cold day in January, that
was the case for Chad Lewis.
No stranger to flying, Lewis got his pilot's license before
he even had his driver's license. His first job was at an airport. And he ultimately
moved from the East Coast to settle in Alaska because of his love for
flying.
"I've just always loved it," Lewis said. "And of course that
romanticism of Alaska bush flying is what drew me here originally."
Many years later, Lewis uses his Supercub for recreational
flying and to get to remote portions of Alaska.
In early January, however, Lewis found himself in a
precarious situation.
It was his last intended landing of the day, and Lewis found
a spot that looked good to stop. It was a bit of a swampy area, and he knew the
snow would be deep. He did several passes to check out the location and made
some tracks to pack the snow. But when he finally came to a stop, the tail and
one side of the plane sunk down into the snow — nearly down to the wing.
Lewis made several attempts to dig the plane out and get it
turned around, but his efforts were futile. And by that point, it was -20 degrees
Fahrenheit, the sun was setting, and Lewis knew he wouldn't be able to pull out
of that location in the dark even if he could get the plane unstuck.
"As soon as the sun started to go down – within 15 minutes
to half an hour – it got down to -35 degrees," Lewis said.
Lewis began preparing to spend an unplanned night in a snow
cave in a very remote area of Alaska. He had survival gear and a -20 degree
sleeping bag, but the air temperature and snowy, swampy landscape made it
almost impossible for Lewis to get a significant fire going. He had a stove, too,
but it was so cold he couldn't get it to ignite. That meant he couldn't make
food or boil water to drink.
"It was rough," he said. "Maybe rougher than it should have
been based on how I was prepared."
Tracking and Texting
Not every portion of Alaska has flight following or other
radar coverage, which is partly why Lewis had invested in an inReach satellite
communication device in the first place. He wanted his wife back at home to
be able to track his flight path via MapShare

.
"If I'm ever late, my wife can easily log in to the site and
see where I was last or what's going on," he said. "Then we can communicate
back and forth, and I can let her know why I'm late or what happened."
The inReach device's two-way text communication via the
global Iridium® satellite network was key to his initial investment in
the technology as well.
"I was looking for a way to actually be able to
communicate," he said. "If you know where somebody is but you can't communicate
so you don't know what's going on, that can heighten anxiety for the folks on
the other end."
Lewis was particularly grateful he could communicate with
his wife on that early January night. He had the inReach device attached close
to his body to keep it warm, and so as soon as he realized he was stuck, he
texted his wife on the device to inform her of the situation.
SOS Situation
Still awake in the cold of that -35-degree night, Lewis
determined that his feet had been numb for about 10 hours and began to worry
about doing permanent damage to his extremities.
That worry finally prompted him to trigger an SOS and communicate
with staff at the GEOS International Emergency Response Coordination Center.
A search and rescue team via helicopter was dispatched to
Lewis.
"They found me immediately because they had my coordinates,"
he said. "The biggest challenge they had was finding a good place to land
because the snow was so deep."
The helicopter sank all the way down to the frame, so they
opted to lower a rescuer down instead. Without snowshoes, the rescuer sank all
the way down to his chest. The depth of the snow was serious, but the rescue
team managed to get Lewis out and transport him to a local hospital.
Lewis had developed severe frostbite on his hands and feet.
His right thumb was black with third-degree frostbite and felt as though it were
burning.
"The rescue team actually told me that rather than suffering
as long as I had through the night, I should have just triggered the SOS
earlier and not risked potential harm," he said.
Ultimately, though, Lewis recovered – and kept all of his
fingers and toes.
"But without the inReach I would have had to spend the night
until the morning and then continued trying to get unstuck," he said. "Or I
could have potentially hit the plane's ELT, but that doesn't give your exact
location, and I don't know if it would have been working in those
temperatures."
Later, Lewis used the inReach coordinates to guide him back
to where his plane was located and retrieved the plane with a helicopter.
Be Calm, Be Prepared
In addition to having all the necessary survival gear to spend the night in negative temperatures, Lewis credits his ability to stay calm for his ultimately successful rescue.
"I was definitely prepared, but the biggest thing was just
being calm," he said. "I was calm about the situation the whole time. Maybe
just a little frustrated I was stuck."
Back at home, his wife was calm, too, because she could text
back and forth with Lewis.
 "I think it would have been a lot worse – she would have been really concerned – if there was no way to communicate," Lewis said. "That made all the difference in settling fears and anxiety. Because I was safe. It wasn't a crash. I just landed and got stuck and couldn't get out because I was in the middle of nowhere."
That's why his advice to other pilots who fly in the
backcountry is to carry an inReach.
"At the end of the day, the minor additional cost to be able to communicate with somebody if something happens, and being able to provide details of the situation so that rescue can be prepared, is huge peace of mind," he said. "I recommend it to everybody."
NOTICE: To access the Iridium satellite network for live tracking and messaging, including SOS capabilities, an active satellite subscription is required. Some jurisdictions regulate or prohibit the use of satellite communications devices. It is the responsibility of the user to know and follow all applicable laws in the jurisdictions where the device is intended to be used.
The post Frostbitten Pilot Rescued After Burying Plane On -35° Night appeared first on Garmin Blog.
https://www.garmin.com/en-US/blog/saved-by-garmin/pilot-rescued-after-burying-plane/
Don Lee, owner of Alaska Floats & Skis flight school in
Talkeetna, Alaska, has felt the ground below him shake from the pounding of thousands
of caribou hooves. He's discovered areas so abundant with blueberry bushes, it
was impossible to sit down. He's looked down at water thick with layers of
migrating fish.
Lee is a flight instructor with decades of experience. He
prides himself on running one of the only flight schools in the world that can
teach pilots how to land off-airport on glaciers, mountains and in water. But
Lee is also passionate about discovering untouched places in Alaska — the Last
Frontier — the vast and beautiful state he's called home since high school.
Growing up in Minnesota, Lee knew that flying was his
calling. But when he packed up after high school and hitchhiked to Alaska to
live in the bush, becoming a pilot became a necessity more than anything. It
was the only way to get in and out.
He began with flying for lodge support in Alaska and later
branched into guiding hunters and fishermen. Lee then operated an on-demand air
service for many years. He's flown all over the world, provided air support for
climbers on Denali, performed more than 6,500 glacier landings and gained more
than 8,500 hours in floatplanes alone (with a total airtime of more than 19,000
hours).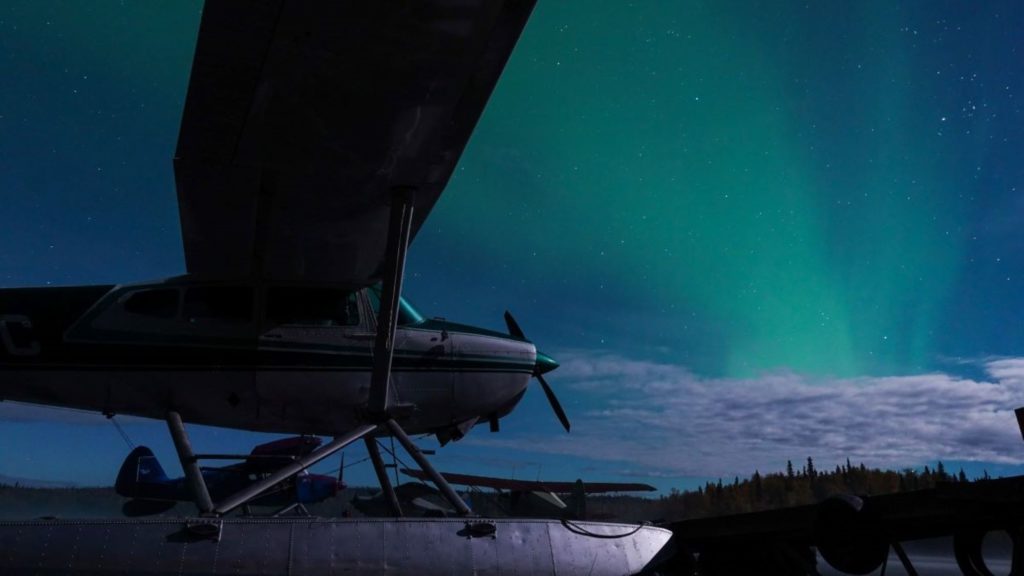 Glaciers, Mountains,
Water
At Alaska Floats & Skis, established in 2002, Lee and
his team of flight instructors communicate that valuable knowledge to other
pilots looking to escape to remote areas. It's one of the few schools in the
world that teaches pilots how to maneuver a ski-plane and land on glaciers —
half of which is survival training.
"You can't teach people how to access and land in these
incredibly remote areas without teaching them how to survive if something
happens," Lee said. "It's very extreme. But it's very beautiful, pristine and
quiet out there. It's absolutely breathtaking to go to the mountains and land
on these glaciers."
With five floatplanes in their fleet, Alaska Floats & Skis
completes from 85 to 90 seaplane ratings a year, right off their dock on
Christiansen Lake. The course is 90% water work — how to dock, how to taxi, how
to land in rough water conditions, how to read the wind and more.
"The seaplane rating is a wonderful rating to have because
it gives you so much more access to the country," Lee said.
The bush pilot course teaches students off-airport
techniques and how to land in rough areas such as gravel bars, mountaintops and
wilderness strips. Situated at the base of Mount Denali, pilots flying through
the mountain range can experience what it's like to have something like 15,000
vertical feet about them and 8,000 vertical feet below, an experience that Lee
describes as "very challenging and very rewarding."
"With the off-airport courses, what we're really teaching is
what pilots should be thinking," Lee said. "Is the runway long enough? Is it
hard enough? Soft enough? Which way is the wind blowing? Where's your rising
air? Where's your descending air? Are your passengers a liability or an asset?"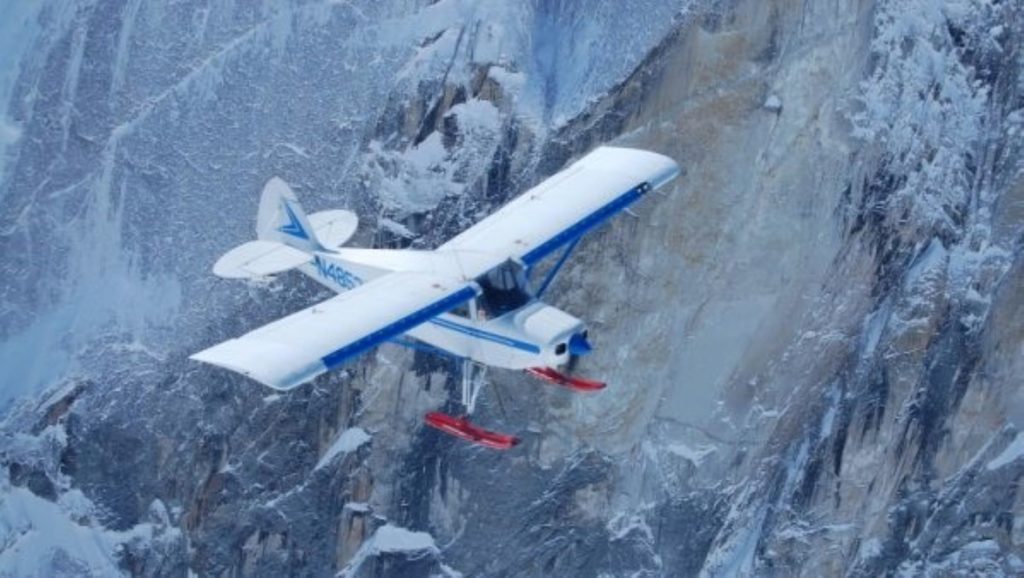 Risk vs. Reward
Lee teaches all pilots to weigh risk versus reward and avoid damaging a plane or putting themselves in danger at all costs, but he also has a safety protocol in place if something happens. That includes having an inReach® satellite communicator in each of his planes.
Using his fleet of inReach devices, Lee can track all of his
airplanes in real time, overlaid on an aeronautical chart.
"Garmin has revolutionized our safety protocol," he said. "I
now know where every one of my airplanes are for every minute of their flight
time. Alaska is so big, and our business is so busy that it's vital I know
where those airplanes are at all times."
In the remote Alaskan wilderness, the majority of which
doesn't have cellphone service, Lee and his flight instructors also use their inReach
devices to communicate.
"We have the option to text different things like 'We need
help' or 'We're having a good time, so give us another hour,' or 'We're OK, but
send somebody out'," Lee said. "That's invaluable."
Plus, if something does go wrong, the instructors simply
have to trigger an SOS to initiate a rescue.
"Heaven forbid something did go wrong, we could get
emergency services there immediately," Lee said.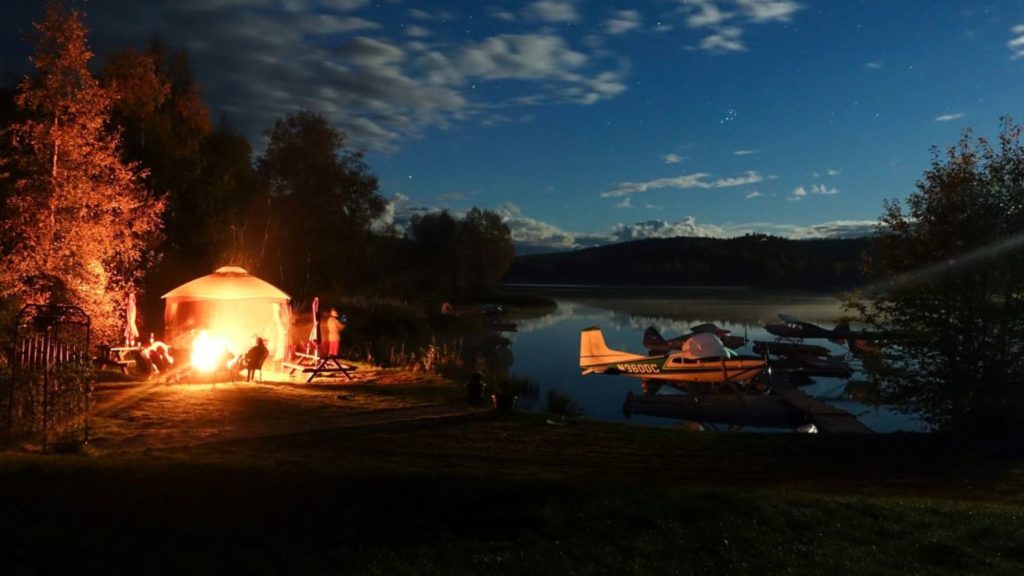 A Flying Experience
Over the years, Lee has built much more than just a flying
school. At Alaska Floats & Skis, it's an experience.
Participants and their nonpilot families and friends are
invited to stay at the Alaska Floats & Skis lodge, located near
Christiansen Lake, for the duration of their flying courses. They encourage
people to socialize and enjoy the surrounding area — to explore or hike in the
nearby mountains or canoe and fish in the surrounding lakes.
There's a big firepit and a pizza oven on site, and Lee
hosts free pizza nights twice a week (and even covers the cost of pizza and
beverages).
"We encourage camaraderie," Lee said. "It's kind of a flying
experience. Being here, we're really fortunate with all of the availability for
recreation and exploration."
And, ultimately, exploration is what he's all about.
"To be able to go into the mountains and glaciers where it's
so incredibly pure and expansive … " Lee said. "It's so invigorating."
NOTICE: To access the Iridium satellite network for live tracking and messaging, including SOS capabilities, an active satellite subscription is required. Some jurisdictions regulate or prohibit the use of satellite communications devices. It is the responsibility of the user to know and follow all applicable laws in the jurisdictions where the device is intended to be used.
The post Alaska Flight School Teaches Pilots to Fly in World's Remote Areas appeared first on Garmin Blog.
https://www.garmin.com/en-US/blog/outdoor/alaska-floats-and-skis/