Advanced new features and professional IFR navigation tools are now available within our Garmin Pilot app, many of which incorporate a familiar look and feel to our most popular flight decks and avionics. Pilots can experience a near-seamless transition between Garmin avionics and Garmin Pilot when performing common functions, such as loading and activating instrument approach procedures, departures and arrivals within the Americas. Additional features such as a visual procedure selector, custom holding patterns and more, give pilots convenient access to advanced tools all within a mobile app.
"Leveraging technologies found within Garmin avionics and flight decks,
we're excited to bring this game-changing update to Garmin Pilot customers," said
Carl Wolf, vice president of aviation sales and marketing. "This latest upgrade
gives pilots the ability to load complex routes and procedures into the app
just as they would within a Garmin integrated flight deck, offering added
convenience, time savings and confidence when transitioning between multiple
Garmin products in the cockpit."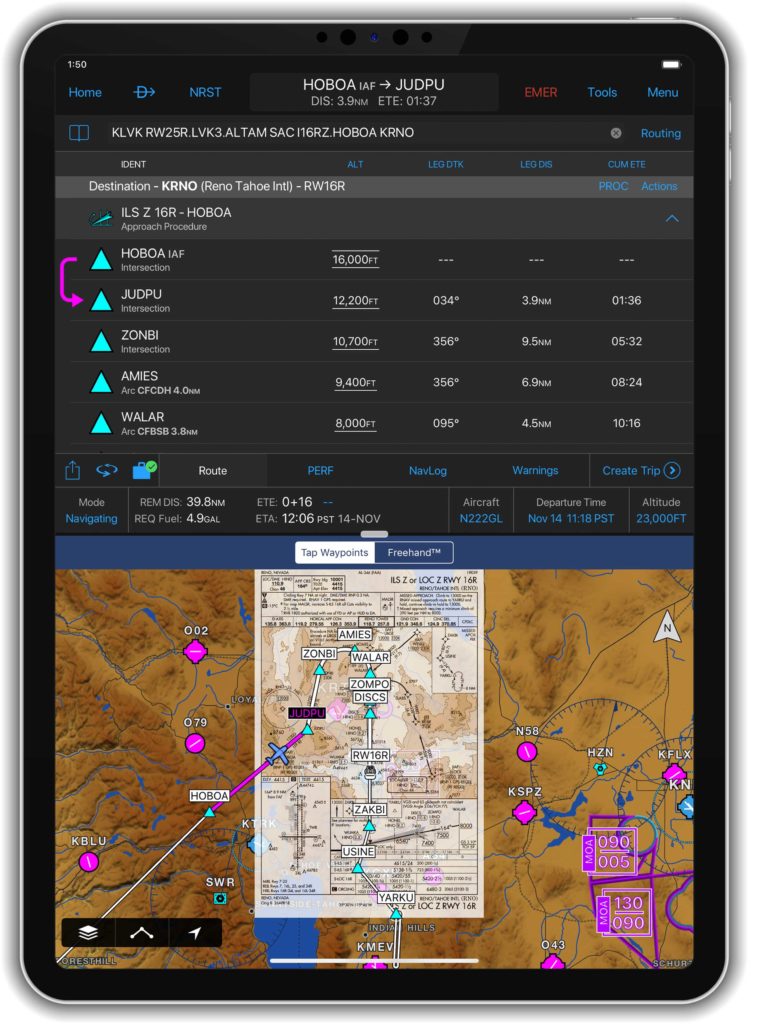 Professional IFR
navigation tools
Within the
latest Garmin Pilot upgrade, pilots have the option to load or activate departures,
arrivals and instrument approach procedures. Published holds that are included
as part of the missed approach are also added to the flight plan. When pilots
activate a procedure with published altitude constraints, those altitudes are automatically
incorporated into a flight plan within the app. Pilots can also choose to manually add altitude constraints to a flight
plan. Additionally, approach procedures with radius-to-fix (RF) legs can be
activated within Garmin Pilot.
Using the
vertical planning feature within Garmin Pilot, pilots can more easily input and
adhere to crossing restrictions in a flight plan. For example, pilots can
manually input a crossing restriction over a specific navigational aid or GPS
waypoint. With these new features, pilots can optimize their flight planning
and fuel calculations.
Visual procedure selector
Pilots can
now more easily visualize departures, arrivals and instrument approach
procedures prior to a flight using the visual procedure selector. This new
selector allows pilots to simultaneously view departures, approaches or arrivals
on a map alongside a flight plan so it's easier to visualize and select the
most appropriate procedure based on a flight plan and intended direction of
flight.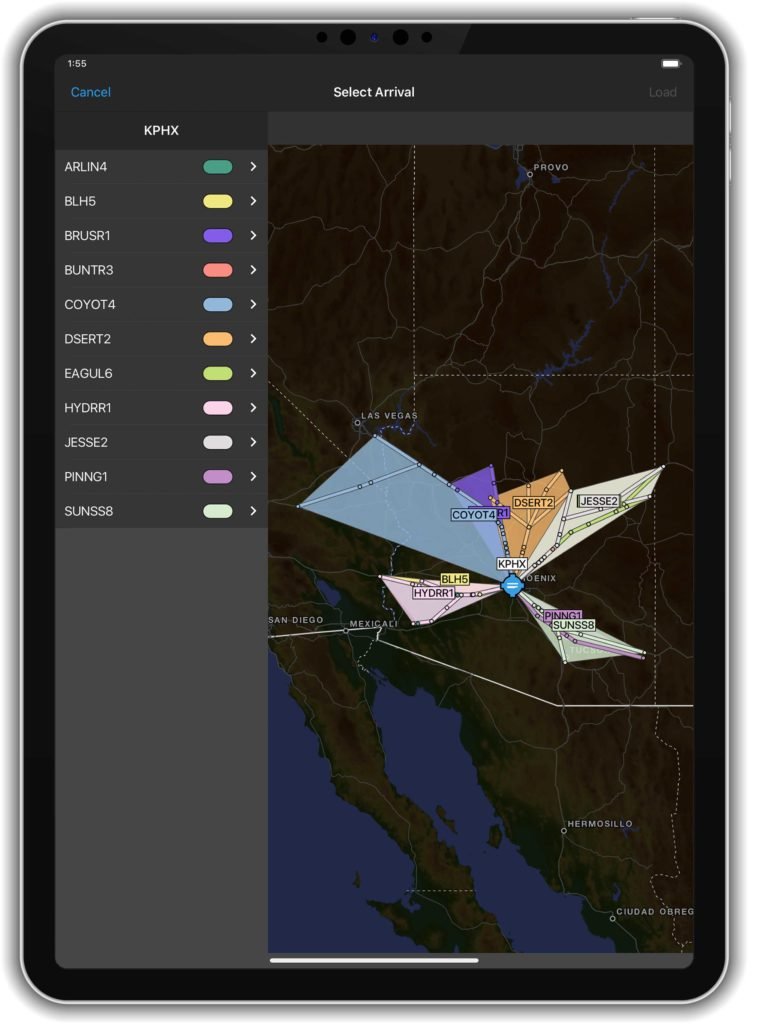 Customized
holding procedures
Pilots now have the flexibility to easily
build customized holding patterns. These holds may be created over an existing
fix or over a user-defined waypoint and then inserted into a flight plan. When
creating a hold, pilots can easily input an inbound or outbound course, select
left or right turns and specify leg length in time or distance. Unpublished
holds or those assigned by air traffic control are easily created and displayed
within Garmin Pilot to simplify the process of visualizing and flying a holding
pattern.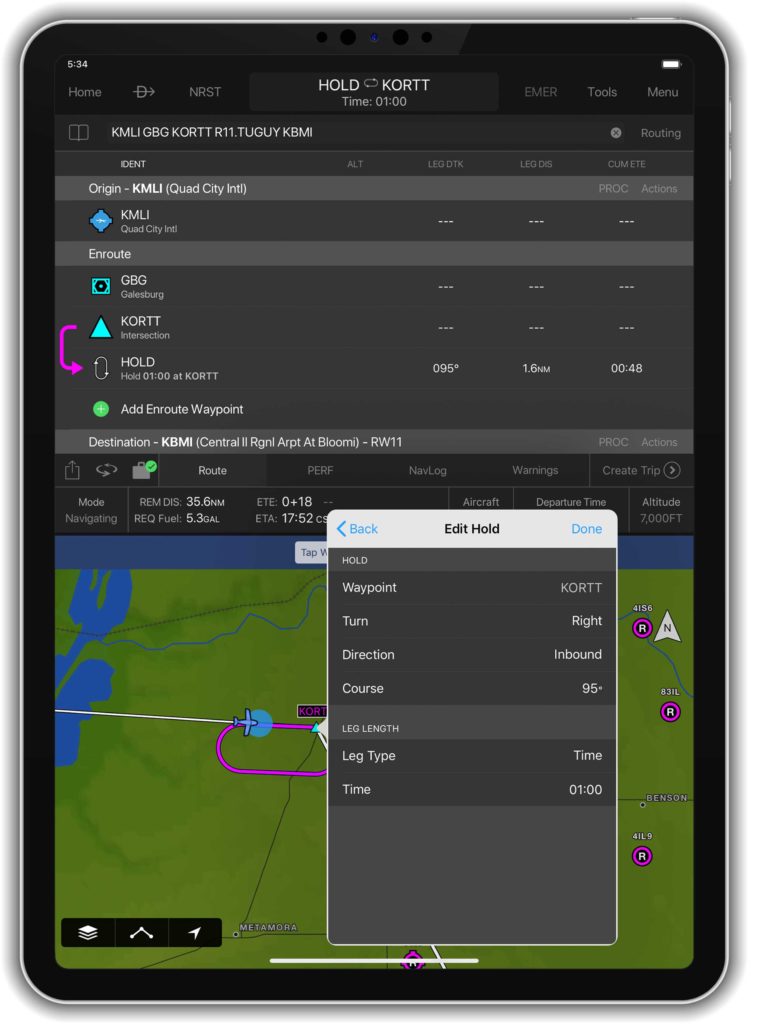 Worldwide
route data packages
Route data packages within Garmin Pilot help to ensure pilots have downloaded all of the data required for a flight plan. Once a flight plan is entered, pilots can review the data that is downloaded to their mobile device. If information is missing for a particular flight, Garmin Pilot displays an option to download additional data. Route data packages are also available worldwide to help ensure pilots have all of the data they need prior to every flight. Databases that are included within the worldwide route data packages include navigation data, instrument approach procedures, SafeTaxi, terrain, obstacles and more.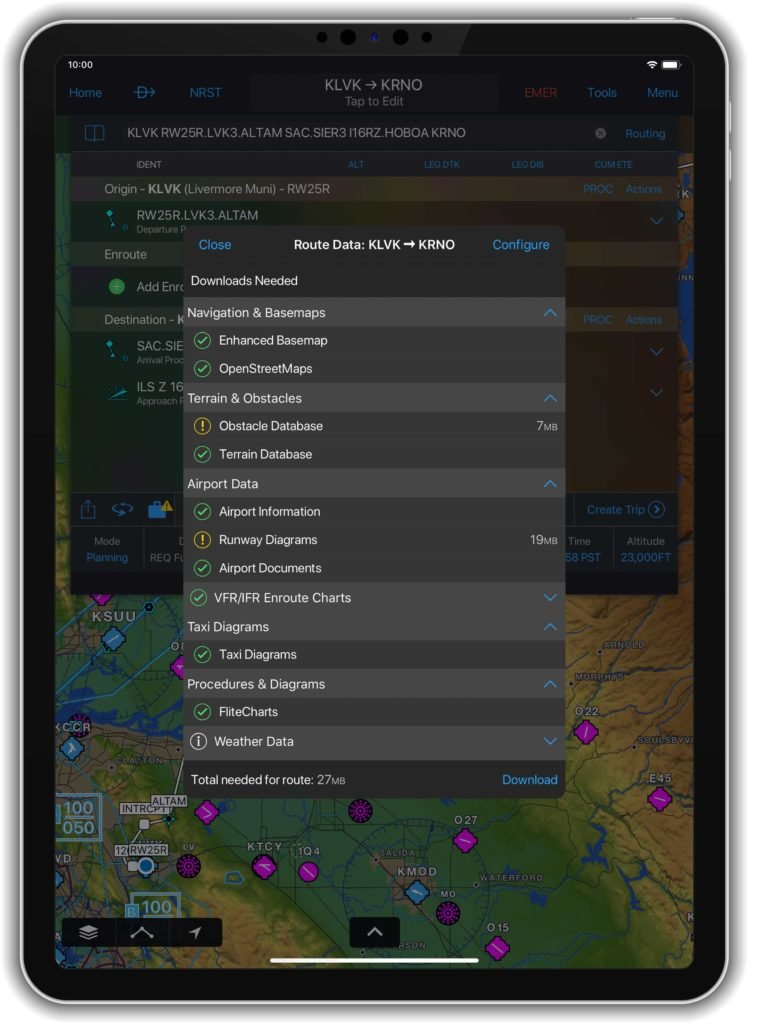 The newest release of Garmin Pilot on Apple mobile devices is available immediately. For new customers, Garmin Pilot is available in the Apple App Store as a free download for the first 30 days. After the 30-day trial period, customers may purchase an annual subscription of Garmin Pilot starting at $79.99.
The post Flight Deck Technology, Tools Added to Garmin Pilot App appeared first on Garmin Blog.
https://www.garmin.com/en-US/blog/aviation/flight-deck-technology-tools-added-to-garmin-pilot-app/
Flying plays an interesting role in each of our lives. For
some it's a career and a way of life. For others it's more of a hobby or pastime.
No matter what role it takes, there are occasionally times when it gets pushed
to the bottom of the priority list. That was the case for Garmin TeamX engineer
Bob Godsy. After earning a private pilot license in high school, flying would
take a backseat to raising a family, managing a career and life in general over
the next 30 years. But it was his career developing avionics that helped get
him back into flying. In fact, he wanted to use the same avionics he helped
design in an airplane that would perfectly fit his needs. So after a 30-year flying
hiatus, he decided to get back in the pilot's seat and build the aircraft that
would fulfill his needs.
The Experimental Route
Each prospective aircraft owner has a mission. For some
getting from point A to point B as fast as possible is priority No. 1. Others
may be willing to sacrifice a little speed for the ability to endure rugged
backcountry landings. Whatever is most important, owners must evaluate several
factors — such as overall performance, cost of ownership and ergonomics, just
to name a few — when selecting the ideal aircraft.
Aircraft upkeep is another major consideration. Whereas
type-certificated aircraft require A&P certified mechanics to perform
maintenance and authorized inspectors to perform annual inspections, experimental-/amateur-built
aircraft benefit from more relaxed regulations. In many cases, builders can
perform most of these maintenance and inspection tasks themselves.
Experimental-/amateur-built aircraft also offer the
flexibility to customize. Avionics, engine and propeller options can be
tailored to fulfill those mission requirements … and in an essentially
brand-new airframe. Experimental builders also benefit from an intimate
understanding of the aircraft they regularly fly. They know it down to the very
last rivet.
"For me the mission and cost of owning an experimental
airplane far outweighed the cost of buying a type-certificated aircraft. And
building an airplane played well into my skills and perseverance," Bob said.
A few key elements in his aircraft decision: good cruise
performance, economical fuel burn and side-by-side seating. Why side-by-side? So
he could easily visit with his wife in the cockpit.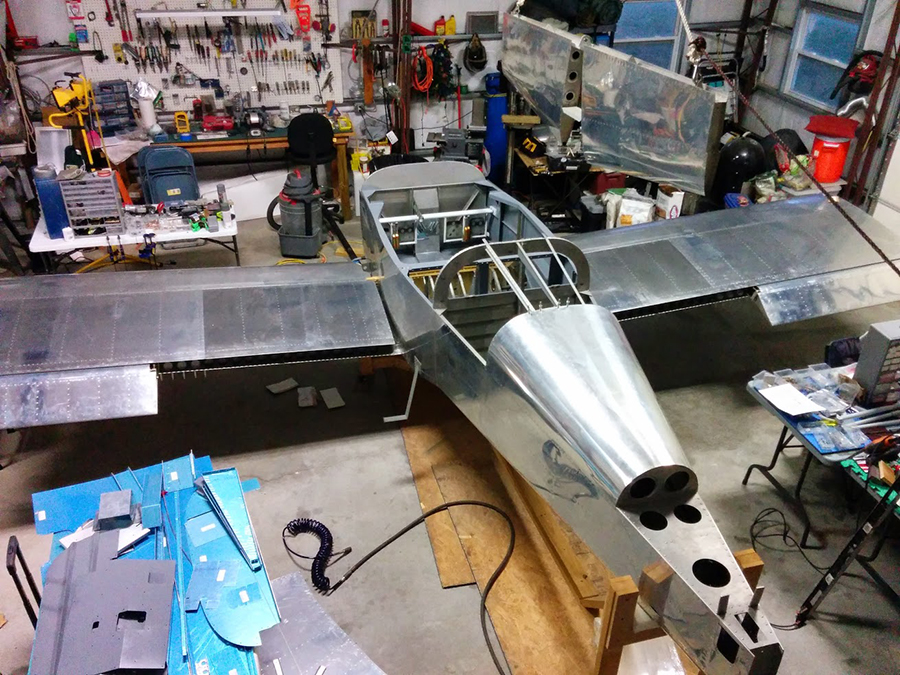 Building the Vans Aircraft RV-7A
"At the time, the RV-7A fit my mission best. A lot of Vans aircraft have been built and it's arguable that based on the number of airframes flying, they are just as safe as type-certificated aircraft," Bob explained.
With nearly 2,000 RV-7/7A aircraft completed to date, it's
become a stalwart in the experimental aircraft category. And after five years,
it was ready to fly.
"I purchased a quick-build project and worked mostly on the weekends.
It was very hard to work a full-time job, add aircraft ratings and build an
airplane," he explained. And as with any major project, there were especially
difficult challenges. "The fiberglass work was very tedious. But it is a new
skill, and I have used it outside of building an airplane," he added.
To meet his avionics needs, Godsy installed two 10.6-inch G3X Touch flight displays, a GTN 650 GPS/NAV/COMM/MFD, G3X autopilot, G5 electronic flight instrument, GMA 245 audio panel and GTR 200 comm radio.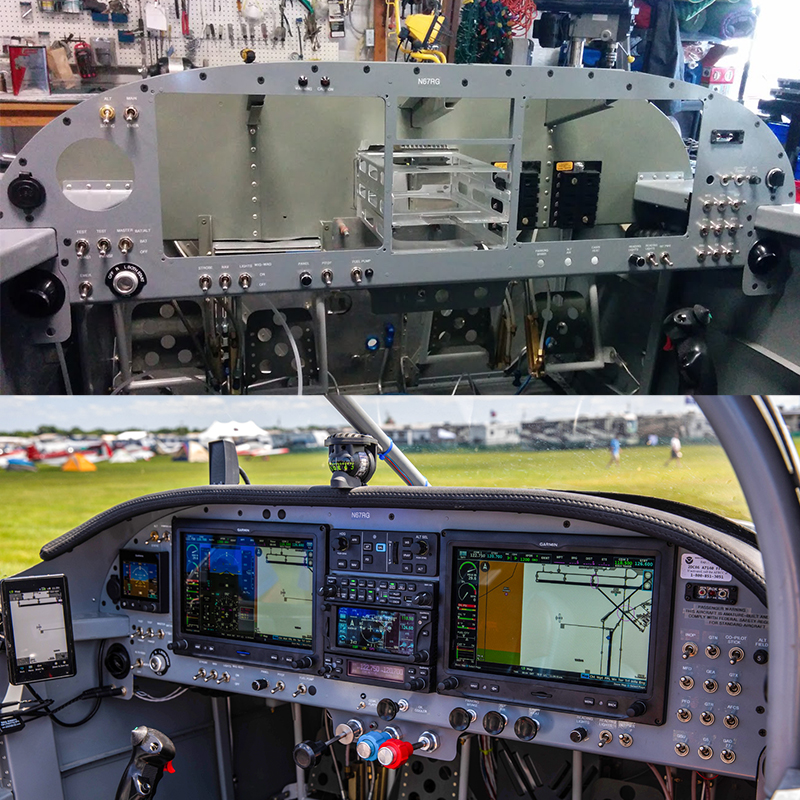 Avoiding Burnout
No one likes to think about it, but project burnout happens.
"For me the end goal kept me going," Bob said. "Flying regularly and working on
additional pilot ratings kept the love flying at the forefront making me want
an airplane of my own even more."
Keeping the project close to home, or even at home, can help
too. A long commute to and from the workshop can hinder motivation.
"Having the project in the garage outside my house was
paramount to limiting the additional effort required to get work done. Plus, my
wife could visit me anytime, so it wasn't like I was gone and away. I just kept
working on it every week and it became a habit I looked forward to," Bob added.
A Builder's Advice
So what does it take to build an experimental aircraft? It
starts with inspiration, a dash of drive and the motivation to create an
airplane tailored specifically for your needs.
"Work on the project every week. Make it a habit. You will
enjoy the results when you are finished," he said.
And if you're looking for the best place to start or need
some guidance along the way, just ask your friends, or check out your local EAA
chapter.
"We have a number of people building RVs at Garmin. They are a great resource, equivalent to a good EAA chapter. I discussed issues directly with the TeamX members and they were very helpful, even changed my mind on a number of occasions … in the end you will own an airplane and it is a real "time machine" — it saves you time — and it's fun."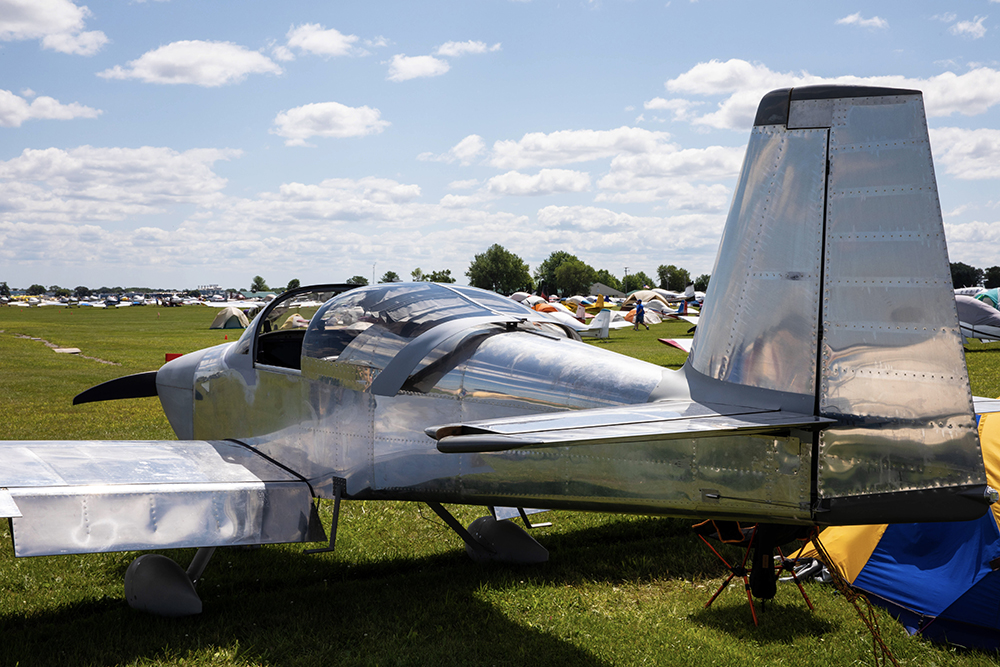 The post TeamX Builder Spotlight: Back in the Pilot's Seat appeared first on Garmin Blog.
https://www.garmin.com/en-US/blog/aviation/teamx-builder-spotlight-back-in-the-pilots-seat/